This Pumpkin Crumb Cake Recipe Is Irresistible
This Crumb Cake Is Loaded With Pumpkin and Topped With a Cinnamon Pecan Crumble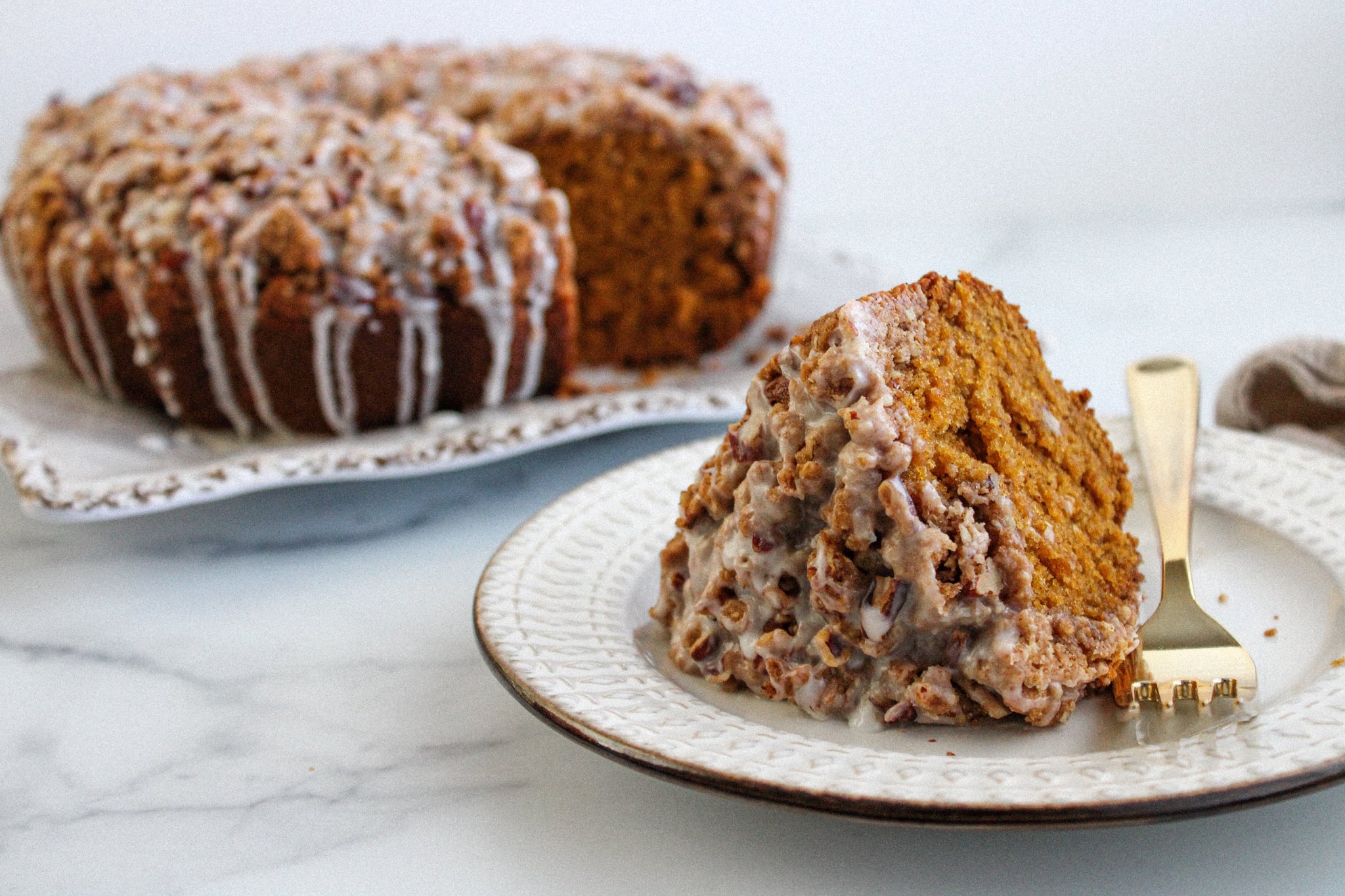 This delicious fall dessert will be the talk of the dinner table and was actually inspired by an Entenmann's classic. As a kid, one of my fondest memories was my mom coming home on Sundays with groceries for the week, and on her list of essentials she would always include our favourite coffee crumb cake. I came up with a fun dupe of this famous dessert and of course had to add a fall twist! The buttery moist texture infused with nodes of pumpkin, cinnamon, and nutmeg encapsulate the season in every bite.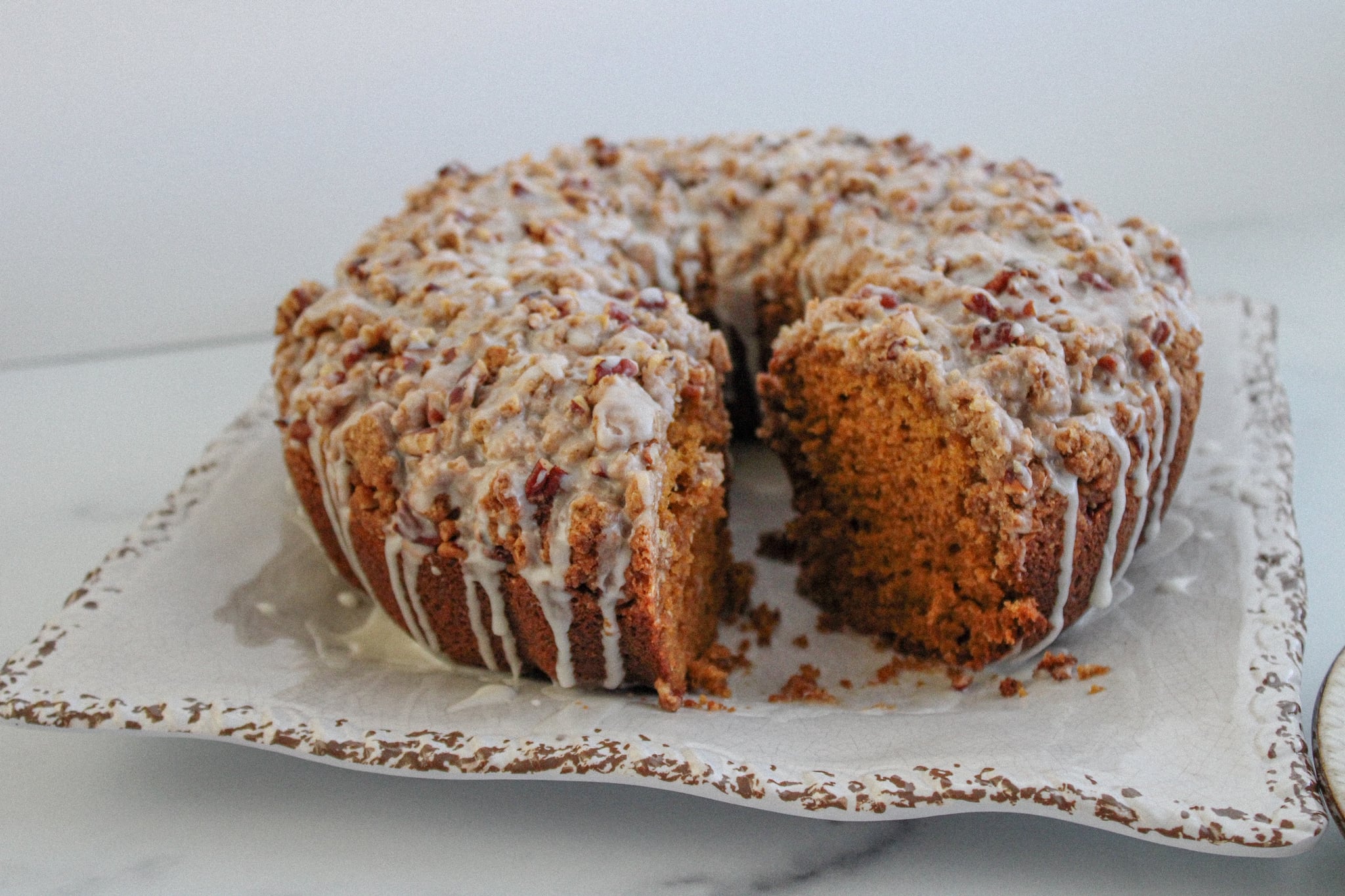 Make sure you sift your dry ingredients before you mix together with your wet ingredients. This is important, so be sure not to skip this step. You want to be sure that all of your spices are evenly distributed and mixed well, otherwise you may end up with a bite of cake that's heavy in the nutmeg or cinnamon and another thats lacking. When mixing the wet ingredients into the dry I used an electric hand mixer, and although it's not required and you can simply mix with a spoon or whisk, I find the hand mixer gives the batter a lighter and fluffier finish before baking.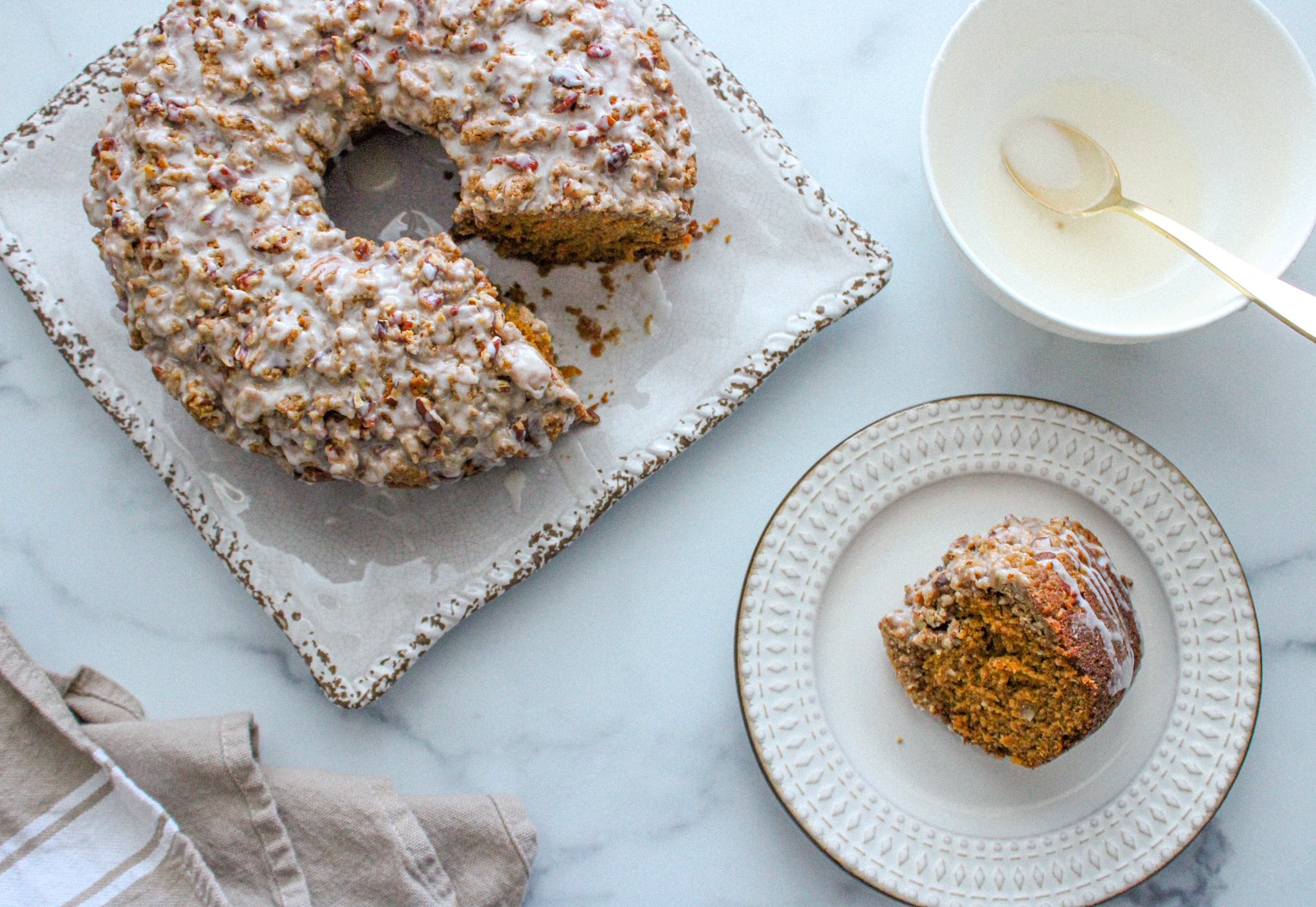 Baking your bundt for just the right amount of time is key in making sure the cake keeps its moist texture. I recommend knife testing it at 35 minutes to gage if you need about 5-10 more minutes of baking and to avoid over-baking and drying out. I topped this bundt cake with a cinnamon pecan crumble and a simple glaze to give it the perfect finishing touch. The chopped pecans give a delicious crunch to every bite and adds a nutty flavour that pairs perfectly with the fall flavours. The blend of the soft cake with the buttery crumble, crunch of the pecans, and sweetness of the glaze is the perfect marriage of texture and flavour.
Pumpkin Crumb Cake
Original Recipe by Taylor Celentano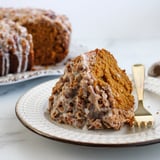 Ingredients
For the Cake:
1 3/4 cups all-purpose flour
2 teaspoons of pumpkin pie spice
1/2 teaspoon cinnamon
1/4 teaspoon ground nutmeg
1 1/2 teaspoons of baking powder
1 teaspoon of baking soda
1/4 teaspoon of fine sea salt
1/2 cup of butter (1 stick melted)
1 1/4 cups organic cane sugar
3 eggs
1 cup pumpkin puree
1/3 cup unsweetened vanilla almond milk
2 teaspoons vanilla extract
For the Crumb Topping:
6 tablespoons butter (divided and softened)
1/2 cup all-purpose flour
1/2 cup brown sugar
1/2 teaspoon cinnamon
1/2 cup chopped pecans (optional)
For the Glaze:
1 cup powdered sugar
1 teaspoon vanilla extract
2 tablespoons unsweetened vanilla almond milk
Directions
Preheat your oven to 350 degrees.
Mix all of your dry cake ingredients in a large bowl, making sure to sift out any clumps.
In a separate bowl mix together your eggs, vanilla, milk, pumpkin puree, and butter.
Add your wet ingredients into your dry – mix evenly.
Spray your bundt pan with non-stick spray and pour your batter in evenly using a spatula to smooth out.
In a small bowl mix together all your ingredients for your crumb topping except for the chopped pecans (leave those to the side).
Crumble your topping evenly all over the top of the batter, then take your chopped pecans and sprinkle those evenly as well.
Bake for 40-45 minutes.
In a small bowl mix together your glaze. Once cake has cooled for 25-30 minutes use a spoon to drizzle your bundt cake with the glaze evenly.
Slice and enjoy!
Information
Category

Cake, Desserts

Yield

1 bundt cake

Prep Time

12 minutes

Cook Time

45 minutes

Total Time

56 minutes, 59 seconds