Signing the Registry Photo Advice
The 1 Wedding Photo You Won't Have Thought About, and How to Make It Your Own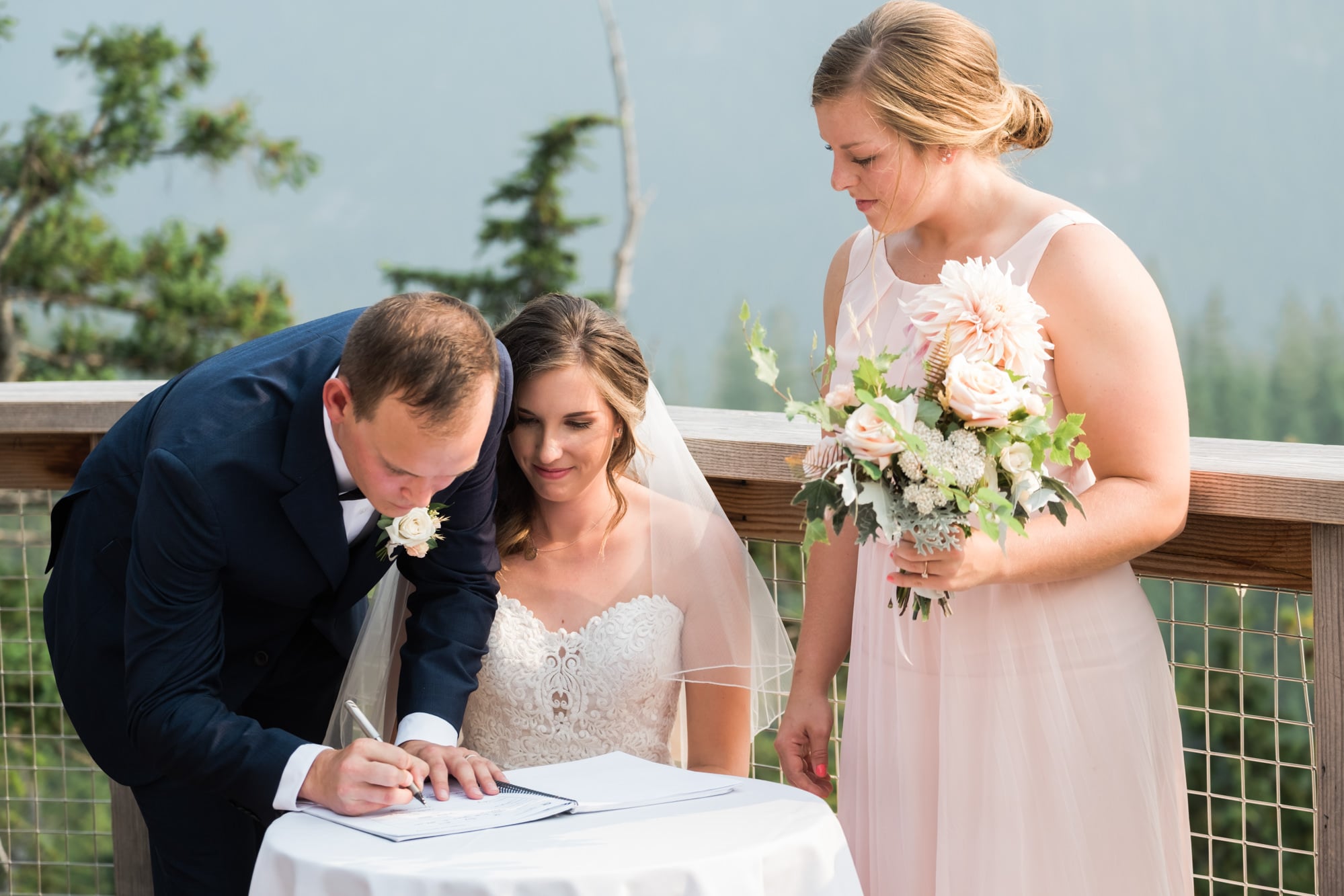 It's a wedding picture you will end up posing for, even if you don't know it now, and it may well turn out to be one of the images your photographer insists on putting in your final edit. All wedding snappers grab a shot or five of the happy couple signing the register. Smart couples make sure this image looks just as sparkly as every other pose they've planned, so take some time now to get ready for that iconic shot.
Sign Here, Please . . .
We've all seen photographers come in for the signing shot as soon as the legal paperwork is finished (I know I have; I've been a marriage registrar for eight years now), but often, posing for the camera is the last thing on a couple's mind as they come to terms with the excitement of actually being wed. Speak to your photographer beforehand to make sure they follow your lead for these crucial images. Although you can't know until your big day how you will actually feel, you will have an idea of whether you want to pose for lots of pictures or whether you want it short, simple, and meaningful at this point. Just remember: the registrars, along with the register, will go at the end of your ceremony, so this is a one-off chance to get a photo to remember.
Everyone, Including Auntie
Make a list before your big day of who you want to include in these formal poses. It might just be the two of you, it might be your witness, it could be parents or children, depending on your circumstances. Talk about it together beforehand, because there's nothing worse than a happy wedding taking a sour turn when one partner packs this special photo with relatives while their other half's family are left seething in the front row. Make sure your photographer has a written version of your wish list and sticks to it.
Make It Interesting
Often, decorations for the table in the ceremony room become an afterthought, which is a shame, because when you get your signing-the-register photos back, what you'll see is a big blank table with the two of you stranded in the middle. If you've got a colour scheme or theme, think about incorporating it into the room where you will actually say "I do". A smart option is to use the main decorations from your top table for the ceremony — it will provide continuity through your photo album, make the room look dressy, and save you a bit of cash, too.
Nothing Personal Here, Thank You
Don't expect to see your names lovingly inscribed in the book when you get your photos back. You're not allowed to photograph the actual register entry, so instead you'll end up posing with a blank page in front of you. It will look just as great in your album, but don't be disappointed to see your entry disappear before your eyes once you've signed on the dotted line.
Make It Yours
The register will always look like the register, but it's potluck when it comes to pens. The registrars will usually set you up for these photos and hand over whichever pen they've brought with them. Sometimes it will be lovely and sparkly. Sometimes it will be a bog standard biro that gets lost in the middle of your picture. If you've got a colour scheme or theme for your wedding, why not invest in a pen that will match and stand out in your photos? All you've got to do is make sure it's an ink-free zone, as no registrar is letting you anywhere near that book with a filled fountain pen.