What to Do When Wedding Planning Goes Wrong
How to Stop Your Wedding Plans From Going Totally Wrong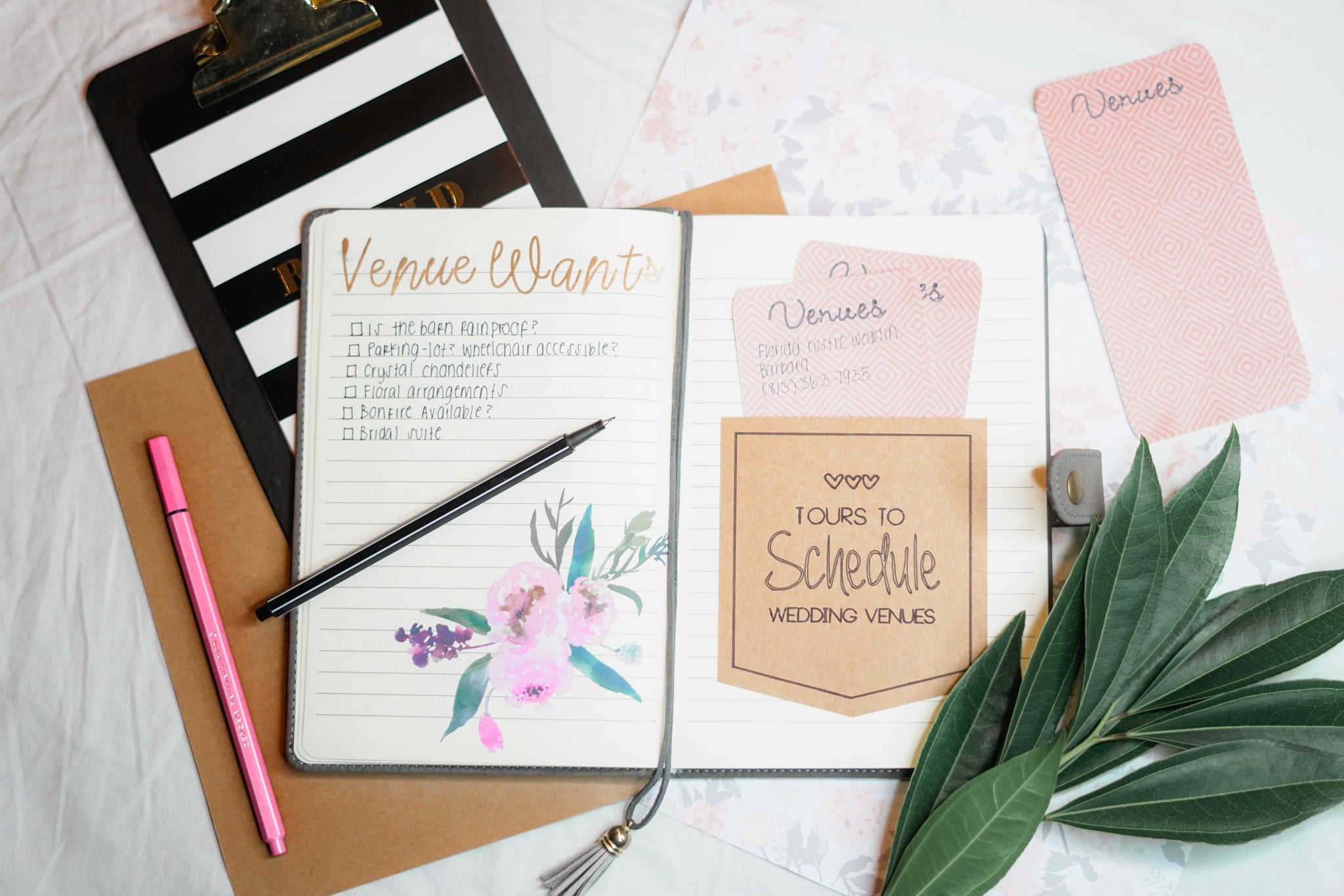 Your wedding day may be one of the most memorable days of your life, but it's also a logistical nightmare. There's no denying weddings are expensive too (but we can help with that). You have to get dozens (perhaps even hundreds!) of people in the same place at the same time with a minimum of fuss. While looking amazing. And being on time. And marrying the person you're absolutely crazy about. So what do you do when things start to go wrong? Here's a guide to coping when the pressure is on and the plans are falling to pieces.
Decide Which Parts of Your Wedding are Most Important to You
For every one thing a well-meaning married friend will tell you is absolutely vital, there will be a dozen more proclaiming that your day will fall apart without peonies or sugared almonds. When we talked through the initial plans, my fiancé and I realised that three elements were really important to us: the food, the venue, and the cake. Everything else is important, sure, but I'm not that bothered about a bouquet and no one is going to see my wedding shoes under my dress. For some people, the shoes are a vital part of their day, and they want an entire room of flowers. That's totally cool. You only have to make those decisions for you. When you know what's important to you, everything else will work around that.
Be Willing to Do the Research
I wanted my friend and brilliant cake maker to make our wedding cake. She made our engagement cake, and it was delicious. Due to an unfortunate date clash it wasn't to be, and we were pretty gutted that we had to find someone else. We've now spent a serious amount of time doing more research to find the best alternative. Often when wedding planning goes wrong, it's because we've got our hearts set on something and haven't even looked anywhere else. It's unimaginable that there's another option. But there is always another option, and in our case, it involved trying lots of delicious cake samples! If you put the time and effort into the areas that really mean the most to you, it'll be what you wanted.
Involve Your Partner More
This should go without saying, but when it comes to wedding planning, it's pretty common for one half of the couple to do a huge amount of the legwork. When our cake plans fell through, I overcompensated by planning an entire dessert table of every cake I had ever eaten. There were handmade marshmallows on it. I don't even like marshmallows. Then my fiancé and I sat down and discussed our day again and found a solution that really felt like it was right for us and our day.
Ask For Help
Plans often go wrong when you're spinning too many plates at once. Suddenly every single detail matters, not because you care about chair covers (you almost certainly don't), but because you're trying to do too much. When plans escalate they become about not letting everything come crashing down rather than what's right. Even the smallest of details going awry will really upset you if you feel overwhelmed. Ask for help. If you just can't face calling five other photographers to see if they're available after the best man's pal from work let you down, ask someone else to do it for you. Your bridesmaids are itching for tasks to do, however menial, so put them to work. You'll love your wedding planning so much more when it's a team effort.
But Be Wary of Unsolicited Advice
It is a truth universally acknowledged that everybody you meet between your engagement will have an opinion on your wedding plans. An unsolicited opinion, too. The second you mention that something isn't going according to plan, you'll hear the dreaded words "when I was planning my wedding . . . ". You can absolutely just nod along and pretend to listen.
Don't Lay Blame
Even if your unreliable bridesmaid, groomsman, or family member forgot to do something, don't have a fight a week before the big day. You'll definitely regret it (even if you are totally right).
Have a Back-Up Plan
It's disappointing that you can't afford your dream dress. And yes, it's terribly sad that your perfect wedding venue is booked out on the afternoon of your big day. However, the problem with dream weddings is that some parts of them have to stay just that. They're not always realistic, and you may have to downsize, or lower your expectations about your gown or your honeymoon. If you have back-up options, you're far less likely to be disappointed. When we were looking for a venue, we knew that we wanted a beautiful relaxed space local to us and the ceremony location. We found the perfect location. We were all set to book when they announced their all new vegan menu (which didn't suit us or our guests at all). We had to go back to the drawing board on what felt like the biggest and most important part of our day. We turned it into a bit of an adventure and had a lot of lunches in a lot of beautiful spots near our home before settling on the final venue.
Remember, Setbacks Aren't Always a Bad Thing
We were really, really upset about our venue setback. Our new wedding venue is bigger, brighter, cheaper, and more perfect than our original choice.
Take Out Wedding Insurance
If you're really worried about something going wrong, that's what wedding insurance is for. Make sure you shop around for the best deal, and talk to your suppliers and venue about what cancellation policies they have in place so you know where you stand from the moment you sign on the dotted line.
Realise That Things Will Go Wrong
Real talk: whether you started planning 20 years ago or 10 weeks before your big day, your wedding won't necessarily look like you imagined it. And that's perfectly alright. It's probably a good thing. Different doesn't mean wrong. Actually, it usually means it's right for you at that moment. There are two of you involved in your day, your circumstances will probably change from the time you get engaged to the date of your wedding, your friendships might change, or you might even relocate to a different country. Get swept up and carried away in the details, make it special and personal to you, but when things do go wrong, remember that it's only one day, and make sure you're not losing focus of what's important. You're planning your marriage as well.