How to Fight COVID-19-Related Hate Against Asian Americans
Asian Americans Are Still Facing COVID-Related Racism — Here's How to Help Fight the Hate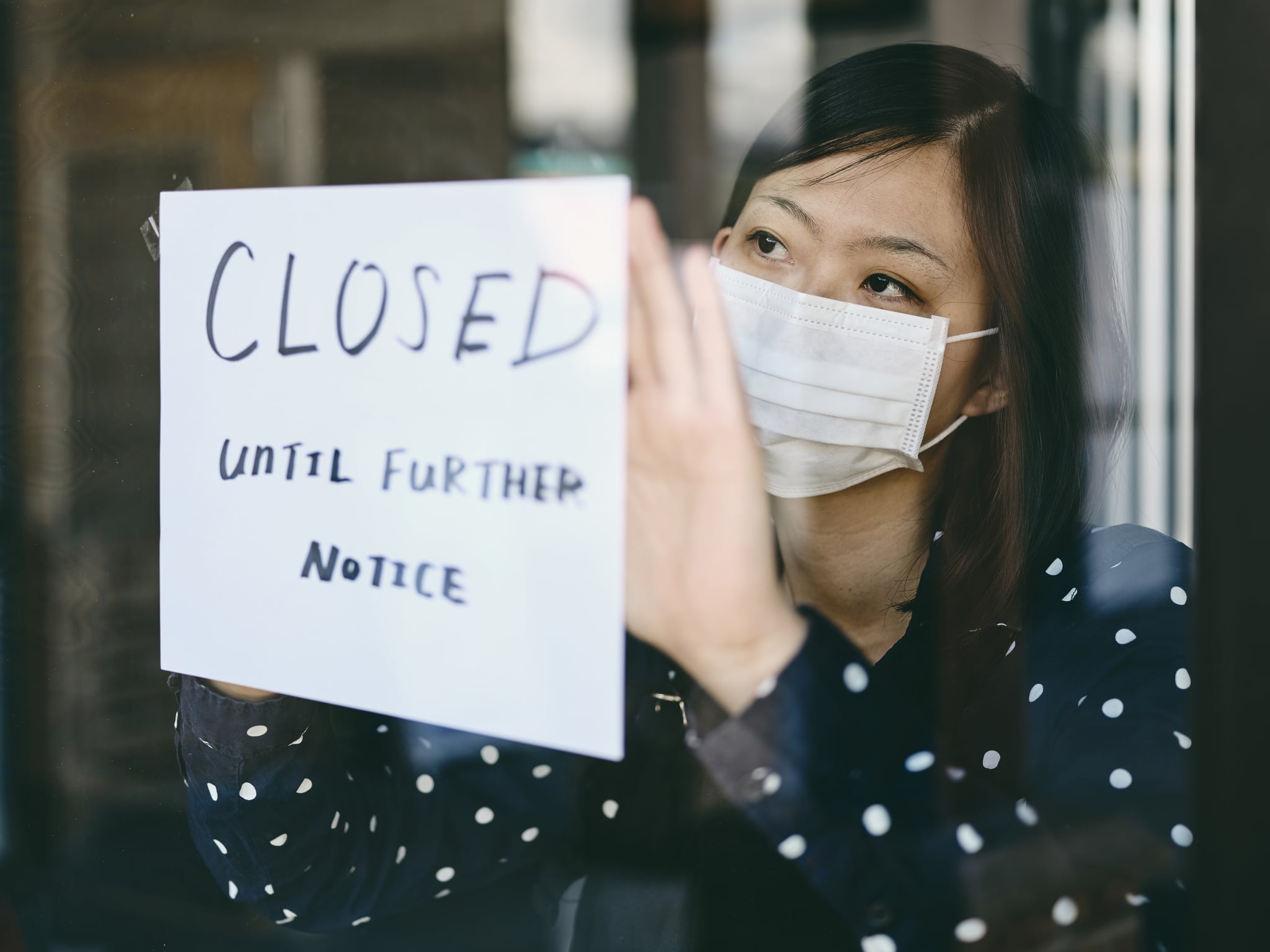 Ever since COVID-19 first spread nationwide, like many others, I always gear up with a face mask any time I leave my apartment in New York City for a quick sanity walk or grocery store run. But after being inundated with one too many stories of racist attacks, and even experiencing discrimination firsthand, I started also throwing on a pair of oversize sunglasses or a baseball cap, or both, to avoid being noticed as an Asian American woman. Masking my Asian-ness every time I stepped outside made me feel slightly safer against potential physical or verbal attacks. Even in NYC, a city often described as one of the most ethnically and culturally diverse in the world, racism and xenophobia targeted against Asian Americans is rampant amid the coronavirus pandemic.
As an Asian American woman, I'm not alone in feeling fearful and anxious about being a potential victim of a racially fuelled attack. Since the early days of the pandemic in America, almost one-third of Asian Americans reported being targeted with slurs or jokes related to their race or ethnicity, and almost 60 percent of Asian Americans said it was more common for people to express racist views of Asians now than before the COVID-19 outbreak, according to a recent study by the Pew Research Centre. In the past few months, videos have surfaced showing various incidents, from elderly members of the Asian community being spit on and assaulted to Asian women being harassed on the streets. When I watch yet another viral video or read a headline highlighting an all-too-familiar xenophobic attack, I think of my parents, grandparents, and friends that could have been in the same position, had they been unlucky. In addition, these incidents often go unreported, according to the Bureau of Justice Statistics' National Crime Victimization Survey, and media coverage is even more rare.
To help bring awareness to these attacks and allow victims a safe space to report crimes, a group of community activists came together back in March to launch Stop AAPI Hate, a site for people to easily self-report incidents against Asian Americans during the pandemic. In only two months, the organisation documented nearly 1,900 incidents of anti-Asian racism across 45 states, ranging from verbal harassment, spitting, and coughing on people to physical assaults and discrimination in the workplace. Incidents in California and New York, which have some of the largest Asian populations in the US, made up almost 60 percent of the reports, and women experienced more than double the amount of harassment that men faced. These statistics are immensely disheartening, and while anti-Asian racism is unfortunately nothing new, the association between Asian countries and the coronavirus have only exacerbated this brand of xenophobia.
Experiencing racism related to COVID-19 has clearly affected Asian Americans' well-being and health, but it's also severely impacted businesses, employment, and work culture for many Asian Americans. All this is in addition to perpetual fears surrounding the virus itself, which Asian Americans experience along with all other populations. No matter how you identify personally, here are some ways you can help fight the bias against Asian Americans amid COVID-19.
Be mindful of anti-Asian rhetoric
Though the first reported cases of COVID-19 were identified in Wuhan, China, and minorities are disproportionately affected by the virus in the US, no specific group or individual is more likely to spread COVID-19 than others. As Rep. Judy Chu explained at a recent news conference, it is entirely possible to discuss COVID-19 and China's role in the pandemic without encourageing anti-Asian sentiment and endangering Asian Americans. The congresswoman even released a toolkit to guide politicians on avoiding associating the virus with a specific country or ethnicity, like steering away from using terms like "Chinese virus" and "the Chinese."
But these types of guidelines don't just apply to politicians — your friends and peers can also be guilty of using biased language, so it's important to hold yourself and the people around you accountable in unlearning and correcting any anti-Asian rhetoric in your vocabulary. While refraining from the use of overtly racist terms like the "Chinese virus" and "Kung flu" might seem obvious, be thoughtful in general so as to not associate the virus with the Chinese or Asian community in any way. Avoid sharing insensitive (and dangerously inaccurate) jokes or memes, like those referring to the coronavirus originating from eating bats.
Speak up for the Asian American community
If you have friends who are victims of racially fuelled hate crimes or verbal attacks, support them in any way you can, whether that's speaking up for them if the situation feels safe or just being there to show your friends you condemn that type of behaviour. If you witness a hate crime, consider reporting the incident, if the victim is comfortable with you doing so. As an ally that might have more privilege, you can be a helpful aide to victims by simply showing your support and making them feel safe.
In everyday life, beyond the pandemic and regardless of whether you witness a hate crime, be a strong ally for Asian Americans. Challenge the biased language around you, elevate Asian and Asian American stories, and hold your friends and family accountable as well.
Check in on your API friends
If your Asian American friends haven't experienced hate themselves during this time, chances are, they have family, friends, or a community member who has. Moreover, members of the Asian American community have been inundated with stories of racially charged attacks all over their social feeds, so whether they're personally dealing with this racism or not, check in on your Asian American friends and ask how you can offer your support.
Support Asian-owned local businesses
Many businesses have been financially impacted by COVID-19, but Asian-owned restaurants and stores have been hit particularly hard by the added layer of xenophobia surrounding the virus. Some restaurants in Chinatowns across the country reported losing as much as 80 percent of their business in early March as a direct result of coronavirus misconceptions related to Asians. Support Asian-owned establishments by ordering takeout or delivery from restaurants, contributing to local funds like Welcome to Chinatown to offer financial relief to affected businesses, and spreading the word to your communities.
Call on your leaders to condemn racism against Asian Americans
Urge your leaders at the local, state, and national levels to speak out against racism, take steps to prevent xenophobic attacks related to COVID-19, and prosecute hate crimes. Various members of the Trump administration and prominent senators have used anti-Asian rhetoric and placed blame on China while discussing the coronavirus, and have capitalized on COVID-19 concerns in order to advance anti-immigration policies. These actions coming from leaders are harmful to the Asian American community and can indirectly encourage people to follow suit.
In late July, a bipartisan group of about 150 members of Congress demanded the Justice Department take action against anti-Asian racism related to COVID-19. While this effort is certainly a step in the right direction by elected officials, individually reaching out to your local leaders to urge them to take measures to protect Asian Americans can still have a direct impact on your own communities. You can find your officials' contact information on the USA.gov website.
If you're an Asian American facing xenophobia, there's even more you can do to protect and take care of yourself.
Share your story
First, understand that a racially fuelled incident is not your fault in any way. If you feel comfortable, share your experience with your friends, family, and online community to bring attention to these disturbing attacks. Speaking up about your story might empower others to do the same.
Prioritise your safety
While you might feel inclined to document an attack with photos and videos, only do so if you feel safe. Stop AAPI Hate emphasises the importance of prioritising your safety, so if you feel you might be in danger, leave the incident immediately and ask any bystanders for support. It's also important to remember that it's not your responsibility as a marginalized individual to educate anyone on what's appropriate and what's offencive, so don't feel the need to address attackers in any way if you're not comfortable.
Consider reporting the incident
If you'd prefer not to report hate crimes to the police, consider filing an incident report through Stop AAPI Hate's form. Stop AAPI Hate encourages people who have experienced any type of microaggressions, bullying, hate speech, harassment, or violence to document their experiences, so that they can work to prevent similar incidents from occurring in the future. The form is available in Chinese, Korean, Vietnamese, and Punjabi, in addition to English and other Asian languages.
Seek support if you need it
Once you're removed from the situation, lean on your friends, family, or loved ones for emotional support and to talk about what happened. Don't be afraid to seek mental health support — check out these resources and platforms for BIPOC to get started. Asian Americans Advancing Justice, an organisation dedicated to advancing civil and human rights for Asian Americans, also offers resources for victims, such as providing assistance with legal and social services through the Stop Hate hotline (1-844-9-NO-HATE), which is accessible in a number of languages.