London Black Lives Matter Protests Dates and Details
How to Join London's Black Lives Matter Protests and Events This Week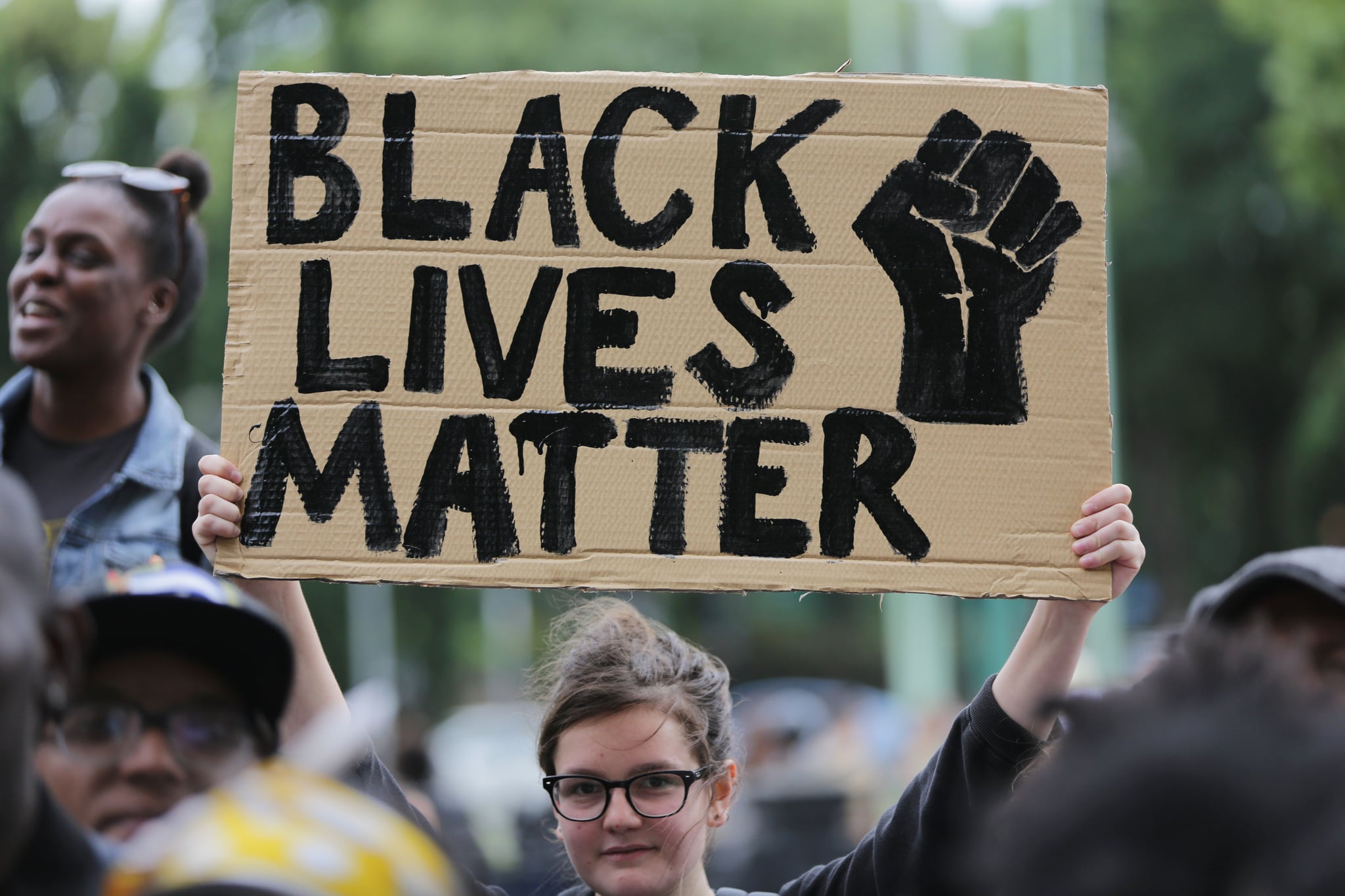 London's Black Lives Matter collective is organising antiracism protests throughout the city this week, in solidarity with the protesters in the United States. The first of which happened on Sunday, 31 May, in Trafalgar Square, where those who were unable to attend were encouraged to kneel for George Floyd and share their support on social channels. Keep reading for more information on London's solidarity protests and how to stay safe from coronavirus (COVID-19) while participating.
London Black Lives Matter (@LDNBLM) shared to its Twitter that the purpose of the protests is to "place pressure on the American government and show that this [racism] is a world wide issue". While police brutality against Black people in the US, compared to the UK, is drastically inhumane, the targeting and profiling of Black Brits — like Sarah Reed, Mark Duggan, and countless others — is a very real and scary trend that needs to be more seriously addressed. Planned for June 2020, below are the locations and dates for LDNBLM protests and events:
Please be aware that dates, times, and locations of protests can and do change. For the most up-to-date information regarding the protests (including any safety concerns or cancellations), please check the @TribeNAthari Twitter page and Instagram page. The people who run this account are in regular contact with protest organisers.
When: Sunday, 5 July, at 14:00 to 18:00
Where: Marble Arch to Downing Street
Notes: Wear PPE and non-identifiable clothing.
When: Saturday, 27 June, at 13:00
Where: Hyde Park to the Department of Education
Notes: Justice for Shukri Abdi.
When: Saturday, 27 June, at 14:00
Where: Wellington Arch to Downing Street
Notes: This peaceful protest is in memory of Black trans lives lost and in celebration with the Black trans community. "Wear masks. Social distancing. Protect your identity. Wear Flowers. Bring Flowers."
When: Saturday, 27 June, at 13:00
Where: Zoom
Notes: "Freedom, liberation, and justice starts with education." This digital event is a both virtual protest and informational event, where a variety of American and British activists and educators will lead a conversation about what needs to change in British and US schools and how to help make it happen.
When: Sunday, 20 June, at 14:00
Where: Parliament
When: Sunday, 14 June, at 13:00-15:00
Where: Lowndes Park Chesham HP5 1DJ
When: Saturday, 13 June, at 12:00-14:00
Where: Croydon Central
When: Saturday, 13 June, at 14:00-18:00 (kneel at 15:00)
Where: Newington Green Roundabout
When: Friday, 12 June, at 16:00
Where: Trafalgar Square
Note: this protest is a live music protest.
When: Friday, 12 June, at 13:00
Where: Marble Arch to Downing Street
When: Friday, 12 June, at 13:00
Where: Hyde Park
Note: This protest was moved from Saturday to Friday due to public safety concerns, and BLM organisers are urging the public to not attend this protest. You can read the full statement here.
When: Friday, 12 June, at 13:00
Where: Parliament
Note: Due to public safety concerns, BLM organisers are strongly urging the public to not attend this protest. You can read the full statement here.
When: Thursday, 11 June, at 19:00
Where: Zoom — ID: 788 1282 7430 / Pass: 4tsbF8
Where: "What next? Post protest discussion hosted by DiscussionThursdays."
When: Wednesday, 10 June, at 13:00
Where: Green Park
When: Wednesday, 10 June, at 18:00
Where: Wherever you are
Where: Take a kneel for George Floyd
When: Sunday, 7 June, at 14:00
Where: US Embassy
Notes: "We will meet near the US Embassy. Please bring masks, gloves, food, water, non-identifiable and close fitting clothes, and anything else to keep you safe."
When: Saturday, 6 June, at 13:00
Where: Parliament Square
Notes: "Wear masks and follow social distancing."
When: Wednesday, 3 June, at 13:00
Where: Hyde Park
Notes: "Stand with us in unity wearing red as we protest against the rights of Black people being abused globally."
What to Do If You're Stopped by Police at a Protest
Any protest you attend will have a heavy police presence, so it's important to know your rights ahead of time. In England, police "have powers to arrest you anywhere and at any time" if they believe they have reasonable grounds to do so. If you try to escape or become violent, they can use "reasonable force" to apprehend you. The police can stop and question you at any time, and they can also search you if they feel there is reasonable grounds, or if you're also being arrested. For that reason, don't bring anything to a protest that you wouldn't want to be caught with, such as weed.
Green & Black Cross (GBC) is an independent grassroots project offering mutual aid and solidarity within the UK and was founded in November 2010 to provide legal support for protests. In addition to having general advice on their website, they also have a protest support line, which can offer you access to criminal solicitors with protest knowledge. You can also find downloadable bustcards that have key information about what to do if you are arrested or approached for a "stop and search". You may not end up needing to action these resources, but you also don't want to be caught out if you do require them.
In response to the peaceful protests in the United States, the UK National Police Chiefs' Council released a statement for supporting protests in London, "We know people want to make their voices heard. The right to lawful protest is key part of any democracy, which UK police uphold and facilitate. But coronavirus remains a deadly disease and there are still restrictions in place to prevent its spread, which include not gathering outside in groups of more than six people. So for whatever reason people want to come together, we ask that people continue to work with officers at this challenging time."
How to Safely Protest During the COVID-19 Pandemic
The COVID-19 pandemic is still prevalent, so it's an important consideration when deciding if and how you protest in person. First, it's important to assess your risk of being affected by the coronavirus, or whether you are in regular contact with people who are at a high risk of severe illness from the coronavirus. If this is applicable to you, find other ways of protesting and supporting the cause from home.
If you don't fall into the high-risk category, there are still precautions you need to take to protect the community. Black, Asian, and minority ethnic (BAME) people are disproportionately impacted by the coronavirus when compared with white British people, and it's important to remember and respect this when attending protests. For detailed information about correct sanitation protocols to employ before, during, and after protesting during the pandemic, read this Google Doc that has been adapted from QueerCare, a UK-based trans feminist community.
In some places, it is illegal to wear face coverings at protests, but event organisers are urging people to wear masks during the current protests, due to the current pandemic. It is also important to do your best to maintain the hygiene protocols we've all developed over the past few months. Bring hand sanitiser with you (and use it regularly), cover your mouth and nose with a tissue or your sleeve (not your hands) when you cough or sneeze, and when possible, try to maintain two metres of distance between yourself and people from outside your household.
It is thought that loud talking or yelling may expel more respiratory droplets, thus spreading the virus more easily. "Try to put a good distance between you and anyone who is chanting, especially if they are unmasked," advised Dr. Henrique Pacheco, general practitioner and medical advisor at Doctor 4 U. "When you are outside, try and socially distance as much as possible. This may be harder if you are right in the midsts of protests, so if you can, stick to the outer areas and sidelines to ensure that you are not close to anyone." He also cautioned that while it's important to stay hydrated to support the immune system, you must "avoid sharing food, beverages, or signs . . . unless it's an absolute emergency."
Dr. Pacheco said it's understandable that people may forget we are still in the midst of a pandemic whilst protesting, "however, it's imperative that we remain vigilant and keep in mind at all times to stay safe and aware that COVID-19 is still out there."
— Additional reporting by Angela Law