Do I Have to Wear a Face Mask on Public Transport?
Face Coverings on London Public Transport Will Still Be Required After Rules Relax on 19th July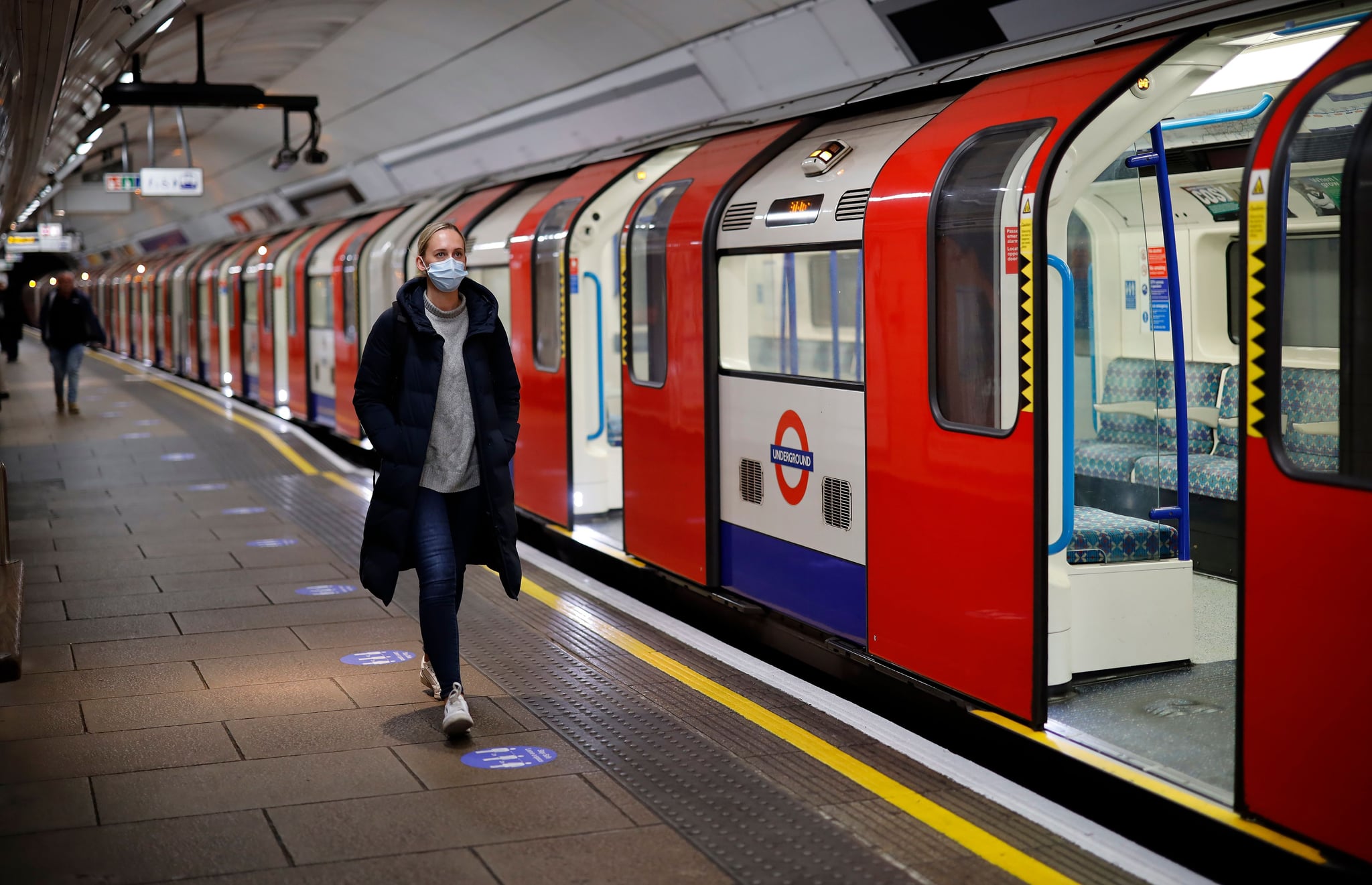 UPDATE (Wednesday, July 14):
On Wednesday 14 July, London's mayor Sadiq Khan announced that as restrictions ease (including the wearing of face masks, limits on numbers at gathering, and social distancing rules), face coverings will still be required on public transport in London.
"After careful consideration, I've asked @TfL to keep the requirement to wear face coverings on public transport as a condition of travel after 19 July. Mandatory face masks will give passengers reassurance and protect both them and our heroic transport workers," Khan wrote on Twitter.
This means in London, you'll have to wear a face mask on tube, bus, TFL Rail, overground, tram, and DLR services, as well as in taxis and private hire vehicles.
UPDATE (Monday, June 15):
As of today, face coverings will also be mandatory when travelling with Uber or Addison Lee. Uber said in an email to customers: "We're introducing mandatory face coverings as of Monday, June 15th to help protect the health and safety of you and your driver. As of Monday, if you aren't wearing a face covering, your driver has the right to cancel your ride, and anyone who is repeatedly flagged for not wearing a face covering will risk losing access to the app."
Although Transport Secretary, Grant Shapps, announced that the new mandatory face covering measures does not cover private taxi hire, Transport for London has urged private taxi companies to make driver and passenger face coverings a requirement. "While the Government advice doesn't explicitly cover the use of taxi and private hire services, this guidance is intended to mirror the arrangements put in place on public transport," he said.
UPDATE (Thursday, June 4):
As of June 15, face coverings will be mandatory on public transport, including buses, trains, aircrafts, and ferries in England.
During the government's daily coronavirus briefing on June 4, transport secretary, Grant Shapps, announced that face coverings on public transport will be a requirement for everyone, and failure to comply may result in refused travel and potential fines.
Shapps echoed Mayor of London Sadiq Khan's previous recommendations that masks should not be medical-grade. "That doesn't mean surgical masks, which we must keep for clinical settings. It means the kind of face covering you can easily made from home," said Shapps, adding that "evidence suggests face coverings offer some — albeit limited — protection against the spread of the virus," which is something Khan has been advocating for for a number of months.
This post was originally published on May 11, 2020
Mayor of London Sadiq Khan released an official statement on Monday afternoon urging anyone travelling on London's tubes and buses to wear a face covering from today on. Khan reiterated that the recommendation applies to anyone who is required to travel to and from work via public transport, and that those who can reasonably avoid public transport should continue to do so.
"I'm now asking that all Londoners using public transport wear a non-medical face covering," he said in the video. "I expect anyone travelling on any TfL service to wear a non-medical cloth covering over their nose and mouth for the entirety of their journey. These can be home made, a scarf or bandana." Khan went on to explain that medical-grade personal protective equipment (PPE) should not be used for this purpose, and should be left for medical workers.
NEW: If you really have to use public transport, I'm asking all Londoners to wear a non-medical face covering for the entire journey.

These can be home made, a scarf or bandana.

Remember: please only use public transport if absolutely necessary. pic.twitter.com/mIS6OyHyi7

— Sadiq Khan (@SadiqKhan) May 11, 2020
Prime Minister Boris Johnson spoke to the nation on Sunday night, attempting to explain the UK's lockdown exit strategy. Unfortunately, the UK was left even more confused due to the unclear messaging in his speech and conflicting statements from MPs on Monday morning. Johnson urged Britons that are unable to work from home (such as construction workers) to return to work, which predictably caused a surge in the number of people using the TfL network on Monday.
The government released a 50-page document on Monday afternoon, titled "OUR PLAN TO REBUILD: The UK Government's COVID-19 recovery strategy," which states that home-made cloth face coverings can help reduce the risk of transmission in some cases. They "are not intended to help the wearer, but to protect against inadvertent transmission of the disease to others if you have it asymptomatically," the document states. "As more people return to work, there will be more movement outside people's immediate household. This increased mobility means the Government is now advising that people should aim to wear a face-covering in enclosed spaces where social distancing is not always possible and they come into contact with others that they do not normally meet, for example on public transport or in some shops."
This may be why Khan released his recommendation on Monday afternoon, but it is certainly not the first time Khan has called for compulsory face masks to be worn on London's public transport. On 16 April (and again on 23 April), he appealed to the government to change the advice relating to face coverings "sooner rather than later". TfL's official social media channels still recommend that only essential workers travel. "With limited staff, we're only supporting people making essential journeys⁠," reads their latest Instagram post. "If you must travel, try to avoid ⁠busy times, particularly the early morning⁠."
It's not clear whether Khan's recommendation will have a knock-on effect in other cities in the UK. The Mayor of Greater Manchester, Andy Burnham, has previously spoken about the possibility of making face masks compulsory on public transport in the city, although no official recommendations have been made at this stage.
POPSUGAR aims to give you the most accurate and up-to-date information about the coronavirus, but details and recommendations about this pandemic may have changed since publication. For the latest information on COVID-19, please check out resources from the WHO, the NHS, and GOV.UK.