Free People Hot Shot Onesie Review
Yes, You Need the Free People Hot Shot Onesie
As POPSUGAR editors, we independently select and write about stuff we love and think you'll like too. If you buy a product we have recommended, we may receive affiliate commission, which in turn supports our work.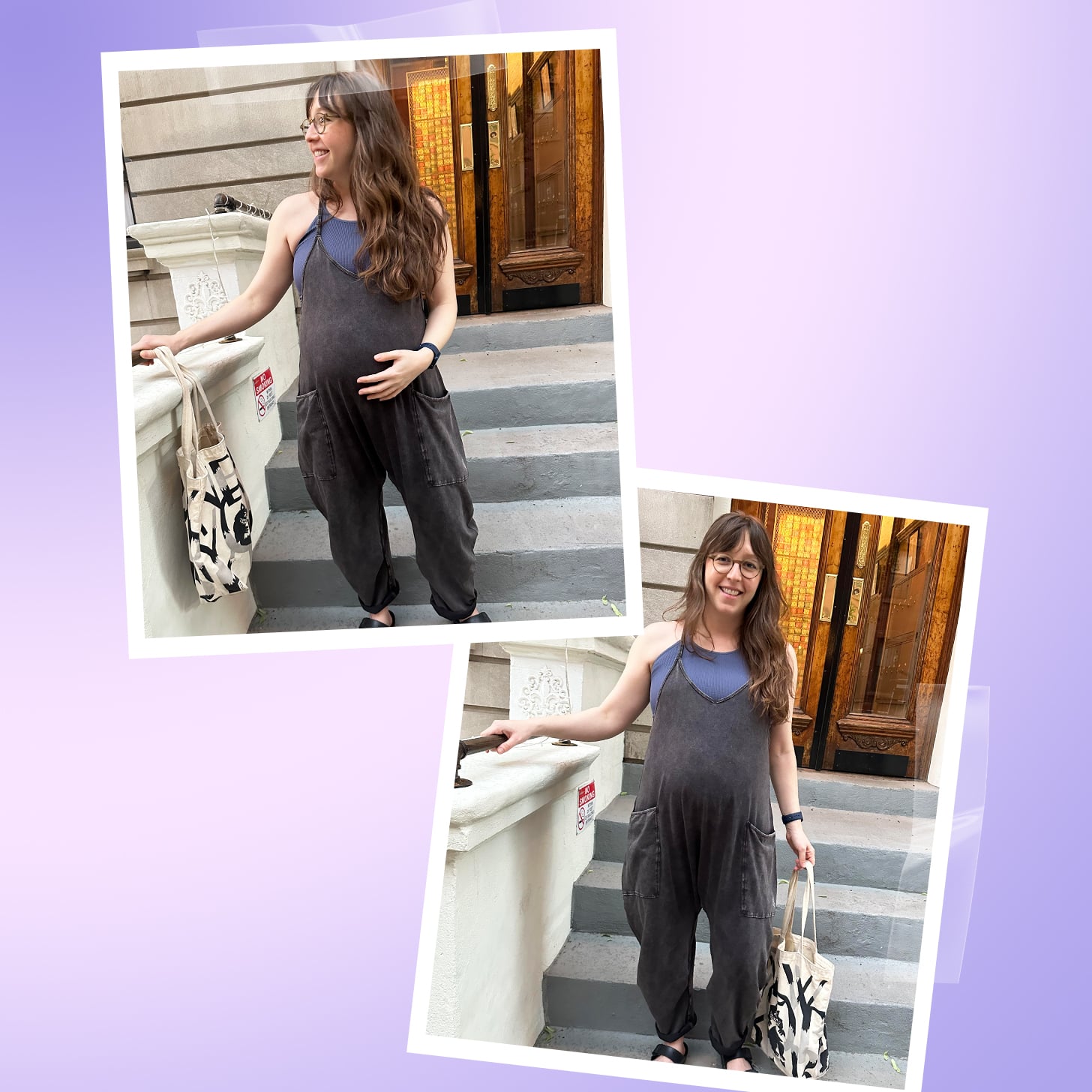 The Free People Hot Shot Onesie crept into my FYP like so much does — little by little, then in a deluge. I swiped and double-tapped on creator after creator, all raving about the slouchy Free People onesie (and sometimes offering up dupe suggestions). They loved how comfortable it was, how wearable it was, how many colours it came in. Over time, the five-star reviews got to me. Was the Hot Shot Onesie really that good?
I was particularly interested in all the pregnant people gushing about the FP Movement Hot Shot Onesie ($70), since I'm expecting myself. They claimed it was the perfect maternity outfit — roomy enough to accommodate every trimester of growth, and comfortable enough to wear postpartum too. And while it has a decidedly hippie vibe, it looked trendy and fit every body shape I saw try it on, like a real-life "Sisterhood of the Travelling Pants" garment. Could this be the holy grail of pregnancy clothes?
After wearing the Free People Hot Shot Onesie myself, I can confidently say: yes, it is. I'm not sure exactly what makes the Hot Shot Onesie so perfect, but there's something magic about it. Let me try to explain.
What I Love About the FP Movement Hot Shot Onesie
To start: it is so comfortable. The material is 95 percent cotton and five percent spandex, giving it a ridiculously soft feel with just enough stretch. One feature I was immediately grateful for was the extra stretch in the shoulder straps — it makes pulling the Hot Shot Onesie off incredibly easy, so if you're hesitant to go for rompers or jumpsuits because of the "How will I pee?" question, know that the Free People Hot Shot Onesie has solved the issue.
The slouchy legs and roomy midsection area mean you don't have to worry about the onesie riding up as you walk — and that means something coming from someone with a pregnant belly.
The huge pockets are another major plus. I can easily leave the house with no purse, since I have a place to store my phone, wallet, and keys. There's also a tiny zippered pocket on the back, between your shoulder blades — for a key perhaps? — but it's pretty inaccessible, so I haven't used it.
I also love the way the onesie looks, plain and simple. It isn't really "my style," and I wasn't sure how I'd feel about the slouchy legs. But it's a piece that feels effortlessly cool and totally accessible. Case in point: the day after I sent a low-quality selfie to one of my group chats, a friend texted to tell me she'd immediately bought the onesie herself. She's not pregnant, either. It just looks that good.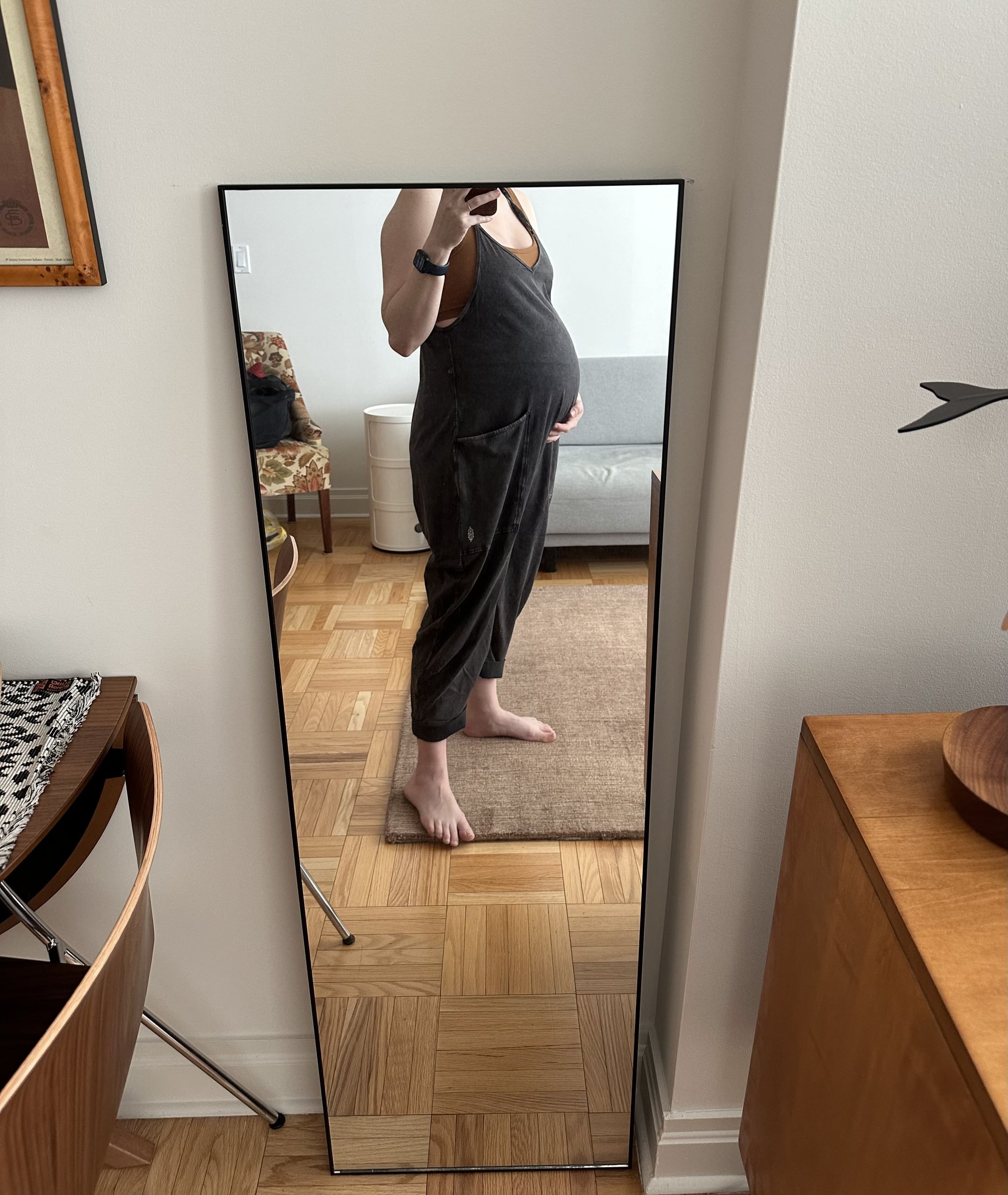 The selfie that influenced at least one of my friends.
What's Worth Noting About the FP Movement Hot Shot Onesie
I'd originally wanted to try the FP Movement x Hatch Hot Shot Maternity Onesie ($80), which is made specifically for pregnant bodies, with extra features like adjustable straps and a tacked rolled cuff — but by the time I got around to taking the plunge, my size (and most sizes) were totally sold out on FP Movement and Hatch, a cult-favourite maternity-clothing brand. I've found that my usual size of the nonmaternity Hot Shot Onesie fits just fine, but if you're pregnant, the Hatch collab may be even better.
And for what it's worth, the cuffs on my onesie do come unrolled as I walk, which can be a nuisance when bending over isn't as easy as it once was.
Who Is the FP Movement Hot Shot Onesie Best For?
Everyone. Pregnant or not, I don't know why anyone would want to skip this garment. On the brand's website, Free People suggests it "for light workout days, or for layering on post-sweat sesh." But I think it's great for any moment you want to be comfy and look trendy. It's casual — but good casual.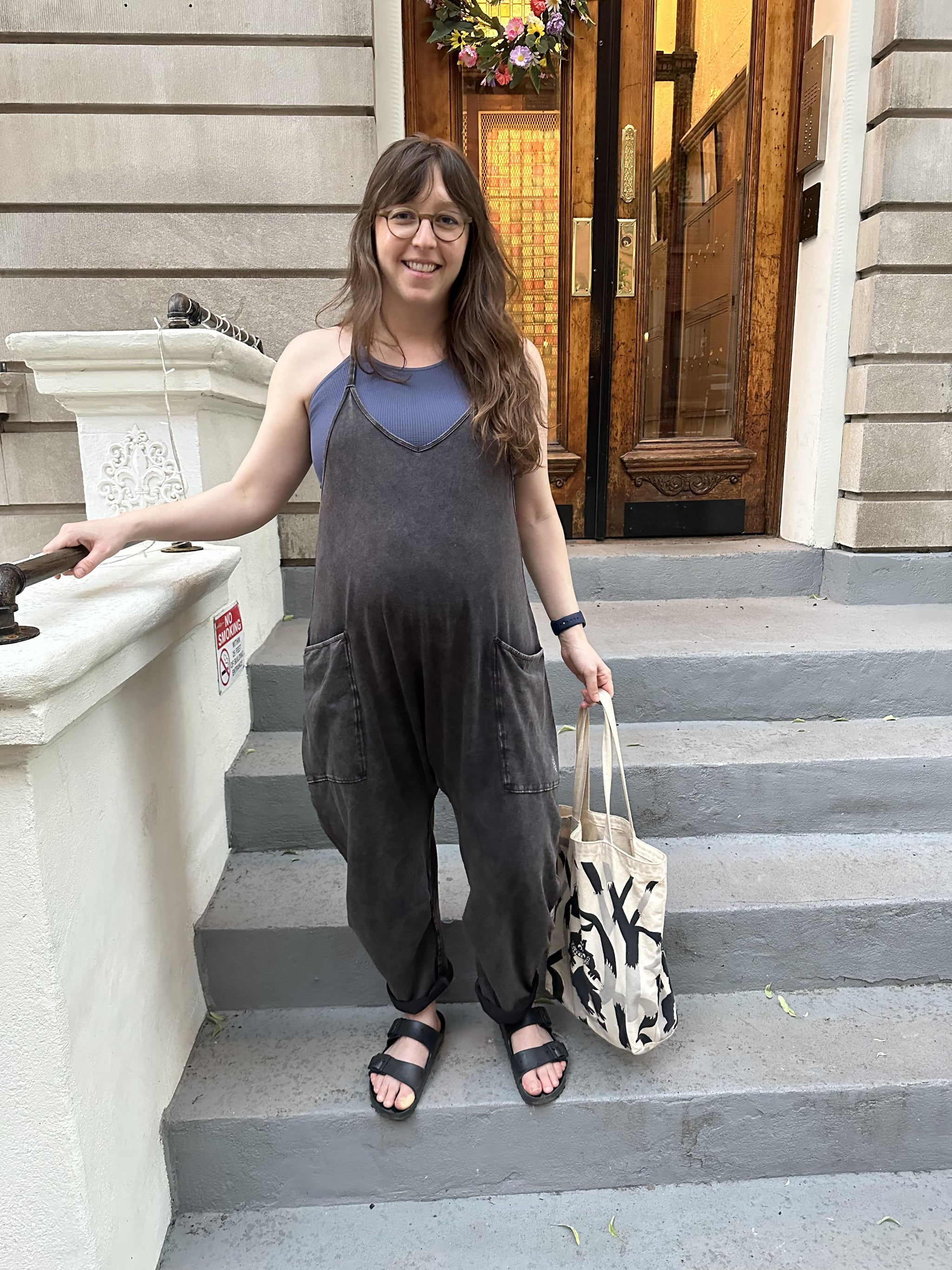 Is the FP Movement Hot Shot Onesie Worth the Splurge?
Personally, I'm a fan of the onesie's price point. The FP Movement Hot Shot Onesie is $70, and the FP Movement x Hatch Hot Shot Maternity Onesie is $80. Considering that it truly is a piece that can carry a body through all three trimesters plus postpartum, I think the cost per wear will wind up low enough to justify the price. Even if I wasn't pregnant, the onesie is high quality, wearable, and timeless enough for me to feel fine with the over-$50, sub-$100 price tag.
Additional Details About the FP Movement Hot Shot Onesie
The onesie comes in sizes XS to XL, but it's incredibly roomy. Start with your regular size, and know that it might take some trial and error to find your perfect fit, depending on whether you're looking for something slimmer or baggier.
The FP Movement Hot Shot Onesie comes in 11 colours (although some sell out quickly). The FP Movement x Hatch Hot Shot Onesie comes in two colours, but most sizes are sold out in both.
The brand recommends machine washing the piece on a cold cycle.
Rating
Image Sources: POPSUGAR Photography / Mirel Zaman and Photo Illustration by Aly Lim