Yara Shahidi Reveals First Black Tinker Bell Doll
Yara Shahidi Reveals the First Black Tinker Bell Doll — and Fans Already Love It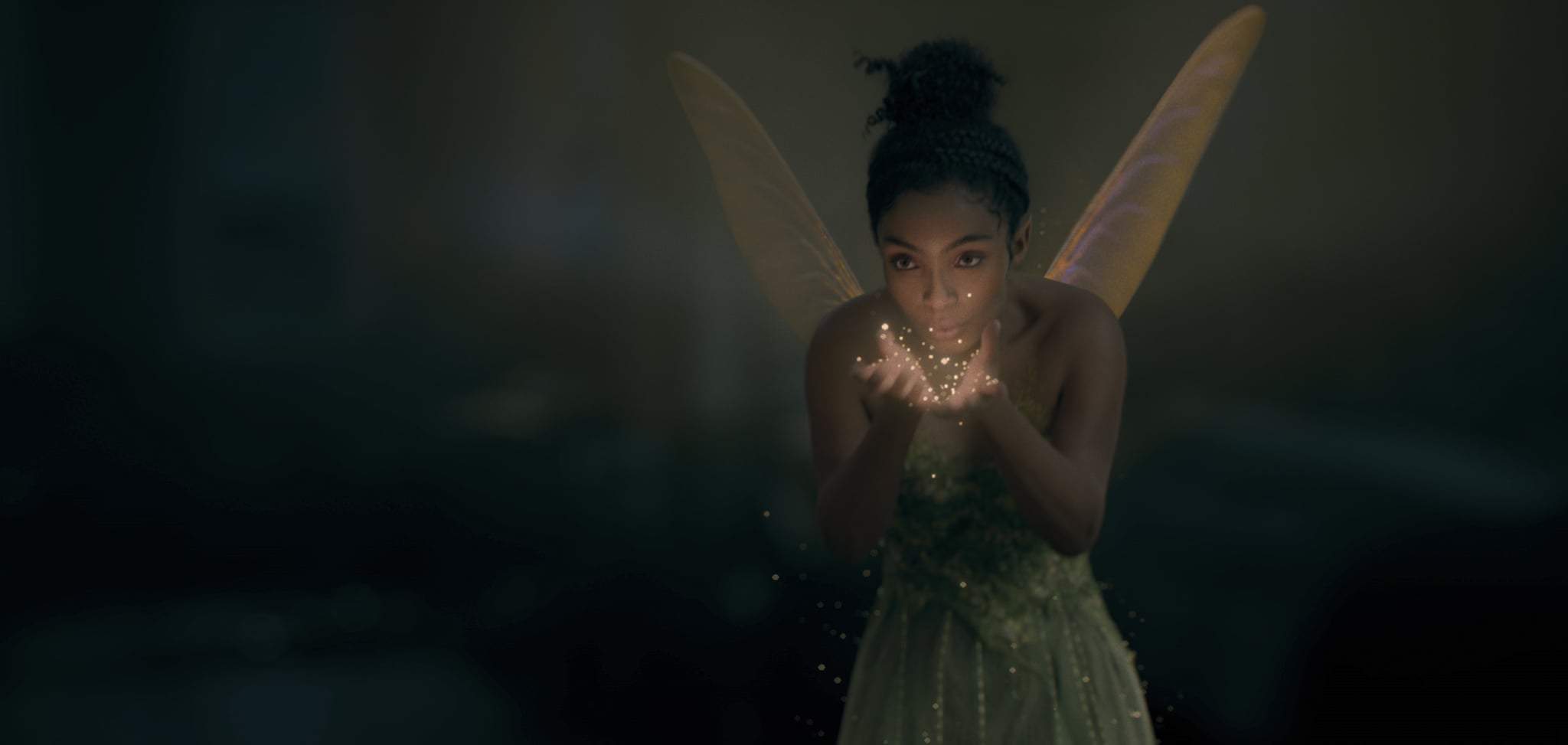 On 28 Feb., Walt Disney Studios released the first full trailer for the live-action Disney reboot of Peter Pan — a Disney+ original named "Peter Pan & Wendy," which debuts on 28 April. It was fans' first glimpse of "Black-ish" star Yara Shahidi as Tinker Bell, the sometimes-mischievous fairy who accompanies Peter and Wendy on their journey. But Shahidi just upped the excitement by sharing a sneak peek of Mattel's Tinker Bell doll, inspired by her character in the upcoming release.
"Can you believe it . . . My very own wings, covered in pixie dust 🧚," Shahidi captioned a photo her holding the new Tinker Bell in her likeness on Instagram.
Shahidi will be playing the first-ever Black Tinker Bell, making the doll's reveal even more meaningful to many fans. The doll sticks closely to the upcoming movie version of Tink: curls gathered into a high bun and crossed with two braids; a leafy green frock (dusted with sparkly pixie dust, as Shahidi noted in her caption); and green and glittering fairy wings.
"I'm excited to share the Tinker Bell doll inspired by my character in #PeterPanAndWendy. She is so very special! 🧚" Shahidi wrote. The actor shared additional photos of the doll in her Instagram carousel and Stories, including video of herself gazing up at the Tink doll, perched on her shoulder, then winking at the camera.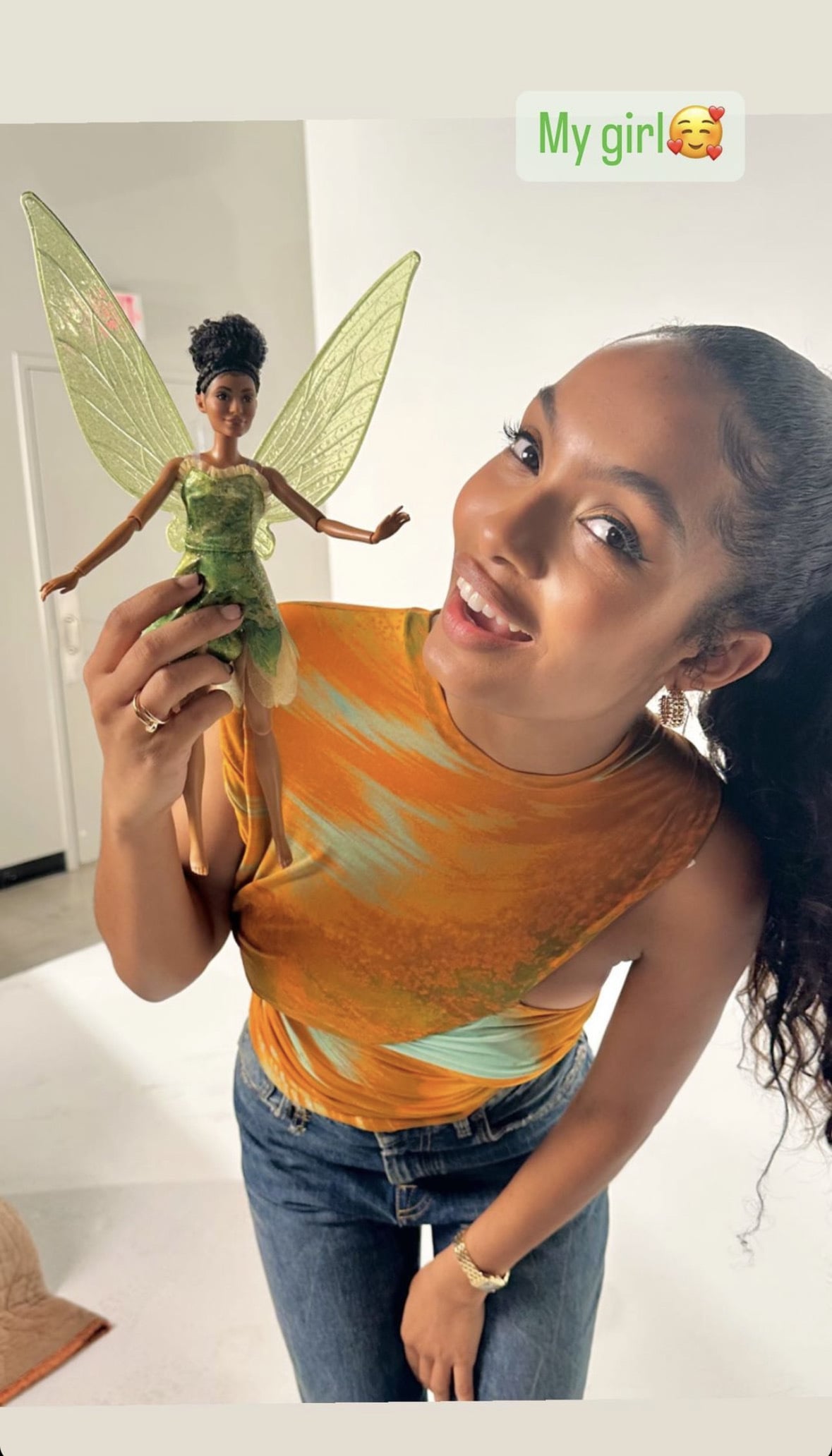 Image Source: Instagram Stories/Yara Shahidi
Several commenters replied to let Shahidi know how much seeing her likeness represented in doll form means to them. "I'm so exited we get a black tinker bell and little mermaid!!!!!" one person said, referring to Halle Bailey playing Ariel in Disney+'s live-action remake of "The Little Mermaid," which will be released this year. "I can't wait to get my Ariel doll too," Shahidi replied to one of her commenters. "Black Panther" actor and stuntwoman Carrie Bernans wrote, "This makes me so happy! I need this like NOW for me & my niece." While actor Taylour Paige replied, "Of course we can ❤️❤️❤️❤️❤️❤️❤️."
In an interview with The Hollywood Reporter, Shahidi opened up about the "beautiful" response both she and Bailey have been receiving, despite some of the initial racist backlash over their castings. "I think oftentimes people think of diversity and inclusion as threatening or jeopardising the quality of the story, instead of seeing how beautifully they can be interwoven together to create something that impacts even more people, that lets even more people into stories that we love."
We're not sure exactly when the Tinker Bell doll will be on sale — but when it is, we know plenty of fans who plan on snatching up more than one for the kids and adults in their lives. As Shahidi wrote in her Stories, "We can't wait to share the magic. Who doesn't want a fairy in their life?!"