Bissell Little Green Multi-Purpose Portable Cleaner Review
An Honest Review of the Bissell Multi-Purpose Portable Cleaner
As POPSUGAR editors, we independently select and write about stuff we love and think you'll like too. If you buy a product we have recommended, we may receive affiliate commission, which in turn supports our work.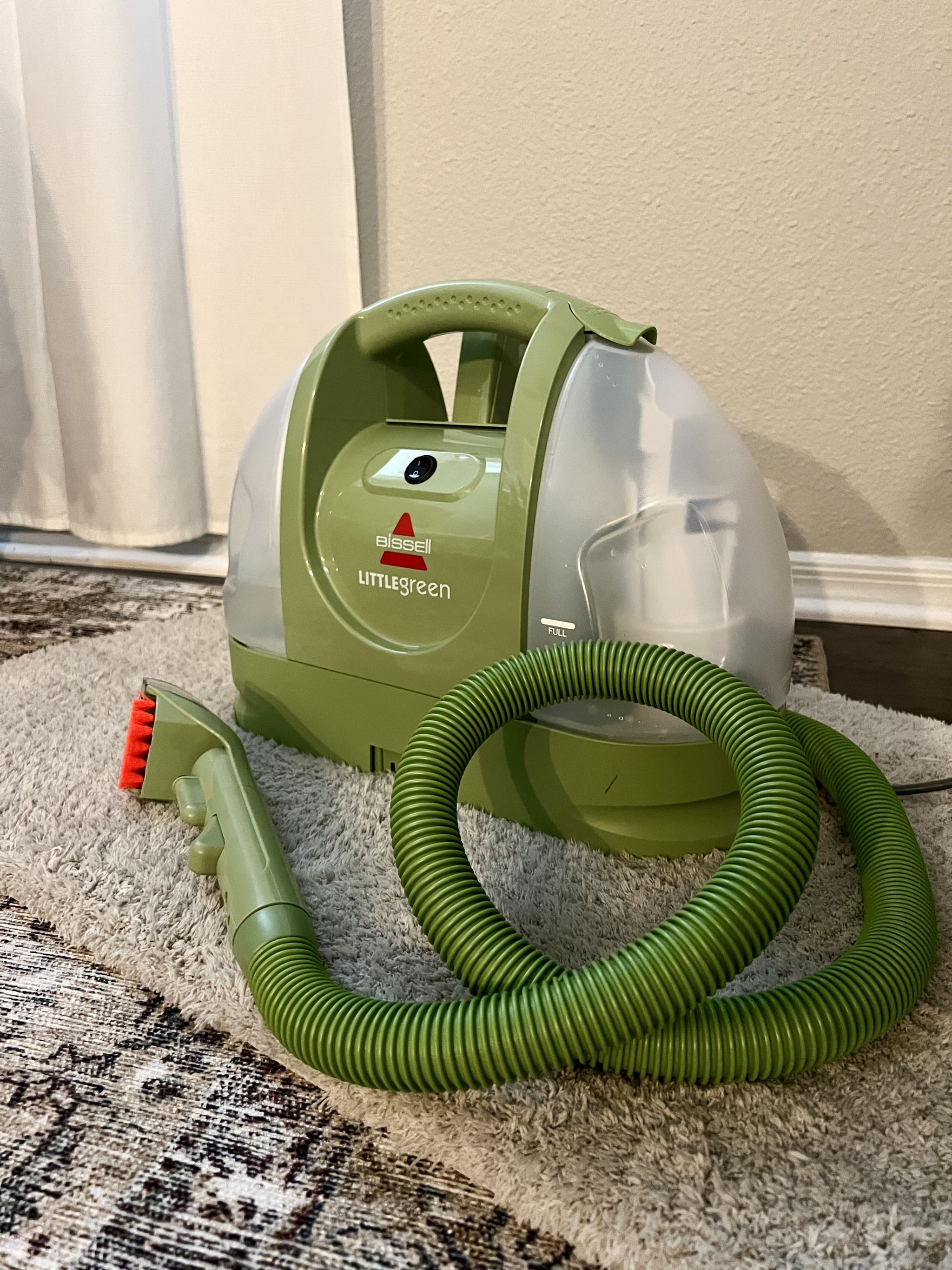 Arguably my biggest guilty pleasure of the moment is scrolling through Amazon's bestsellers page and monitoring (read: often buying) all of the products that are trending on any given day. Naturally, my binge-scrolling has introduced me to a number of incredible products, from portable fans that proved to be a lifesaver during the summer months to cool indoor hydroponic gardens that have seriously elevated my cooking game and, most recently, the Bissell Little Green Multipurpose Portable Carpet and Upholstery Cleaner ($110, originally $124). If you spend any decent amount of time on Amazon, it's likely that you've seen this bestselling cleaner bubble up on your own recommended results — and for good reason.
With more than 47,000 five-star reviews on Amazon's site, the portable cleaner is consistently a top-seller for the online retailer, with shoppers raving about everything from its practical and compact nature to the effectiveness of the tool — which is designed to tackle upholstery stains and dirt at the source — along with its easy assembly and generally feasible price tag. The cleaner is also often on sale, particularly around Amazon's Prime Day events, so you can even get it for a great deal.
Curious to see how the cleaner lived up to its "bestseller" title, I purchased the product for myself — and can honestly say it's elevated my home living situation for the better (and even sharpened the look of my vintage rugs in the process). Ahead, I break down the full product details about this cleaner, including how to use, who it's best for, and whether or not the cleaner is worth the splurge.
What I Like About the Bissell Little Green Multipurpose Portable Cleaner
As someone who lives in a smaller apartment space that requires me to clean it once (if not a few times) every week, I appreciate the portable and easy-to-use nature of this cleaner. The product is easy to assemble, as it comes mostly put together already and simply requires that you join the actual cleaner with attachments like the flex hose storage bracket. Within a few minutes, you're ready to begin putting the cleaner to work.
How to Use the Bissell Little Green Multipurpose Portable Cleaner
Per directions from the brand, it's recommended that you start by vacuuming your carpet, rug, or desired surface before using the cleaner, that way you'll remove all the loose dirt in the area. After I finish vacuuming my space, I'll fill the product's clean water tank with the Bissell spot and stain pre-treatment formula (which is included in purchase) all the way up to the "formula" line on the tank, and then fill the rest of it up with warm tap water. From there, I then slide the water tank back into the machine and select my preferred cleaning tool. Each Bissell cleaner comes with a variety of tools that boast different sizes, shapes, and uses. For example, the pet stain tool is ideal for targeting pet stains in particular, whereas the three-inch and four-inch tools are better for more day-to-day messes on carpets or in hard-to-reach places.
I personally get the most use out of the three-inch and four-inch tools, so I'll opt for those in most instances. The tool is easy to attach — I simply release the flex hose, plug the product's cord into an outlet, snap the tool onto the end of the hose, and then switch the power button to "on." I then hover the tool about one inch above the spot or stain I'm looking to remove, and then press down on the cleaner's spray trigger. From there, the cleaner will begin doing its magic, and I'll gently scrub the stain with the spray trigger, moving in a back and forth motion until I'm sure the entire area is well-coated. Within a few minutes, I'm able to see the results firsthand and notice my upholstery — particularly my vintage rugs and bath mats, which have a tendency to look pretty discolored and worn down over time — look visibly more vibrant and refreshed.
The aftercare is also incredibly easy — I simply unplug the cleaner, empty and rinse the water tank, and let the tank air dry. The cleaner is compact enough to fit within the linen closet in my bathroom, so it's easy to conceal when I'm not using it and also transport with ease when I am prepared to use it again.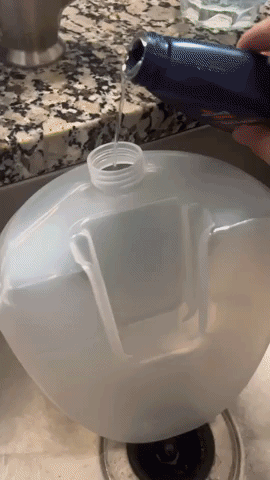 What's Worth Noting
I haven't had my Bissell portable cleaner for too long yet, so it's difficult to rate how the model holds up after several months of use (though I reckon I'll eventually update this review with more details on it in the future). However, I have combed through reviews from other shoppers who have had the cleaner for longer, and while there are relatively few complaints when it comes to this model, some have expressed disappointment with regard to its durability and build. One shopper wrote on Amazon in their review: "Unfortunately, this scrubber is cheaply made. The bristles are already worn out on the attachment it came with and the spot where the hose has to connect within the water/solution container is very brittle." Another reviewer noted that while they "like this deep cleaner," they were less enthused with the product's design, saying: "It has a major design flaw in my opinion which is that the tool cap doesn't come off so you can't adequately or completely clean it."
The majority of reviews are overwhelmingly positive, though, and my experience so far can speak to that. However, as with most things, it's important to do your research prior to purchasing this cleaner to ensure it's the best choice for you and your household. And if you're in the market for something that can work in your home for the longterm without fear of its quality deteriorating too quickly, it's worth taking these criticisms into account.
Who Is the Bissell Little Green Multipurpose Portable Cleaner Best For?
This bestselling cleaner is great for all types of households and messes — but especially homes with kiddos or pets where dirt and spills are abundant. Unlike most traditional cleaners, this model is incredibly compact and easy to transport, making it ideal for families that constantly find themselves cleaning all corners of their household. It also holds a decent amount of water within its 48-ounce tank, so you can use the tool multiple times without having to empty out the dirtied water after each instance.
Additional Details
This compact cleaner is designed to work across a range of surfaces, including carpet, upholstery, auto, and stairs.
Despite its smaller design, the tool actually has a 48-ounce tank, which can hold a decent amount of dirt and debris, allowing you to clean on the regular without having to empty the tank every time.
It has a strong suction and spray hose which can work to remove deeper stains on surfaces like upholstery and car interiors.
The portable cleaner also comes with a trial size formula of Bissell's Spot and Stain with Febreze Freshness formula, which boasts a light scent that's designed to leave your space with a refreshing smell that lasts long after you've finished cleaning.
Where Can I Buy The Bissell Little Green Multipurpose Portable Cleaner?
This portable Bissell cleaner is available to shop at Amazon, Walmart ($89, originally $123), and Bissell ($110, originally $124).
Rating:
Image Source: POPSUGAR Photography / Kyley Warren