The Body Shop Green Tea Hair Scrub
This Hair Scrub Might Finally Convince You to Stop Using Dry Shampoo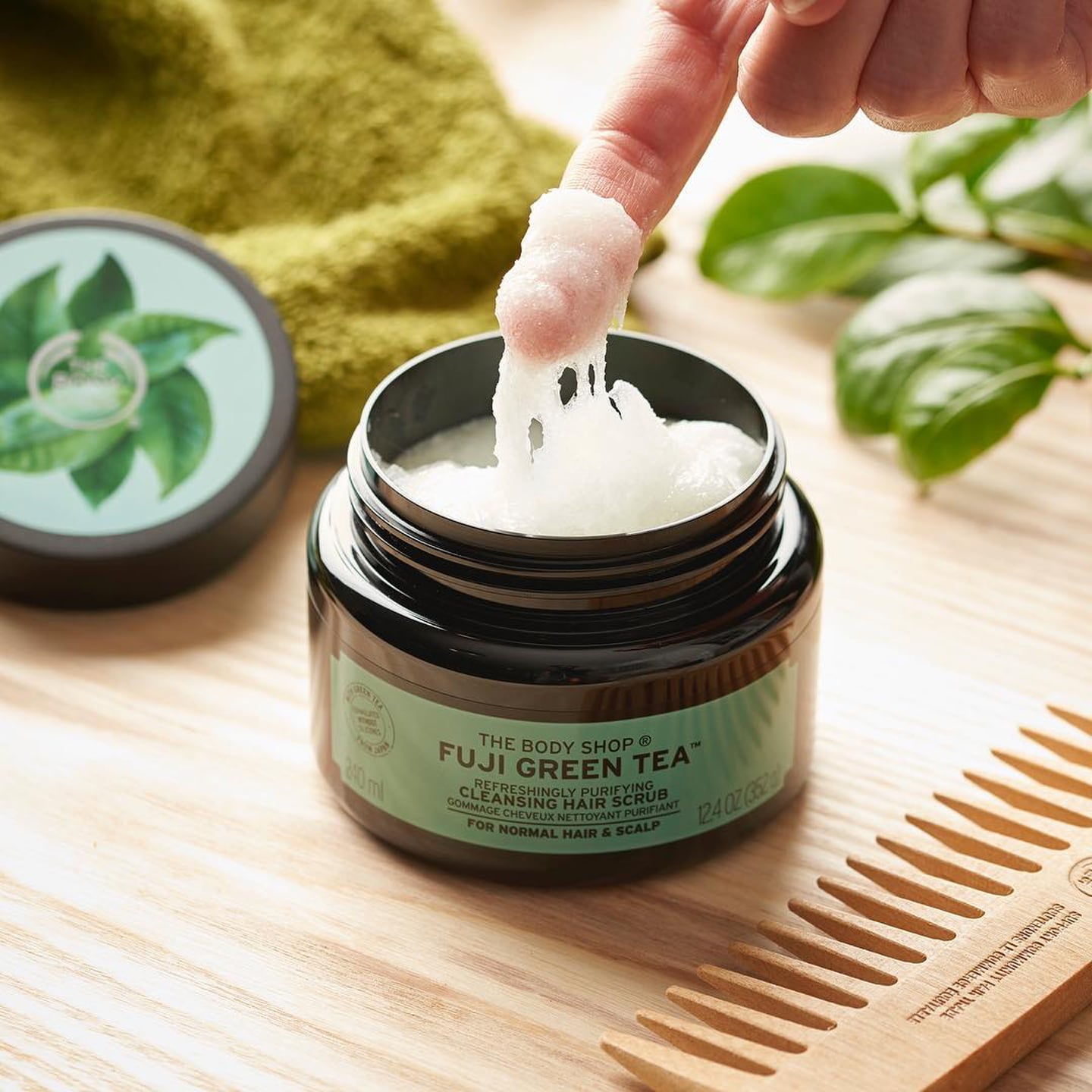 We spend a lot of time exfoliating our bodies, so why have I never thought about exfoliating my scalp? This kind of hair treatment is new to me, and I absolutely love it.
When The Body Shop Fuji Green Tea Hair Scrub (£15) arrived on the POPSUGAR beauty desk, I had a sniff and was sold straight away. It's the nicest smelling hair product I've picked up in a long time, so I knew I needed to try it. As I suffer from a very dry scalp come Winter (glamorous, I know), I'm always on the hunt for different treatments that will ease my sore and red scalp — and I've basically tried it all, except a scrub.
So, what is this product really about? Made without silicone, the scrub is a green tea blend with mint menthol, salt crystals, and Community Trade honey that aims to purify, increase blood flow, and remove impurities and hair buildup. To use it, simply put a teaspoon of scrub into your palm, add water, and rub into your hands to create a foaming texture. Proceed to give your scalp the scrub it deserves and rinse out thoroughly. (Side note: it will feel very wrong putting scrub on your hair!) This exfoliator is supposed to be used in place of your normal shampoo; however, I don't love the "squeaky clean" finish it leaves, so I follow up with a tiny bit of my regular shampoo and finish with my usual conditioner. The Body Shop doesn't specify how often this product should be used, but I would suggest not more than once a week. As it works to deep cleanse excess hair buildup, you might find that it strips your scalp of its natural oils if it's used too regularly.
After using the scrub, my hair is clean for a solid three days (which I probably could have stretched to four), with no signs of greasiness; perfect, then, for those of us that tend to use a little too much dry shampoo despite knowing the bad effects it can have on hair health! So, after having tried it out for a few weeks, I can safely say that adding this product to your weekly hair routine will help eliminate the buildup of excess hair product. It means that you pretty much won't ever need to use dry shampoo again (trust me), and your hair will smell better than ever.
Image Source: Courtesy of The Body Shop