Isle of Paradise Tanning Water Review
Is This Tanning Water the Secret to the Ultimate Golden Glow?
As POPSUGAR editors, we independently select and write about stuff we love and think you'll like too. POPSUGAR has affiliate and advertising partnerships so we get revenue from sharing this content and from your purchase.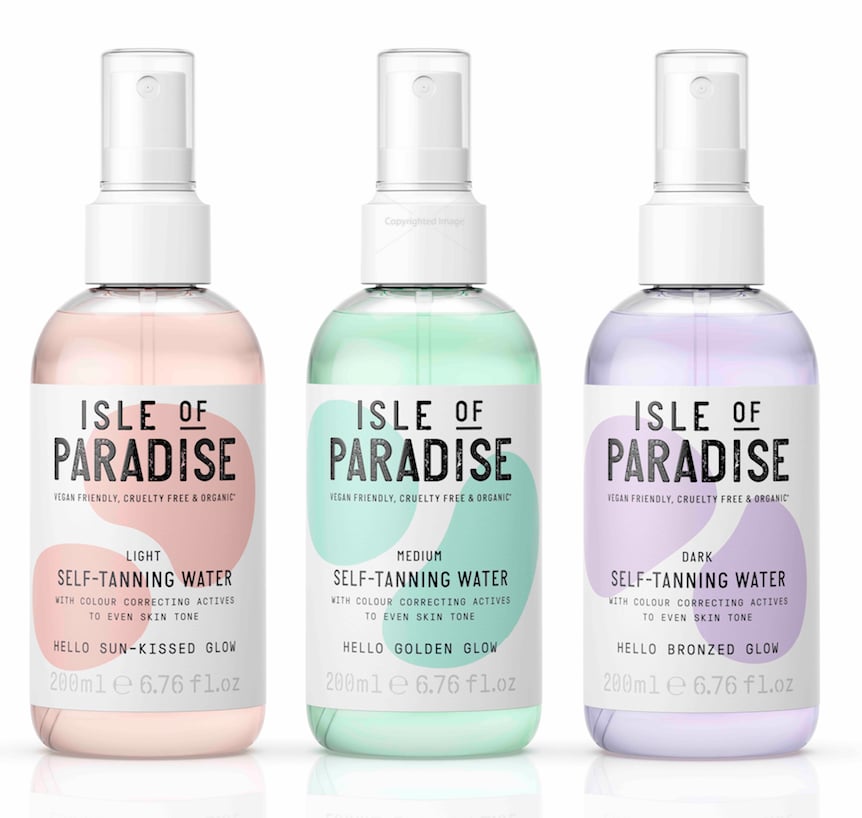 You've probably seen Isle of Paradise on your Instagram feed recently. The new self tan launch has been an instant hit with influencers, partly because the cute pastel packaging looks as cute on the bathroom shelf as it does on your bod. The vegan and cruelty-free brand is the brainchild of Jules von Hep, who's been a big name in the world of tanning for years. I've been spray tanned by Jules in the past, and I loved both him and the golden glow he gave me, so I was excited to try his heavily hyped range for myself.
I started with the product people are really talking about: Isle of Paradise Tanning Water (£19). It comes in three shades, which have colour-correcting properties for the most natural result. Peach gives you a light tan, green a medium tan, and lilac a deep glow. I'm very fair-skinned, but I'm also a bit of a fake tan addict, so I went straight for the green!
This is the first tanning "water" I've tried. It goes on colourless, which is my preference when it comes to fake tan, but it can be scary for a newbie as you can't see where you've applied it. Luckily, the wet formula helps with that. It comes in a pump action bottle, and you literally just spritz it onto prepped skin until it's evenly covered, then blend it with a mitt.
The package tells you to spritz until the skin is "totally saturated," which I think is a bit misleading. I totally overestimated how much I needed on the first application, and though there were no streaks as such, I ended up with orange feet and brown knees. For my second attempt, I spritzed sparingly, blended gently with a mitt, and the results were great. This seems to be quite a buildable product, and I prefer the look of a more subtle application. It's even, streak-free, and natural-looking. The first time around, I overdid it because I was expecting the water formula to be really streaky, but it's far more foolproof than you'd expect, and you really don't need as much as I splashed all over myself. An even mist is enough. Here's how it looks applied to just one leg, with my natural skin colour on the left (yep, I tanned one leg, just for you).
This product is definitely best applied in the bath or shower as the spray does get everywhere, but clean-up is quick and as it has no bronzer in it, it doesn't stain. Once I worked out I didn't need as much as I thought, I grew to really love the product and have used it multiple times in the past month or so. The colour looks really great in real life — it's never orange. It fades evenly if you moisturise, and it can be removed easily when it's past its best using a fake tan remover.
However, there are a couple of downsides to be aware of: the first is that it has a real tendency to cling to dry skin (even if you prep knees and ankles with a barrier cream), so you absolutely have to keep your skin in good condition if you want the best results. That means moisturising and exfoliating frequently (including 24 hours before). This is not unusual for fake tan, but this product is less forgiving than a number of others I've tried (especially lotions and gradual tans). I'm also not 100 percent convinced the packaging is quite there yet. It looks so pretty, and I love the idea of a water, but the pump-action spray itself is really stiff and can't really be used at an angle, which makes it hard to reach some areas without help. I ended up spritzing it straight onto the mitt to do some areas of the body, but the results weren't affected.
Overall, I'd give this 4/5. I love the branding, the colour-correcting tints are innovative, the results are lovely and natural, and it doesn't have a strong fake tan smell. It only loses a point because I think it could do with a different bottle; a trigger spray that's easier to manipulate would be amazing, if a bit less Insta-worthy!