I Tried Hailey Bieber's 2-Step Hack For Glowing Skin
I've Tried All of Hailey Bieber's Skin-Care Tips — This One Is My Favourite
As POPSUGAR editors, we independently select and write about stuff we love and think you'll like too. If you buy a product we have recommended, we may receive affiliate commission, which in turn supports our work.
It's no secret that Hailey Bieber has great skin. The Rhode founder is basically the poster girl for glazed-doughnut everything from her head to her toes, so whenever she shares her skin-care secrets, my ears perk up. Because who doesn't want to look as flawless as Bieber on a regular basis? Recently, she shared the hack that she uses to make her body look just as glazed as her face. When I saw it on social media, I added it to my "saved" folder immediately.
In the video, Bieber takes the Rhode Glazing Milk Essence (£29) and mixes it with a few drops of liquid highlighter, then applies the entire mixture to her body. "It gives you this really pretty sheen and glow," she says while showing off her outfit — which sparkles just as much as her skin. I'm already a big fan of the Glazing Milk (read my full review here), so I was excited to see if her trick would work for me.
In the past, I've tested out a few different products that are specifically made to give the body a nice highlight effect, but I've found that they don't give my skin as much brightness as I want, and they usually rub off on my clothes. Bieber's hack came at just the right time, because this past week, I found myself in dire need of a trick that would get people to look anywhere other than my face.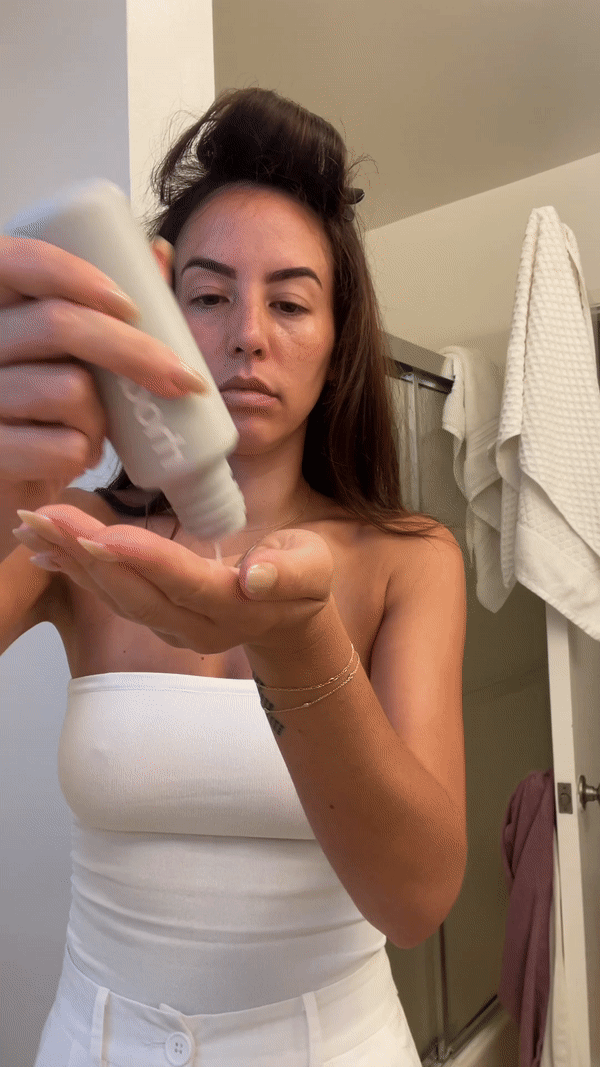 I recently had a liquid microneedling facial, and while patiently waiting to see the results, I wasn't allowed to wear makeup for a full 72 hours — aesthetician's orders. Normally, this wouldn't be an issue because I rarely wear product on my face during the week, but I happened to have a glitzy work event to go to, so in order to take some eyes off of my face and skilfully guide them elsewhere, I decided to test out Bieber's hack.
The night of my event, after taking a shower, I applied lotion to my body while it was still damp. After finishing my hair and skin care (and fully skipping out on makeup altogether), I picked out my outfit, which was an all-white ensemble. (I know Labour Day has come and gone, but like Josie Geller in "Never Been Kissed," "no white after Labour Day" is a memo I actively choose to ignore.)
Then, it was time to apply the product. Bieber used the Chanel Les Beige Sheer Healthy Glow Highlighting Fluid (£44) in her video, but I opted for the Drunk Elephant B-Goldi Bright Drops (£33) because I frequently use them on my face and I like the way the colour looks on my skin tone.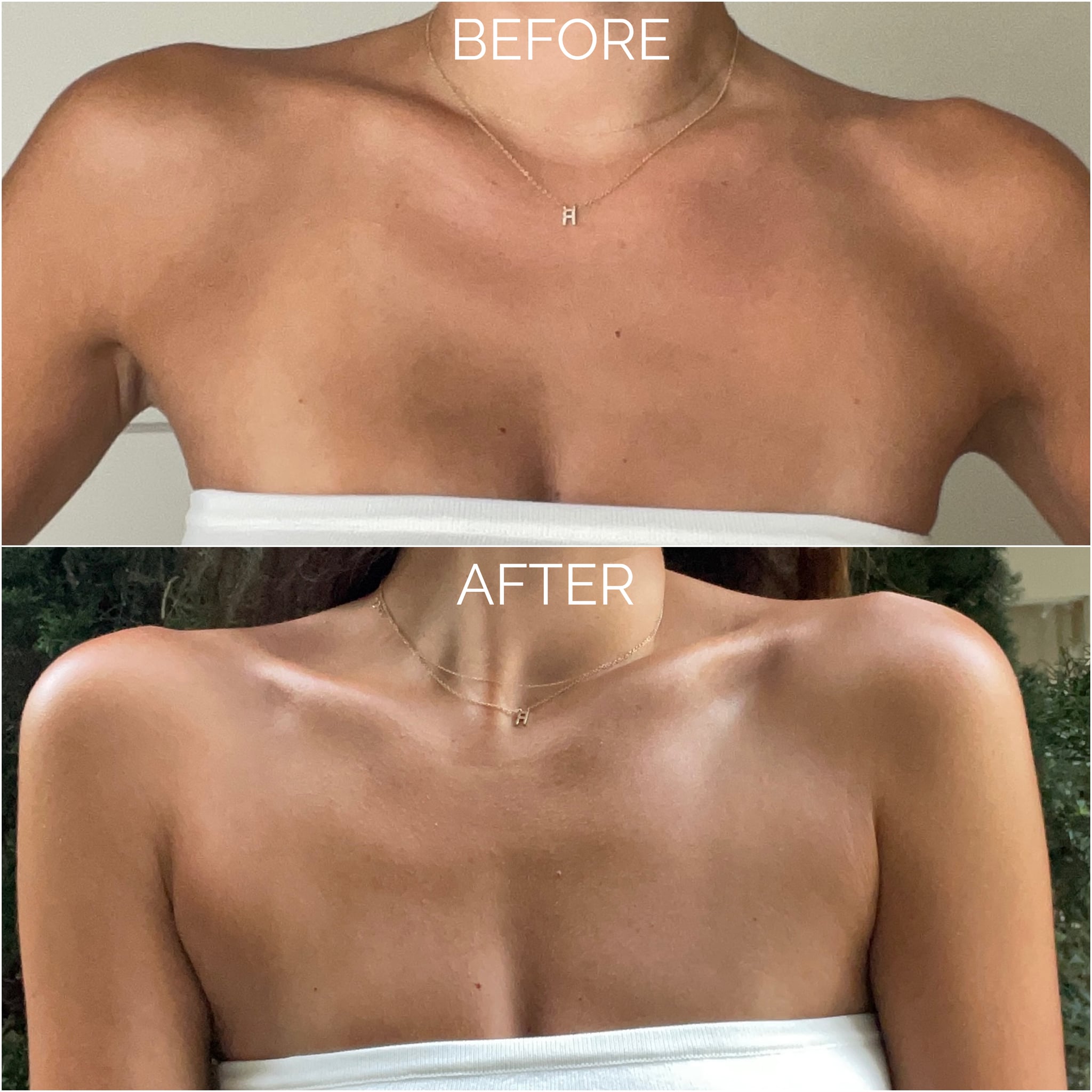 To start, I poured a quarter-size amount of the Glazing Milk into the palm of my hand, then squirted two pumps of the B-Goldi Drops in with it. From there, I mixed everything up with my hands, then I began rubbing it onto my chest, arms, and collarbones. It wasn't streaky whatsoever since I used my hands to melt everything into my skin, but I did need to wash my hands after. Still, the end result was pretty spectacular. My skin glowed, it shone, it was giving everything it needed to give. What really solidified my love for this hack was when two people at the event I went to asked me what I was wearing on my body and complimented how good my skin looked.
However, even though I loved the look, I still wanted to check and see if Bieber's hack was really worth buying an extra product, so I tested out the trick without the Glazing Milk the next day while hanging out at home, and the results weren't nearly as great. First of all, the liquid highlighter was too concentrated and almost looked like body paint, and second, it was harder to glide the product across my body without the extra help from the glazing milk.
Although summer is quickly coming to a close, this is definitely a trick I plan on using every time I go out — with or without makeup.
Image Source: POPSUGAR Photography / Renee Rodriguez