Olay Ambassador Lady Leshurr Talks About Importance of SPF
Lady Leshurr Is Here to Remind Us All to Wear Our SPF This Summer (and Winter)
As POPSUGAR editors, we independently select and write about stuff we love and think you'll like too. POPSUGAR has affiliate and advertising partnerships so we get revenue from sharing this content and from your purchase.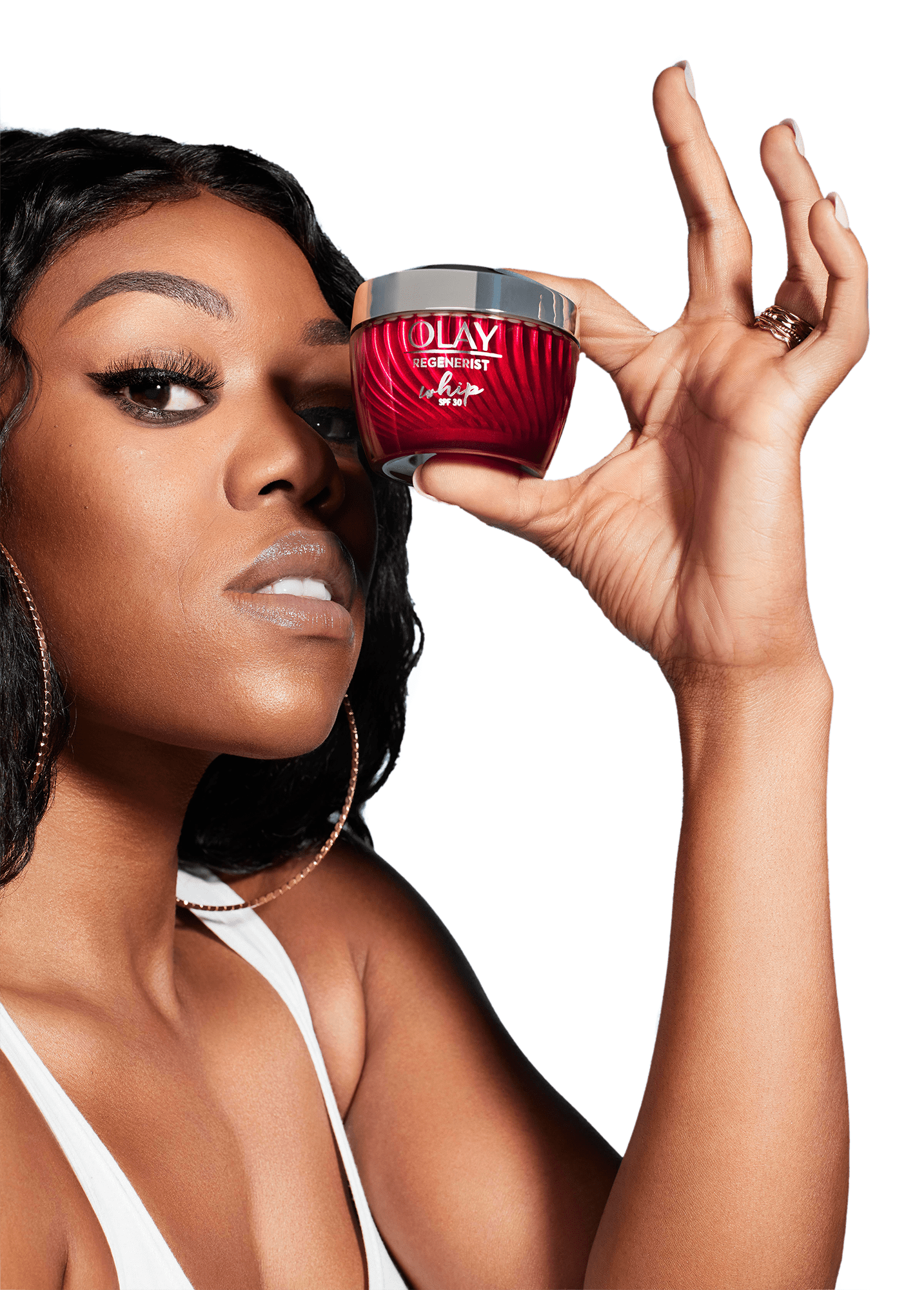 Sunscreen has previously been quite a boring subject. Our minds often go straight to: thick white creams that don't smell great and definitely don't sit well under makeup. But times have changed and so have modern SPFs. They're more elegant, cater to all skin types and tones, and come in many different formulas. Even better, we've got some pretty incredible people reminding us of the importance of SPF, including Lady Leshurr. The British rapper, songwriter, and producer has teamed up with Olay to keep us all in check when it comes to remembering to apply (and reapply) SPF, and we caught up with her on the topic.
POPSUGAR: Congrats on being an Olay ambassador! Why were you excited for the partnership?
Lady Leshurr: When I was younger, I had a babysitter who would use Oil of Olay. I couldn't afford it back then, so I would always use it when she was around and I loved it. It's quite nostalgic to me. I remember seeing Olay adverts when I was a child and now I'm the face of it — it's mind-blowing!
PS: We'd love to hear a little bit about your relationship with beauty and skin care.
LL: To be honest, I had never really had a routine, I just knew I should always take my makeup off. During lockdown, I was breaking out, so I decided to research how to help with acne and pigmentation. At the same time, Olay reached out to me, which was incredible timing. They sent me some products, and as soon as I started using the Olay Regenerist Whip SPF moisturiser [which contains SPF 30 with UVA and UVB protection] my face just felt so smooth, and I haven't stopped using it since.
PS: Could you talk a little bit more about why using SPF is important to you? When did you realise the importance of SPF in your routine?
LL: To be really honest with you, I didn't really have that much knowledge about SPF until I started working with Olay. When I read the brief of what I needed to include in the promo advert I realised that SPF is also essential for people of colour, too. I felt that, at that point, being an ambassador had more of a purpose than just using the product when I was younger. I felt I needed to bring awareness to people that looked like me that also had no idea that it's so important for our skin. I didn't really understand it and I think most of the time when people don't understand something they are less interested in finding out the hows and whys. I think it's very imperative to now be that person to shed light on the topic.
PS: You've mentioned before that keeping your skin protected during Dancing on Ice was important, could you talk a little bit more about that?
LL: I was always in a cold environment, so my skin would feel super dry and my lips were extra crispy. I'd always take Olay Regenerist Whip SPF moisturiser (£35) with me to training to use it before I go on and after, and it would always keep my skin hydrated.
PS: We'd love to know a little bit more about your writing process? How do you begin writing such an epic campaign as your Olay one?
LL: It all starts with a beatbox. As soon as I'm sent a brief, I'll jot down the main things to include and think of a catchy melody throughout. Then, I beatbox how the beat would sound and record it from my home studio.
Image Source: Olay