The Inkey List Fulvic Acid Brightening Cleanser Review
Meet Your New Everyday Face Wash: The Inkey List Fulvic Acid Brightening Cleanser
As POPSUGAR editors, we independently select and write about stuff we love and think you'll like too. POPSUGAR has affiliate and advertising partnerships so we get revenue from sharing this content and from your purchase.
It's only the second month of the year and The Inkey List has presented us with yet another innovative ingredient to consider adding to skin-care routines. In January, the skin-care brand introduced us to spot-treating succinic acid and hair-repairing PCA, and this February, we meet fulvic acid, the main ingredient in The Inkey List's Fulvic Acid Brightening Cleanser (£11).
Whilst we may not be that familiar with fulvic acid here in the United Kingdom, it's a well-known, multitasking ingredient in traditional Chinese medicine. "The properties that fulvic acid brings in terms of nourishment is well-documented in Chinese medicine to the extent where people with eczema-prone, psoriasis-prone skin tend to have fulvic front and centre in their routine," The Inkey List cofounder Mark Curry told POPSUGAR over Zoom. "We thought it was interesting to bring it to the cleanser space as we already have a great cleanser if you have oily skin, and we have a great cleanser for makeup removal if you have sensitive skin, but we wanted a general, everyday cleanser with impact."
So what is fulvic acid exactly? "If you were to put fulvic acid under a bucket or category, it's a humic acid," Curry explained. "It's naturally found in soil, or compost specifically. We've sourced ours from a UNESCO heritage site in Finland, making sure it's sustainably sourced, because what you don't want to be doing when you're getting anything from the soil is putting the food production at risk at the same time." However, knowing that it's a humic acid isn't all that helpful for those of us who are not a scientist or cosmetic chemist, as fulvic acid doesn't have anything to do with hydration. And while it does exfoliate the skin a little, it doesn't fall in the exfoliating acid category, a group that includes glycolic acid, lactic acid, and salicylic acid, to name a few. (For a breakdown on all the different types of skin-care acids, click here.)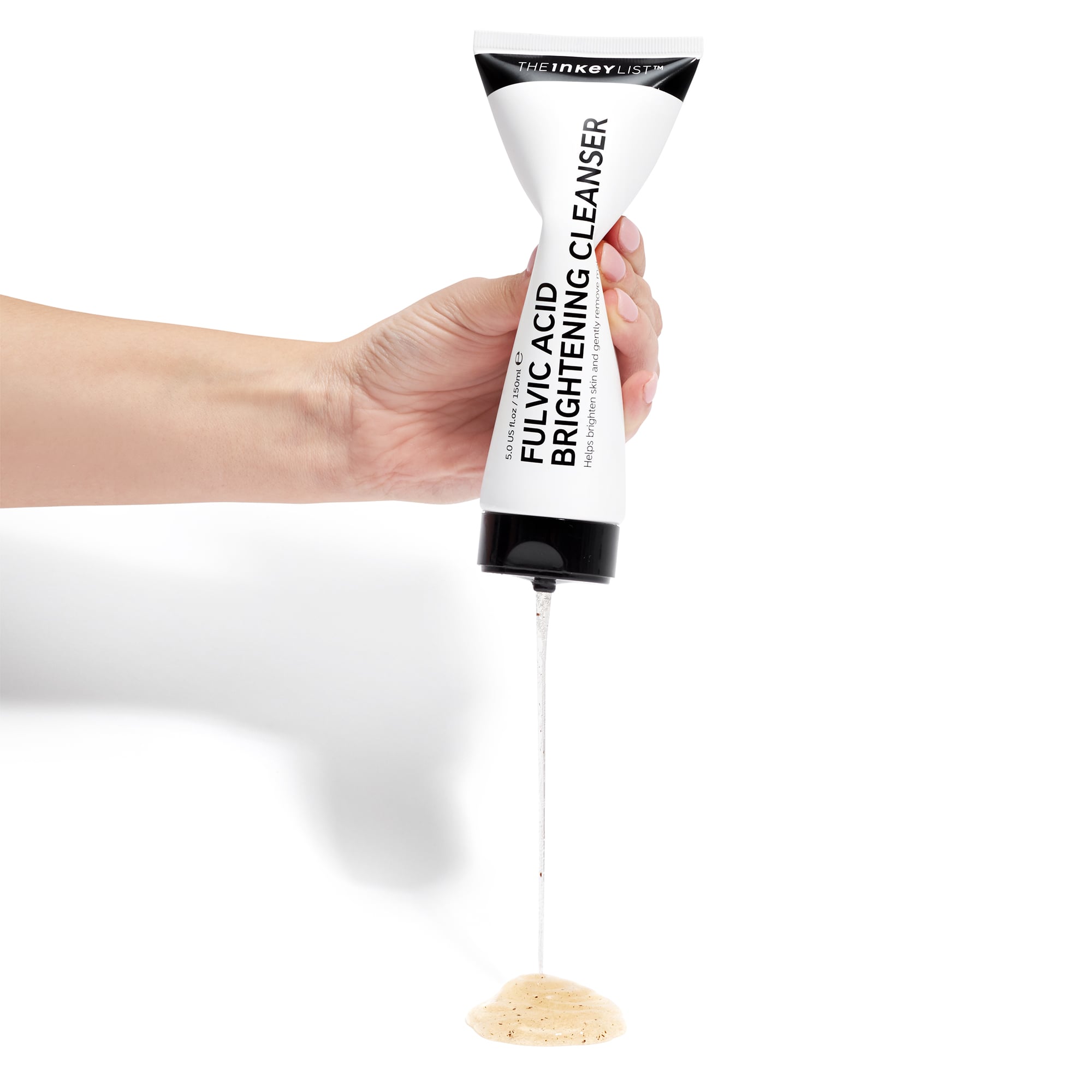 In terms of what the ingredient can do for your skin, Curry described it as "if you add glycolic acid plus vitamin C plus azelaic acid it would be fulvic acid" — clarifying that it's an acid that has brightening, exfoliating, and anti-inflammatory properties, as well as being a "super scavenger from a free radical perspective". In the Fulvic Acid Brightening Cleanser, the main ingredient is combined with kakadu plum extract, which is rich in brightening vitamin C; liquorice root extract, an ingredient know for being soothing for the skin; and aloe vera, added for both hydration purposes and the sensorial experience.
The goal for Curry and cofounder Colette Laxton was to create a "general, everyday cleanser for everybody that's really nice and easy to use", Laxton explained. And as someone who has been on the hunt for a basic, effective face wash without any bells and whistles — who has combination skin that breaks out occasionally, can't handle a ton of strong active ingredients, and is starting to show the early signs of ageing — I'm Laxton and Curry's perfect customer when it comes to the Fulvic Acid Brightening Cleanser.
I've been using the face wash for a little over a week now and can vouch for the fact that it's a faff-free cleanser that gets the job done. The luxurious gel formula — which is the perfect consistency; it's not too thick or too thin — swiftly removes all my makeup at the end of the day, breaking down mascara and eyeliner and washing it away so that anything that remains can be easily wiped away without having to vigorously rub my under-eyes.
What I think I like most about the cleanser, however, is that my skin just feels clean and happy whenever I use it — whether I'm washing my face after spending all day wearing makeup, getting super sweaty during a Peloton cycling class, or waking up in the morning in need of a bit of a refresh. Some cleansers leave my skin so dry that I can barely wait two minutes before scrambling for a hydrating serum, whilst others leave behind a film that makes me feel like I need to wash it again. And then there are the cleansers that are one-trick ponies, only good for one thing like taking off makeup or acting as strong a exfoliator that can only be used a couple of times a week. This face wash gives you a bit of everything — it breaks down makeup, washes away grime, exfoliates a little, brightens over time, and provides you with antioxidant protection — all without being irritating. In fact, since I've been using it, it seems to do the opposite of irritate — my skin feels more content and less finicky lately.
As a company, The Inkey List's goal is to introduce ingredients to the market in a simple-to-understand way that people can choose to use or not depending on their skin types and preferences. And this launch is a perfect example of that strategy in action. Two weeks ago, I didn't know what fulvic acid was. Now, I don't think I'll go another day without it.