David Harbour & Kids at Guardians of the Galaxy 3 Premiere
David Harbour Takes His Stepkids to the "Guardians of the Galaxy Vol. 3" Premiere — See the Cute Photos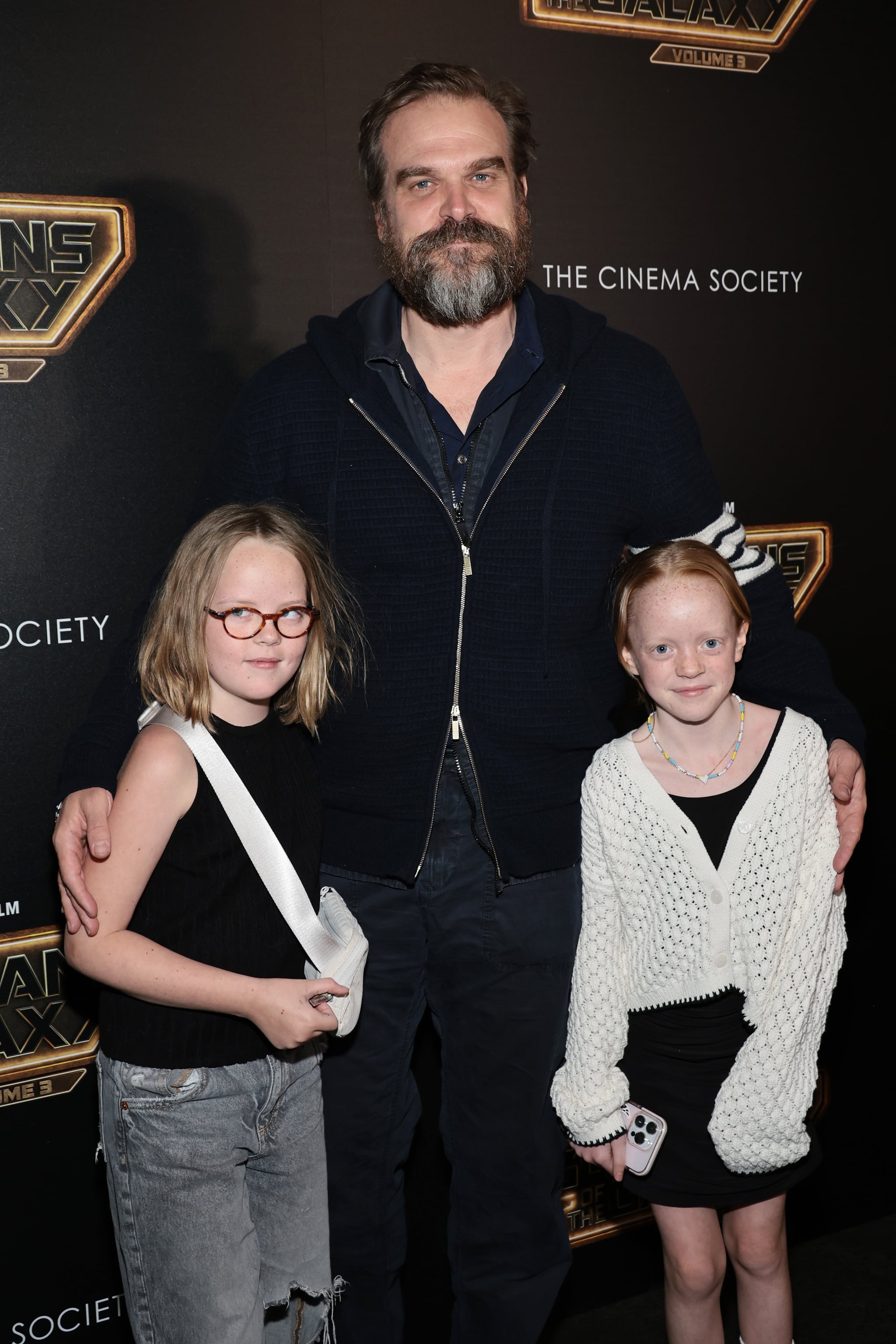 Image Source: Getty / Jamie McCarthy
David Harbour wins stepdad of the year. On 3 May, he got his stepdaughters the hottest ticket in town to the "Guardians of the Galaxy Vol. 3" premiere in New York City.
The 48-year-old "Stranger Things" star married singer turned actor Lily Allen in 2020 and is now stepdad to her two children with her ex-husband Sam Cooper, Ethel, 11, and Marnie Cooper, 10.
The sisters relationship with Harbour is so sweet. In a June 2021 interview on "Jimmy Kimmel Live!," Harbour told the late-night host that the children spurred him to marry Allen when they debated whether or not he was their dad on one occasion. "We were riding around beginning of [the] pandemic . . . trying to figure out what we were gonna do for the next year or however long it was going to take," he recounted. "And the little one was riding along, and she was going like, 'David, dad, David, dad' . . . And the older one got very upset with that."
He continued: "She was like, 'He's not our dad! He's not our dad!' And then younger one was like, 'Well what is he? He's kind of our dad.' [Ethel's] like, 'No he's not, he's our stepdad.' And [Marnie] goes, 'What is he?' And she goes, 'He's just some guy in our lives!'" At this point, Harbour realised he wanted to be in Allen, Ethel, and Marnie's life forever — joking that it was partly to avoid any emotional fallout.
Three years later, their blended family lives in a Brooklyn townhouse together (which means easy treks to New York movie premieres). "We wanted somewhere to feel like the central engine of the house. When you come in, there's a big table to dump the shopping on, the kids do the homework 'round there, I cook," Allen told Architectural Digest in February 2023 about their daily routines in their kitchen, joking, "Everyone abandons me..."
Check out more pictures of Harbour with his stepchildren at the "Guardians of the Galaxy Vol. 3" premiere ahead.