Jessie J Speaks Out About Her C-Section
Jessie J's Birth "Went in a Completely Different Direction" Than She Planned
Jessie J welcomed her baby boy into the world during the week beginning 8 May. The singer shared the news on Instagram on 19 May, writing: "A week ago my whole life changed." The 35-year-old said in her Instagram Story, "My son entered this world and my heart grew twice the size. The feeling is indescribable. I am flying in love."
She has now revealed that her "magic" baby boy did not quite make the entrance she was hoping for, though.
In an Instagram post on 2 June – which saw the star dancing around with her baby bump in a hospital gown – Jessie J (real name Jessica Ellen Cornish) stated that her birth went in "a completely different direction" to what she had initially planned. "I spent nine months prepping for a natural birth," she revealed, explaining that she had been eating healthy, using a birth training device, and practicing hypnobirthing techniques, as well as doing yoga and swimming. "I had a tens machine, a birthing comb, I wanted a pool birth ideally with no medication," she added.
"BUT," she went on to write, "this was MY plan to stay disciplined and focused. I knew full well it could and would most likely go in a completely different direction." In the end, the pop star understood that she needed to be "open to surrendering to the safest way for my baby boy to arrive." After her 40-week scan revealed that her plan wasn't quite in the right position to deliver her son vaginally, she ended up giving birth to him via a planned C-section.
"I did everything to try and turn him for two months but he said 'Nah mum I wanna make an entrance out the roof, not the front door,'" she quipped, explaining that she felt "mostly just excitement" to meet her baby, no matter how he came into the world. "I guess I'm sharing this because so many people have said 'Do you feel like you missed out on the birth you wanted?'" she explained. "I had a birth and it was everything I wanted because I got him at the end of it, that's all that matters."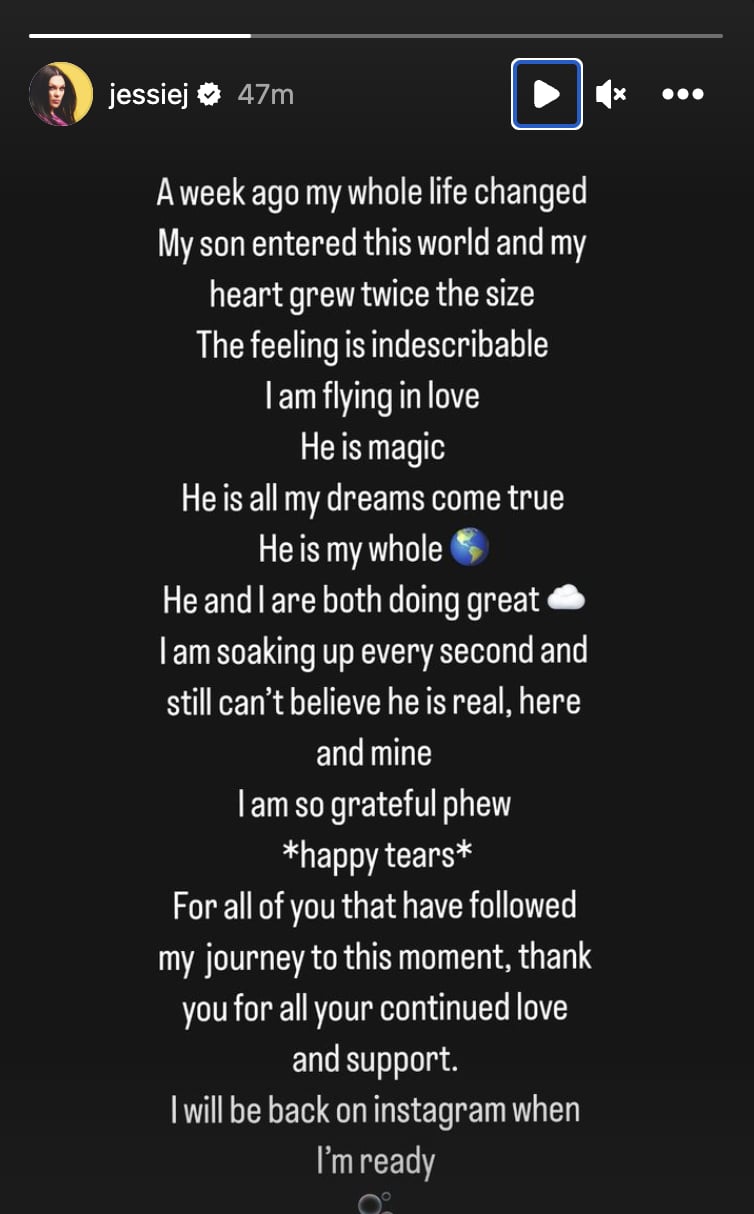 Image Source: Instagram user jessiej
Jessie J announced her pregnancy back in January and shared updates about her little one in the weeks leading up to his birth. In January, she opened up about her first trimester woes in an Instagram video, and throughout February, she posted various clips of her singing live on social media, dedicating some to her baby boy. She also showed off her baby bump at the 2023 Brits.
Then, on 19 March, she shared an ultrasound photo of her son on Instagram and wrote a heartfelt letter to him in the caption. "Thank you for coming to me. Thank you for trusting me that my body can keep you safe. Thank you for gifting me with the most special experience already so far and with the most important role I will ever play in my entire life," she wrote. "I love you so hard it blows my mind this is real. I'm yours forever my son. I cannot wait to meet you."
The singer has been transparent about her motherhood journey ever since revealing in August 2022 that she experienced a devastating pregnancy loss in November 2021. She spoke about her grief in a candid Instagram post, writing in a caption, "When I was 16 years old I wrote a list of things I wanted by the time I was 30. 1st thing on the list was to be a Mum. Now I'm nearly 35 and some days the grief of losing a baby and it not being easy to have one, and wanting my life in that way to look completely different to what it looks like right now just overwhelms me."
She added, "The bad isn't often at all and yes I could go through this moment right now today alone in private and usually do, but today I am here. Because I know thousands of people around the 🌎 feel just like I do. Maybe you read this and feel the love I have for you. I hope you can." Of her baby's birth, Jessie J thanked those "who followed my journey to this moment" and for their "continued love and support."
— Additional reporting by Njera Perkins