King Charles's III Coronation
King Charles III Has Officially Been Crowned as the New Monarch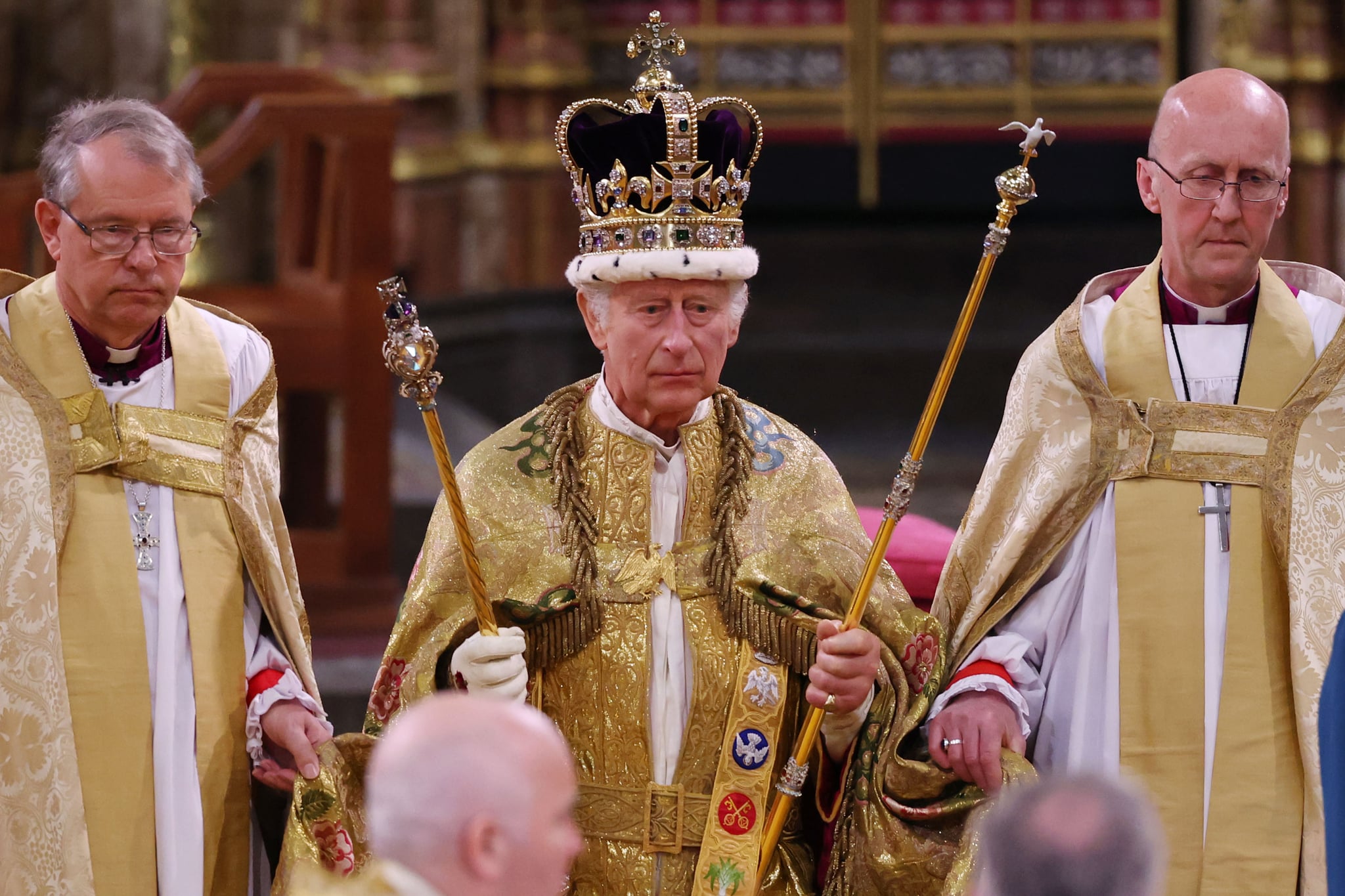 Image Source: Getty / Getty / Richard Pohle
King Charles III has officially been crowned as the new monarch. His role as the head of the church of England and the country's sovereign has been formalised in a ceremony beginning at 11 a.m. at Westminster Abbey on 6 May.
The King traveled in a gold state coach from Buckingham Palace to Westminster Abbey on Saturday morning, along with Queen Camilla, through London. Following the service, during which the St Edward's crown was placed on Charles's head, the king and queen will travel in a larger procession back to Buckingham Palace before hitting the balcony with members of the royal family to watch the flypast.
Amongst the family in the crowd is Prince Harry, who attended the coronation alone. It was announced on 12 April that the King's son would travel to London to be reunited with the royals without his wife, Meghan Markle, or children, Prince Archie and Princess Lilibet. The announcement was hardly surprising considering it is also Archie's 4th birthday on the coronation day and in light of recent conflicts between the Sussexes and the rest of the royal family, fuelled by the revelations in Harry's memoir, "Spare".
But Markle isn't the only recognisable face absent from the celebrations. Sarah Ferguson, ex-wife of Prince Andrew and mother of Princess Beatrice and Princess Eugenie, was snubbed from the guest list, although she understands why. "I'm not [going], it's a state occasion, and being divorced I don't think you can have it both ways," she said on "Good Morning Britain" on 20 April. "I am divorced, and I'm really loving being divorced to my ex-husband, not from him but to him, it's important to differentiate." She added she will be there in private. "That's a lovely feeling to be part of, it really is, and as I said you can't have it both ways. You mustn't sit on the fence. You're either in or out, don't muck around." Lady Pamela Hicks, the Queen's former bridesmaid, was also not invited as the King is reported to have slimmed down the guest list.
All eyes were on the King and Camilla, who was also crowned, but Prince William, as the heir to the throne, also had a significant role in the ceremony — and so did his three children. Prince George, 9, Princess Charlotte, 7, and 4-year-old Prince Louis were all in attendance, with the eldest son of Prince William and Kate Middleton serving as a page of honor.
Whilst the siblings have taken part in many Royal events (who could forget Louis's hilarious star moment at Queen Elizabeth II's Jubilee Pageant?), it was decided that the youngest was too young to take part in Queen Elizabeth II's funeral last year, while Charlotte and George did attend. However, being that much older at the King's Coronation, it seems that Louis was ready for his ceremonial debut.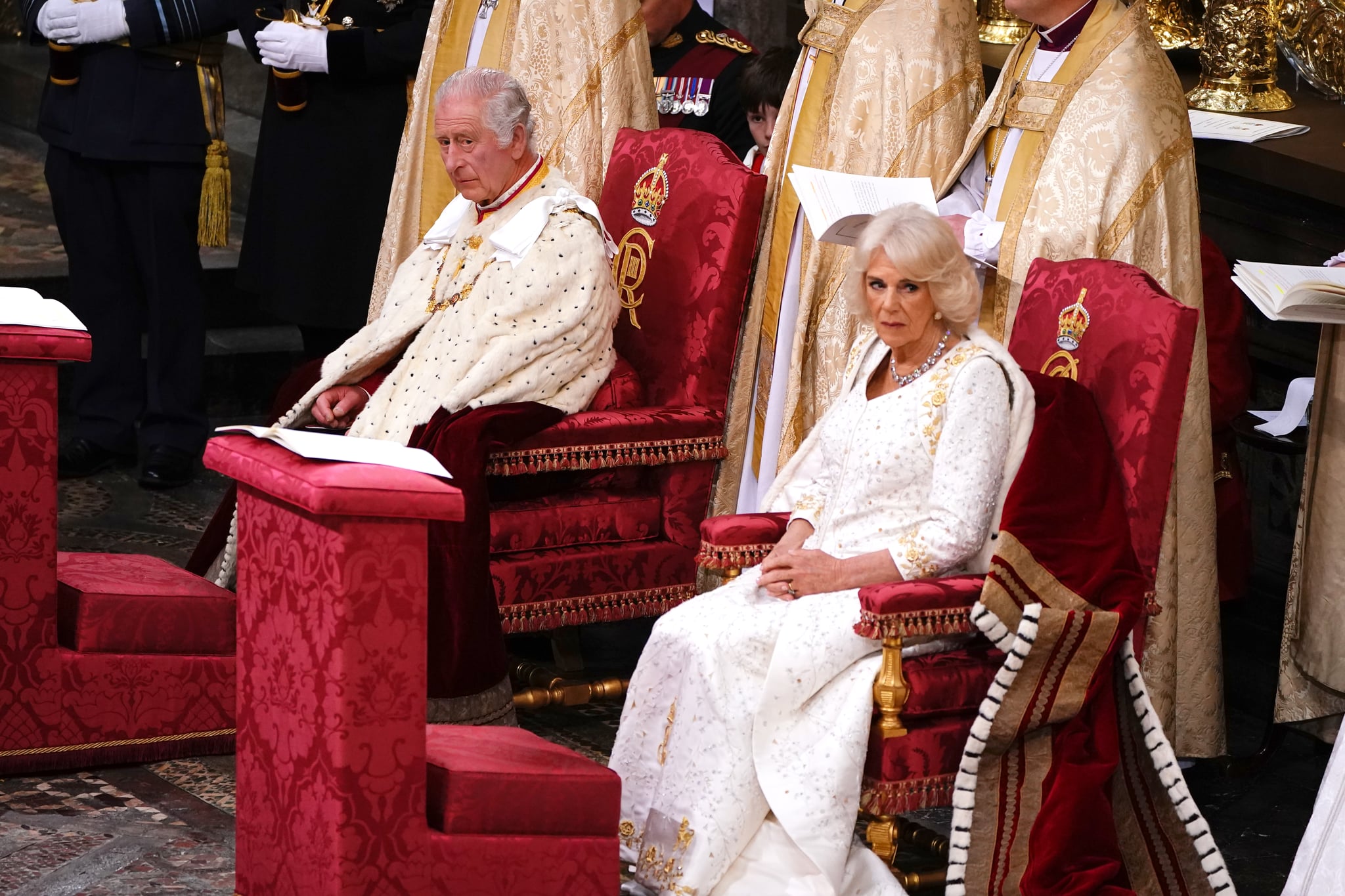 Image Source: Getty / Yui Mok
Elsewhere, a coronation concert will take place in Windsor on 7 May, headlined by Katy Perry and Take That. An additional bank holiday was also declared to celebrate King Charles III's coronation. On 6 Nov., Prime Minister, Rishi Sunak, announced that there will be a bank holiday for the UK on Monday, 8 May, two days after the official ceremony. "The Coronation of a new monarch is a unique moment for our country. In recognition of this historic occasion, I am pleased to announce an additional bank holiday for the whole United Kingdom next year," Sunak said in an official statement. "I look forward to seeing people come together to celebrate and pay tribute to King Charles III by taking part in local and national events across the country in his honour."
"The Coronation will reflect the monarch's role today and look towards the future, while being rooted in longstanding traditions and pageantry," Buckingham Palace said in a statement.
— Additional reporting by Chandler Plante and Gabriella Ferlita