Love Island's Whitney Abedayo on Life, Love, and Being Real
It's Whitney, B*tch! The "Love Island" Star Talks Love, Life, and Keeping It Real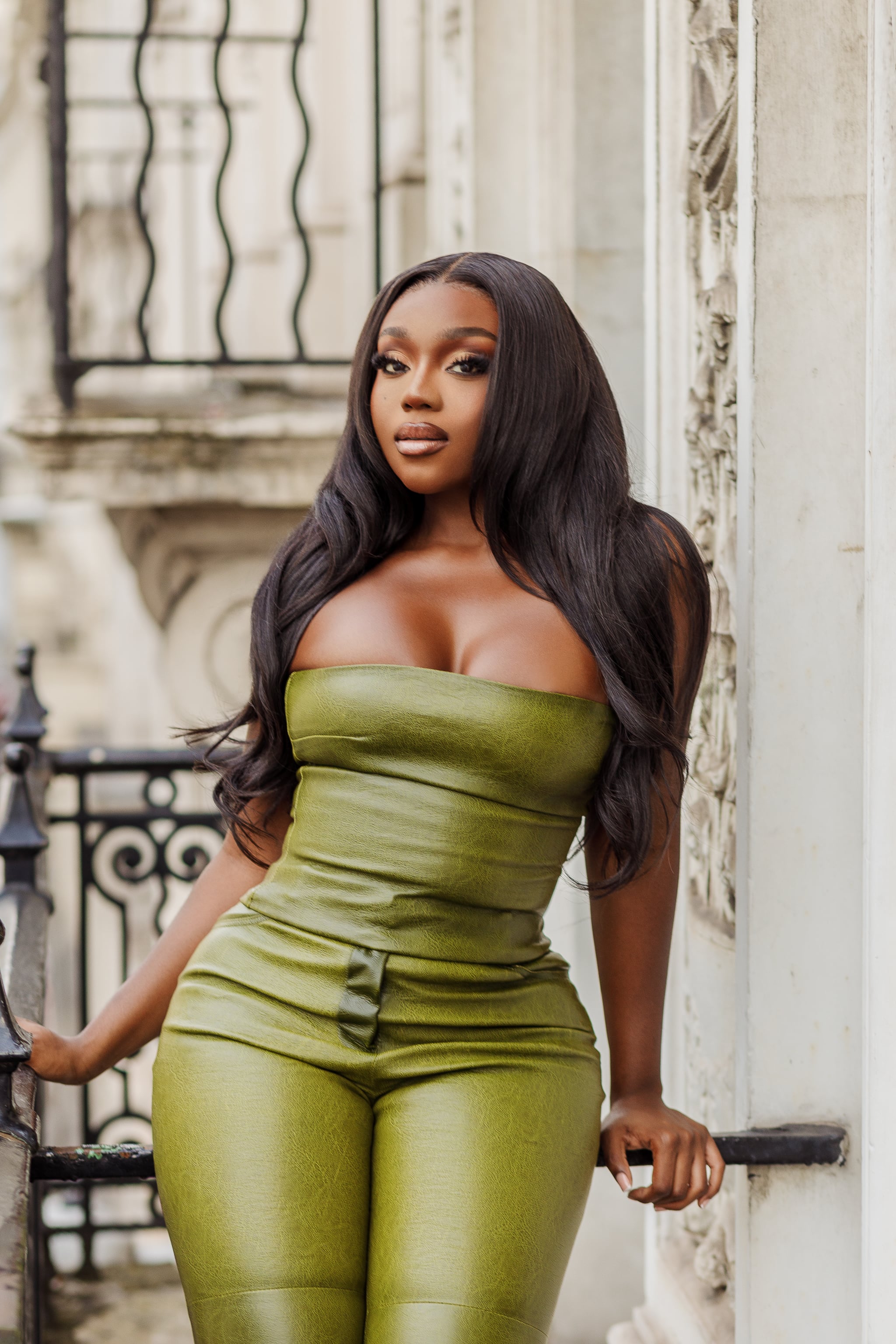 While this summer's "Love Island" saw Jess and Sammy take the crown, the unofficial queen of the show was arguably runner-up, Whitney Adebayo. The London-based Islander won audiences over with her no-nonsense approach to love and friendship, and is taking her new-found fame in her stride.
Not only is she determined to be her authentic self on her social channels, she's rebranding her successful wig business, launched her own show on YouTube, and is still successfully in a relationship with fellow Islander Lochan Nowacki four months on (sadly, winners Jess and Sammy were not meant to be).
"It's a big transition for both of us because we're very low key," she tells POPSUGAR as we sit down for a chat to catch up on all things in Whitney's world. "We're basically on the same journey, but different journeys." Her bond with Lochan has proved any skeptics wrong, as the two often share cute social media clips ("he's in his TikTok era", she says) as they navigate life outside of the villa.
"It is hard. It's a balance," she says. "Balancing relationships and working because it sometimes blurs." Just like the Whitney we followed over the summer, she is keen to stay true to herself and keep her own life as well as sharing parts with Lochan, "Individuality is definitely key, but I feel like we're doing well. Balancing the merge and the individuality."
Whitney's self-assured persona is infectious. With a refreshingly confident attitude, she claims she gets her direct approach from her mum. "I just don't really believe in lying. I'm a bad liar. I'm a really bad liar," she says. Her attitude, which saw some explosive moments in the villa with other Islanders, even got her coining her own catchphrase: "It's giving . . ."
Being comfortable in her own skin is her personality, and it translates into body confidence, too. Spending the summer in a bikini in a villa that airs to millions of people takes a certain amount of self-love, and she's nailed a positive mindset. "No one actually cares," she says. "It's like when you go to the gym, when you first start a gym, you think everyone's looking at you when the reality is everyone thinks about their own goals. People are quite selfish." She adds, "I feel like it all just goes back to embracing yourself and knowing who you are."
"I feel like it all just goes back to embracing yourself and knowing who you are."
When it comes to her own endeavours, she's keen to only take on opportunities that feel authentic. She could have followed in the footsteps of her fellow fast-fashion Islanders into a fashion deal – Jess has a collection with In the Style, Ella Thomas signed with Pretty Little Thing, and Leah Taylor has become an ambassador for Boohoo – but that's not the path Whitney wants to take. "I know people expect me to do what normal people do when they come out of "Love Island", but that's not me," she says. "So I'm only gonna do things that align with who I naturally am."
One of those things is her wig brand, CC Hair. Perhaps one of the reasons Whitney is so comfortable in her own skin is that she had a successful passion project prior to appearing on the show. "I love my Afro, but it's a protective style," she tells us. "I started my brand in university. My ex told me to get a hobby and I just started it because it was something to do."
It may have had humble beginnings, but it's clear to see this is something Whitney is passionate about. With a relaunch in the pipeline, she wants to spread awareness of the human-hair wig industry, make them more accessible, and ensure it gets the respect it deserves. On top of this, Whitney has her sights set on a presenting career. She recently launched her new series, "What's It Giving?" on YouTube, where she breaks down life dilemmas, which she hopes will continue to grow.
Like her fellow Islanders, she left the villa to a notoriety that very few people can say they have experienced, but if you think Whitney is likely to lose herself to fame, then you're very much mistaken. She prides herself in surrounding herself with the friends and family she had before she went on the show, and her inner circle is not something she takes lightly. "If I say you're my friend, I mean like dictionary definition. A lot of people say it like it's quite lighthearted. A lot of people don't mean it when they say friend, but I'm like, if I say you're my friend, I mean it," she says. You know what? It's giving . . . loyal.
Image Source: Gavin Glave