Maisie Williams and Sophie Turner Kissing on Game of Thrones
Maisie Williams and Sophie Turner Pulled the Perfect Prank on Their Game of Thrones Costars
Game of Thrones might still be over a month away from airing its season eight premiere, but I feel like I already know everything that's going to happen thanks to the buzzy, never-ending stream of quotes from the show's talented stars teasing big battles, plot twists, and uncomfortable introductions. But here's something I, and probably you, wasn't already aware of: the pranks Sophie Turner and Maisie Williams decided to pull on set while filming the last season of the HBO series.
The two play sisters Sansa and Arya Stark on screen but are even closer in real life. (Seriously — look at these adorable photos!) In fact, the two BFFs are so close, they're often mistaken for being in a romantic relationship, despite the fact Turner is engaged to singer Joe Jonas and Williams was in a long-term relationship with Ollie Jackson.
"People always think Maisie and I are a couple," Turner told Glamour UK in a recent joint interview with her costar. "I mean, I am obsessed with her, so you never know . . . I've got an addiction to Maisie Williams. I actually stalk her hashtag on Instagram!"
Deciding to capitalize on all the rumours about their friendship, the two BFFs came up with a little prank to keep everyone working behind the scenes of Game of Thrones "on their toes."
"Even though we are sisters [in Game of Thrones], we tried to sneak a kiss into every scene we did together to freak everyone out a bit," Turner explained. "It kept them on their toes, making sure they were following the script."
Well, this is exactly the kind of prank Cersei and Jaime Lannister would probably enjoy, for obvious reasons (sorry!).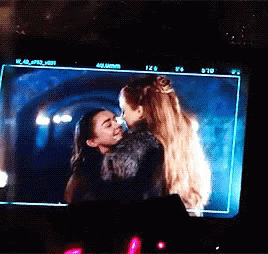 See the evolution of Sansa and Arya's fraught relationship in GIF form ahead, then check out what's next for the sisters now that Daenerys is coming to Winterfell.