What Will the Jane the Virgin Novela Spinoff Be About?
Here's What We Know About the Jane the Virgin Spinoff, From the Title to the Plot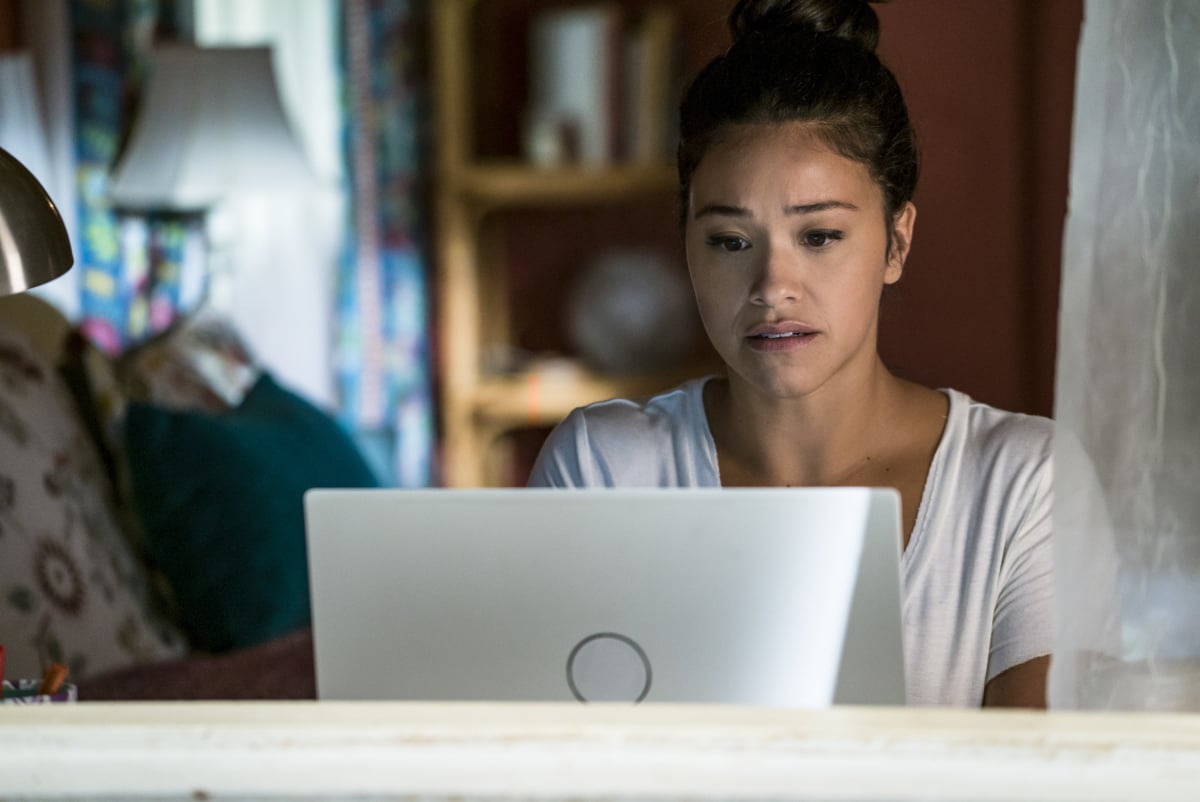 The final season of The CW's Jane the Virgin hasn't even aired yet, and the pilot for its potential spin-off, Jane the Novela, hasn't even been shot. But that hasn't stopped fans from getting very excited for any new information about the project, so we went ahead and got some for you. Here's what Jane the Virgin creator Jennie Snyder Urman shared about the upcoming series, which is being written by Valentina Garza, while speaking to journalists during the Television Critics Association press tour on Jan. 31.
Gina Rodriguez Will Narrate The New Show
No offence to Anthony Mendez, who voices the Latin Lover Narrator on Jane the Virgin, but our girl's got this. It also makes a lot of sense for her to do it, since Snyder Urman said "the spin-off is a different conceit, because they're Jane's novels that she'll write in the future."
If Snyder Urman has her way, Rodriguez will also direct. She's already directed two episodes of Jane the Virgin so far, including the upcoming season's premiere, which features her character giving one mammoth monologue and is therefore even more of a directing challenge. On top of that, she's tackled an episode of the other series Snyder Urman executive produces, Charmed. After the panel, Snyder Urman said of Rodriguez's directing that "I knew she was going to be amazing with the actors — that was no surprise to me — but I did not know what a genius she was with composition and cameras and framing. I mean, next level."
Will Any Other Jane the Virgin Characters Appear in This Show?
According to Snyder Urman, "Probably not the first year." She noted that if the show makes it to a second season — provided it gets picked up to series in the first place — and they get time to establish new characters and settings, "we can see what comes. But, I mean, I love this cast. I'd be lucky to work with every single one of them again, and I really hope to."
It's honestly not that far-fetched of an idea, given what we know about Jane's writing. Her first book, Snow Falling (which you can actually buy IRL), is inspired by her own life. Set in early 1900s Miami, it's a love triangle between a hotel employee, the railroad tycoon who owns it, and the police officer to whom she's betrothed. Sure, it only has three and a half stars on Goodreads. But who's counting?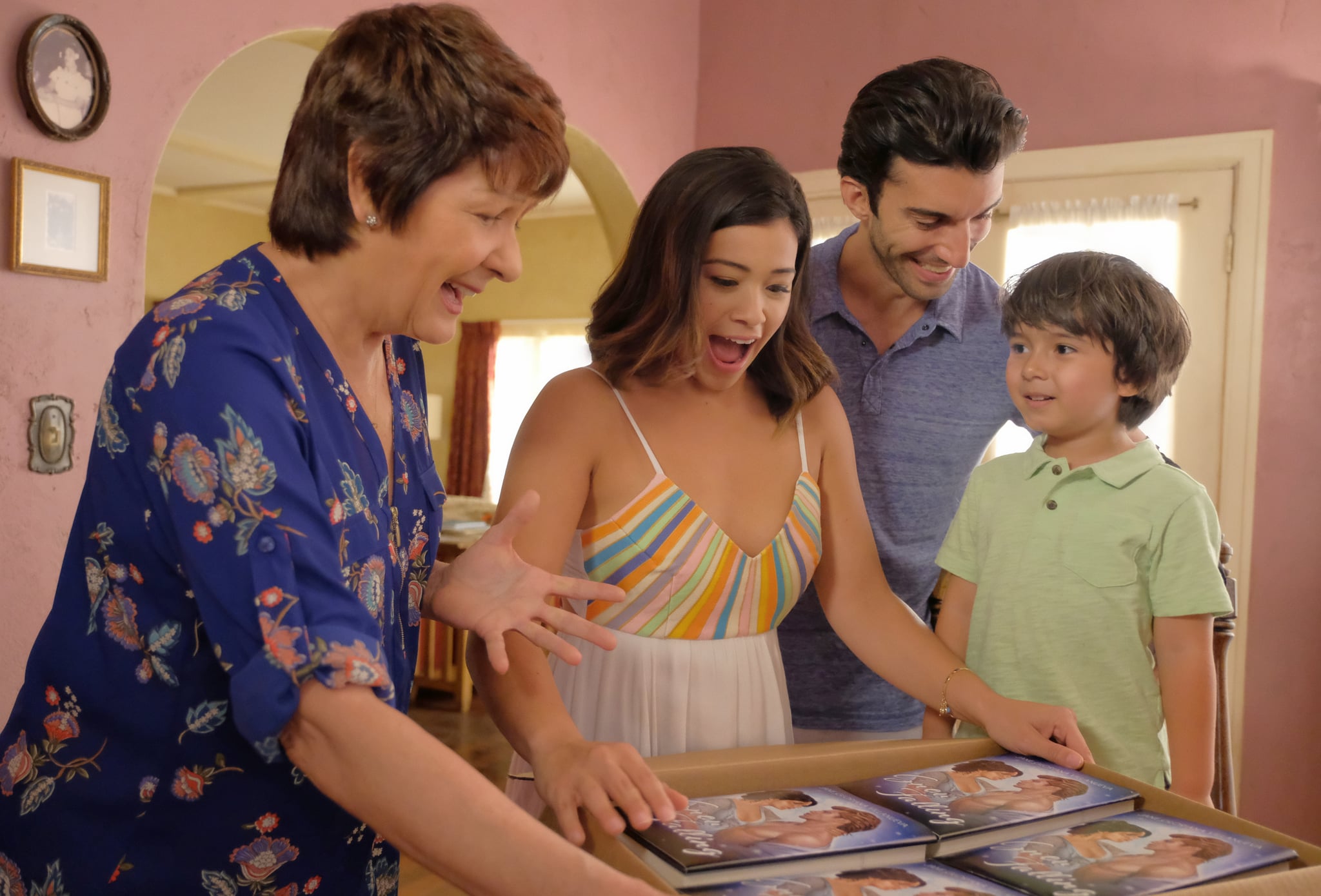 It's Closer to the American Horror Story Definition of an 'Anthology'
As opposed to a different story each episode like in Black Mirror, Snyder Urman said that this show will tell one complete story a season, similar to the way it's done on FX's American Horror Story or HBO's True Detective.
This makes sense, she reminded us, because traditional telenovelas tell a story over one season and then move on. "It feels really exciting to be able to tell this kind of emotional, dramatic, scary, funny story all in one season," she said.
Perhaps this might also change the show's chances with the Emmy Awards? Jane the Virgin has always been unfortunately neglected by the TV Academy (although Rodriguez won a Golden Globe in 2015 for best actress in a TV comedy). Emmy voters have one more year to get it right.

The Setting Will Be Different
While Jane the Virgin is set in the colourful, vibrant world of a Miami luxury hotel known as The Marbella, Snyder Urman confirmed that Jane the Novela "will be set in Napa Valley at the intersection of wine and art."
That's a twist, since we don't know if Jane knows much about Northern California. Does she take a research trip this season? Is The Marbella brand expanding? Maybe she goes as part of a babymoon? Rodriguez did tease a bump photo of her character on Instagram ... Whatever the case, we highly recommend she peruse POPSUGAR'S list of best things to do in Napa and also maybe our tips for riding the area's famous wine train.
But The Tone Will Be The Same
Snyder Urman did stress that the two projects have the same bones and the new one would also have "magical realism and a very actively imaginative heroine." (Hmm. That sounds familiar). Jane the Virgin trademarks like the pun-themed hashtags that appear on screen would also carry on to the new show.
We also have been told that the spin-off focuses on a family that fails to keep its secrets buried for long. Think of all the dead bodies buried at or near The Marbella (Rafael's dad! Scott!) or found there (Anezka!). Maybe they will inspire one of Jane's stories? Snyder Urman did say that there are "little hints here and there" to these stories in this season of Jane the Virgin, "but you've gotta really dig in." So pay close attention when the series returns on March 27.