Jennifer Coolidge Wins at the 2023 SAG Awards
Jennifer Coolidge Tearfully Remembers Her Parents as She Accepts Her SAG Award For "The White Lotus"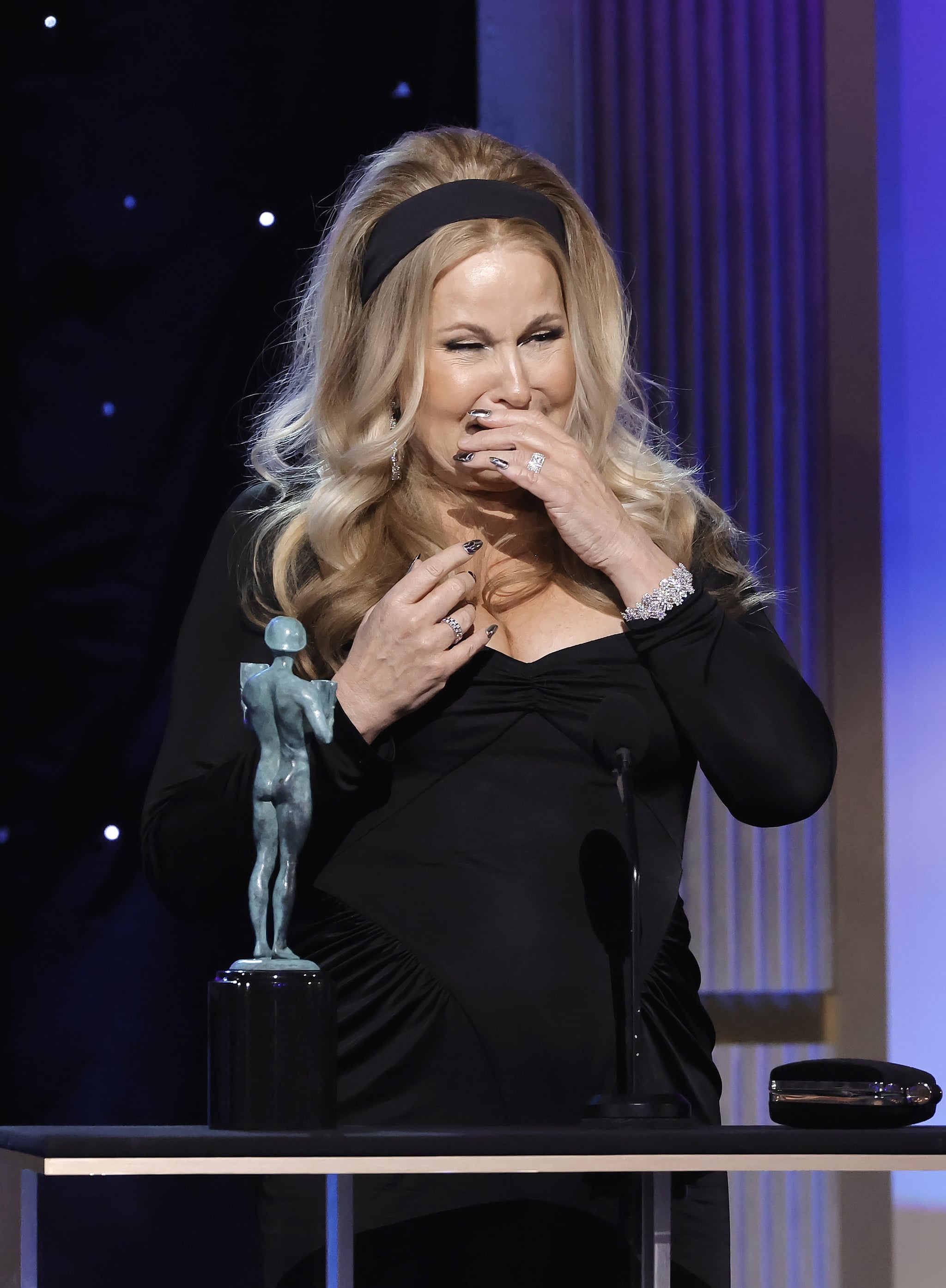 Jennifer Coolidge took home another award for her role as Tanya on "The White Lotus" at the SAG Awards on 26 Feb. During her acceptance speech, Coolidge started crying multiple times, talking about both the series's showrunner, Mike White, and her own parents, who she said "never lied."
Once Coolidge took to the stage and accepted her award from presenters Ariana DeBose and Diego Luna, it took her a moment to collect herself. "It's been a very special year," she said. "It's, you know, overwhelming. 'White Lotus' and Mike White writing me this part that went on for two seasons . . . HBO giving me the thumbs up to do it."
"I just wanna say . . . I want you all to know, I'm just so grateful," she said, tearing up. "Because you know, this could be it." She added that you "can give money to friends" — which she likes — but the best thing is to change their perspective, and that's what White did for her.
Then Coolidge turned her attention to a story about her parents. "What I really wanna say is . . . I had these amazing parents, and they had this incredible gift," she continued, crying again. "It was impossible for them to lie. They just couldn't do it. Never, they just never lied. Except that my father, one day, the school principal came to my first-grade class and said that I needed to be called to the office. And I went to the office, and she said, 'You know, your father's here.'" The principal told her to get well, and she didn't know what that meant.
"I got in the car with my dad, and he was driving, and he said, 'I'm never gonna tell a lie again, but we're going somewhere really cool,'" she continued. "And he drove me to this place, and it was this flukey thing in Massachusetts, it was the Charlie Chaplin film festival." The crowd laughed. "He got me out of my first-grade class to do it. And I swear to God, seeing Charlie Chaplin for the first time and having that experience, it's my love of film, it's my love of actors. All of that came from my first grade." Coolidge also thanked her date, her longtime friend Tim Bagley, before leaving the stage. Shortly after Coolidge accepted her solo award, the show's ensemble took home the drama series honour.
It's been an incredible award season for Coolidge, who took home awards at the 2022 Emmys in September (for her work in the first season), the 2023 Golden Globes, and the 2023 Critics' Choice Television Awards. "The White Lotus" is set to return for a third season, though unfortunately, Coolidge won't be a part of it. But we'll follow her anywhere.