Adam Rippon "Diamonds" by Rihanna Figure Skating Video
Drop Everything and Watch Adam Rippon Figure Skating to (and Singing!) "Diamonds" by Rihanna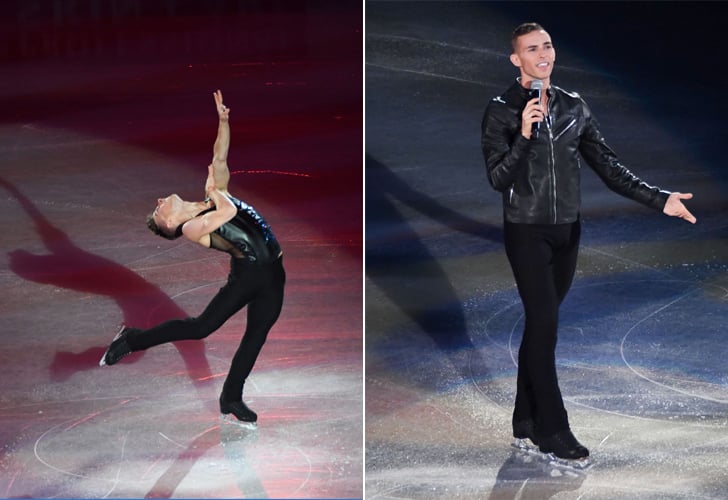 Image Source: Getty / Toshifumi Kitamura
The 2018 Winter Olympics may be over [insert copious buckets of tears here], but we're still swooning over Adam Rippon, the undeniable breakout star of the year. The openly gay figure skater quickly became America's Sweetheart in Pyeongchang, South Korea, as fans couldn't get enough of his divalicious performances and unabashedly sassy ways of dealing with the haters. In short, Adam is a freakin' icon, and if you're not already on the bandwagon, you're truly missing out.
To further satisfy our Adam Rippon obsession, we're throwing it back to December 2017 when the the 28-year-old athlete performed possibly one of our favorite routines yet. While competing in the Grand Prix Final in Japan, he showed off his singing chops for the gala performance, belting out his very own rendition of "Diamonds" by Rihanna before figure skating to the original version. Spoiler alert: it was just as incredible as you'd imagine. I mean, is there anything he can't do?!
Adam began the Grammy-worthy performance by taking the ice, microphone in hand, while wearing head-to-toe black, including a sleek AF leather jacket. He showed off his vocal chops by belting out his own rendition of the 2012 hit, and then ditched his jacket and mic to skate along to the original version of the song while donning a diamond-covered leather top. This guy sure knows how to pick a statement-making outfit!
Honestly, all we have to say is "wow." Bravo, Adam, for not being afraid to bring another talent to the table in the middle of a figure skating competition. Watch the amazing performance below, and then be sure to relive his equally as amazing Coldplay routine, which helped Team USA bring home a bronze medal for the team figure skating competition at the Olympics this year.