The Decolonization of the Women's World Cup Has Only Begun
The Women's World Cup Was Just the Beginning of Decolonizing Football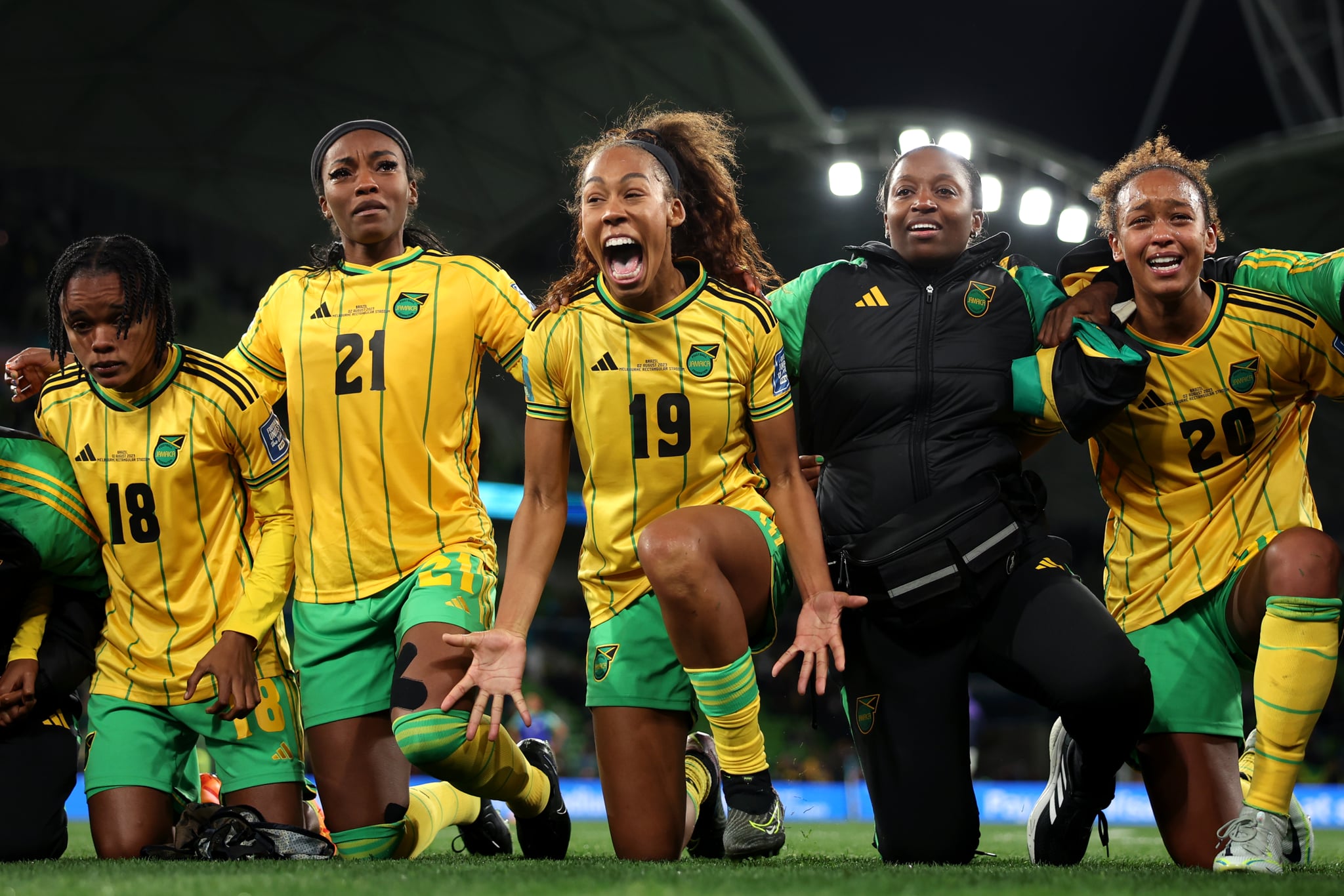 As the ninth FIFA Women's World Cup comes to a close on August 20th, I find myself reflecting on all the impactful moments since the 1991 inception. There was the US Women's National Team Carli Lloyd's infamous hat trick in 2015, Brandi Chastain falling to her knees and ripping off her jersey when the US won the final in 1999, and this year, Morocco's Nouhaila Benzina becoming the first player to wear a hijab at a senior-level women's World Cup — all historical moments, of which there are so many more. But this year's tournament, as a whole, stands out for another reason: the 2023 Women's World Cup will go down in history as the most diverse yet.
With hopes to grow the tournament and create new opportunities for countries and players around the globe, FIFA expanded the women's World Cup from 24 to 32 teams in 2023. The result: Eight nations — Zambia, Philippines, Haiti, Morocco, Panama, Republic of Ireland, Vietnam, and Portugal — have competed for the first time in this summer's tournament.
"We won't be forgotten for what we've done, and this will just be the foundation moving forward."
In previous years, powerful countries like the United States, Germany, and Japan have swept the competition. As a result, very few people predicted the 16 teams that would make it to the knockout round this year: South Africa, Nigeria, Jamaica, Colombia, and Morocco in addition to many of the usual players (France, the Netherlands, England, Australia, Spain, Norway, Japan, Sweden, Switzerland, Denmark, and the US). In women's football, heavy hitters like the US typically emerge as the winners; but this time, many of them were knocked out early. Instead, it was the underdogs that outperformed, ready to show the world what they're made of.
Nigeria, South Africa, and debutant Morocco's advance to the knockout round marked the first time three African teams reached the round of 16. And it was not lost on anyone that these three African countries all ended up playing the nations that had once colonized them.
After drawing 0-0 with the Republic of Ireland, Nigeria progressed from the group stages for the third time in their history, moving on to a round of 16 game against England (their colonial ruler until 1960), where they also tied the match. "I think everybody counted us out against England," defender Ashleigh Plumptre said in a post-match interview with The Athletic. "We made a statement here," she pleaded, hopeful that their success could tell a new and different story about African women's football. "We won't be forgotten for what we've done, and this will just be the foundation moving forward."
Morocco, too, defied expectations with their remarkable 1-0 win against Colombia, thanks to Anissa Lahmari's goal just before half-time. That win sent them to a round-of-16 match against their former colonizer, France. And South Africa — victorious against Italy and tying with Argentina in the group stage — went on to face the Netherlands, the first colonizer of South Africa, in their knockout-round game.
In the end, South Africa lost to the Netherlands, France took the victory over Morocco, and Nigeria fell to defeat at penalties from England. But for millions of fans, especially fans of colour, the very presence of these three former colonized African countries is something to celebrate.
The Barriers Faced By Marginalized Countries
These African nations (and many others) have faced familiar barriers to get to where they are: lack of resources and attention, systemic inequities, shortage of home government support, discrimination, pay disparities, and unjust power dynamics. "I've seen what resources England has access to," Nigerian Ifeoma Onumonu told the Guardian. "In Nigeria, we don't have access to much. Our training fields aren't great. Where we sleep isn't great. Sometimes we share beds. There's a lot that needs to be done. We do what we can because we love playing for our country but hopefully they make it easier for us to do our best."
Zambian forward Racheal Kundananji echoed the sentiment: "It's our first time being here and we are gaining experience day by day, we are improving day by day," Kundananji said, according to CBS. "There is no need to be sad. We just need to go back and think of our mistakes. Because this is not our last game or our last World Cup."
The investment and dedication to prove yourself run through the blood of countries like Haiti, Zambia, Morocco, and South Africa, just like in many marginalized communities. It's the desire to prove against all odds — such as Jamaica's Reggae Girlz making it to the competition thanks to crowdfunded money and Moroccan players overcoming the conditional and systemic barriers of women pursuing athletic endeavours — that they will rise to victory.
Here, victory doesn't always mean taking home the trophy, and that's especially evident as we watch the upcoming World Cup final, where England and Spain, two colonizers with a very dark past, go head-to-head. Instead, victory is forward movement for the marginalized countries. The representation and celebration happening now is a beautiful story of hard work paying off; these athletes are finally getting their flowers — and it's not just meaningful for them, but also for the countries they represent.
You might not (yet) be familiar with their stories or see these countries on your television, but it would be wrong to assume they're an overnight success, as if the same sweat and tears didn't go into all their training. Too often when we, people of colour, get a seat at the table, we're expected to be content, satisfied at the (sometimes belittling) welcoming. I'm so glad South Africa (my home country), Morocco, Nigeria, and Jamaica displayed on a global scale that "content" is not what we're after. Their very presence and victories disrupted the game's established hierarchies and introduced many viewers to their talent, which is nothing short of a win.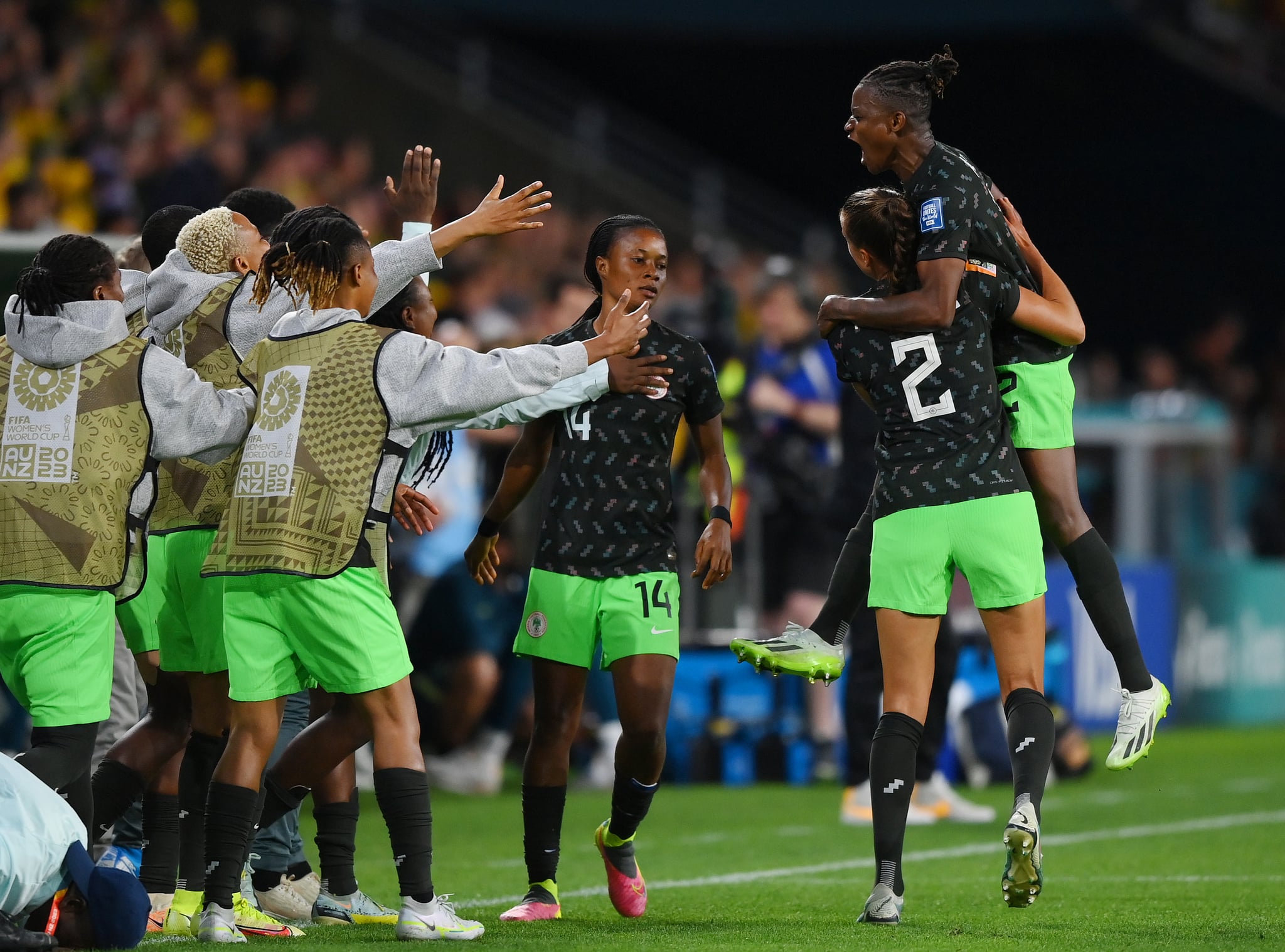 Getty / Justin Setterfield / Staf
How Decolonization Can Change The Future of Women's Sports
With so many countries competing for the first time, and so many players of colour on a global stage, this Women's World Cup has put representation at the foundation of the tournament. Although I'm thrilled, alongside many other fans, at the progress made over the last four weeks, this beautiful display of diversity can not just be a shooting-star moment. In order to have lasting change, we need people in power (often White-privileged men who run the multi-billion dollar football industry) to better allocate resources within communities, tackle racial and gender inequality, and champion representation to make football equitable for all.
We need more football clubs in under-resourced areas, more female coaches, and more funding and scholarships for female athletes. And lastly, we need more people interested in the game, demanding change. Seeing players who look like you matters; it proves to youth around the world that they can play, too, because these athletes have proven it. This is the pathway to decolonizing football, and this year's tournament is just the start.
Image Source: Getty / Alex Pantling - FIFA / Contributor