Chrissy Teigen's Armadillo Cheesy Garlic Bread Recipe
People Are Moving Their Mushed Bananas Aside to Make Chrissy Teigen's Cheesy Garlic Bread
When the going gets tough, the tough get snacking, which is probably why Chrissy Teigen's Cravings recipes are on everyone's minds right now. After working our way through her banana bread and spicy miso carbonara, we're ready for something savory and extra cheesy. Luckily, Chrissy recently shared her take on Armadillo Cheesy Garlic Bread which ticks both of those boxes.
You don't have to rush out to the store to buy Chrissy's first Cravings cookbook to make this bread (although you should get it anyway, because the recipes are *chef's kiss* incredible). After seeing fans share their creations on social media, Chrissy decided to drop the recipe so even more people could try their hand at the ooey gooey goodness, bless her. Keep reading to see the recipe, and enjoy the aroma of garlic bread in your own home. If there's anything we need more of right now, it's cheese and carbs.
Here you go, friends. I know I should tell you to buy the book but in these times, you deserve it 💕 https://t.co/vER1dZrYl9

— chrissy teigen (@chrissyteigen) April 25, 2020
Armadillo Cheesy Garlic Bread
Cravings by Chrissy Teigen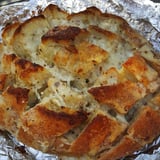 Ingredients
3 cups shredded mozzarella cheese
1 1/2 sticks (6 ounces) butter, at room temperature
1/2 cup mayonnaise
1 1/2 cups finely grated Parmigiano-Reggiano cheese
2 tablespoons finely minced garlic (about 4 cloves)
1 teaspoon red pepper flakes
1 teaspoon kosher salt
1 teaspoon freshly ground black pepper
1-pound round loaf French bread
Directions
Preheat the oven to 400°F.
In a bowl, combine the mozzarella, butter, mayo, Parmesan, garlic, red pepper flakes, salt, and black pepper. Using a serrated knife, cut the bread into a crosshatch pattern, making cuts 2 inches apart and taking care not to cut through the bottom of the bread.
Place the bread on a large sheet of foil on a baking sheet. Stuff most of the cheese mixture into all of the cracks in the bread. Slather the remained over the top of the bread. Coat another sheet of foil with cooking spray and lay spray-side down on the top of the loaf. Crimp the two pieces together to seal the bread in foil.
Bake for 20 minutes, then reduce the oven temperature to 375°F. Remove the top sheet of foil and bake until the top gets golden and the cheese is super melty, 15 to 20 minutes longer.
Information
Category

Side Dishes