What Is a Girl Dinner, aka the UK's Picky Tea?
"Girl Dinner" Is Trending on TikTok, but They've Just Found the Joys of a "Picky Tea"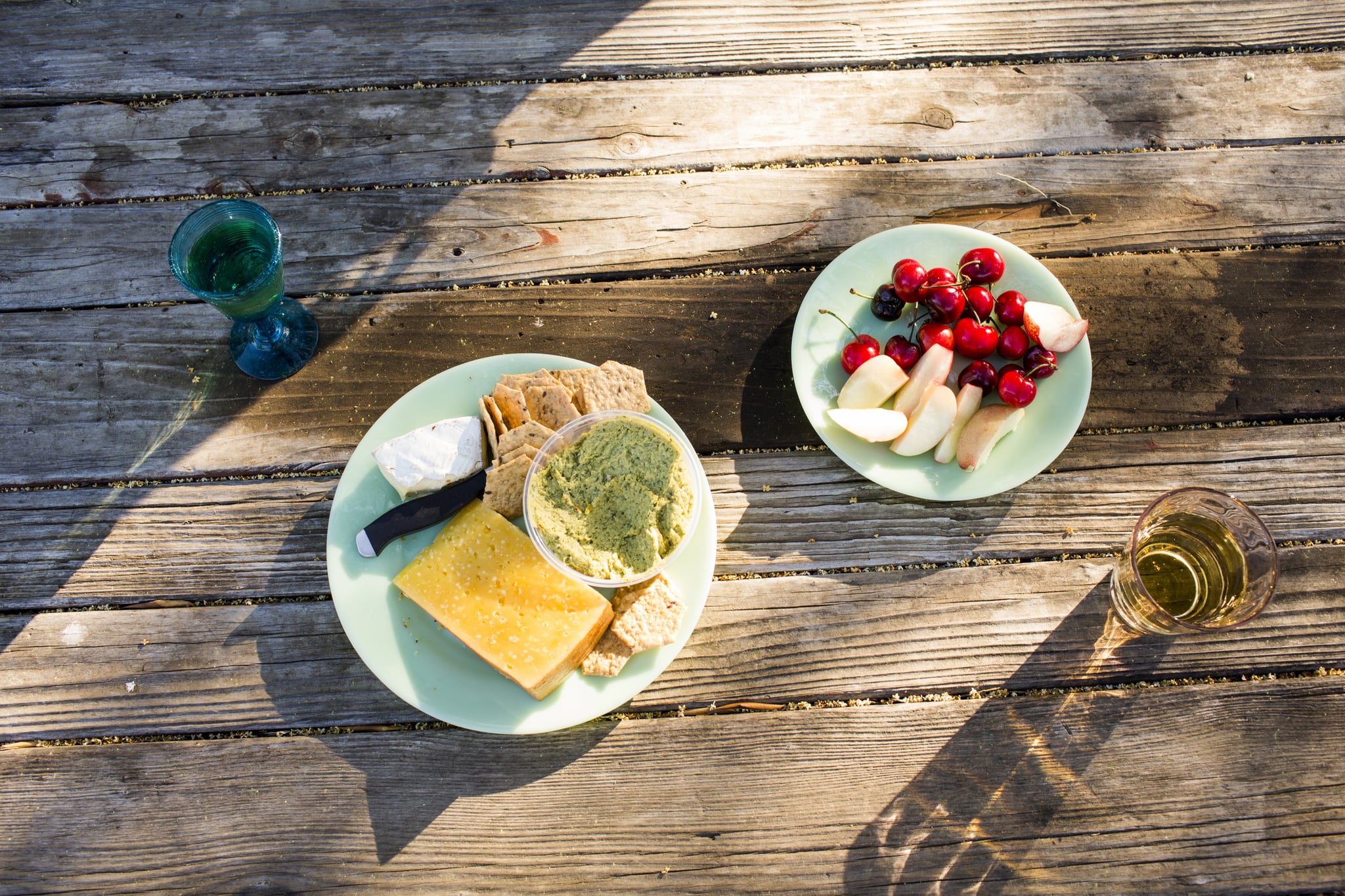 Few things in life bring me as much joy as a "picky tea", also known as "picky bits". You know what I mean; those evenings when you raid the fridge for a fuss-free plate full of snacks. Hummus, carrot sticks, cheese, olives, bread, prosciutto, a frozen sausage roll thrown in the oven for good measure. I was under the impression that this was a dinner universally acknowledged, but it seems those who didn't grow up to the sounds of "Eastenders" accompanying their evening meal hadn't encountered it. Until now.
Like all current trends, TikTok has hopped on the bandwagon and given "picky bits" a rebrand, naming it "girl dinner". Coined by Olivia Maher back in May, the TikTok user says, "I cannot find the TikTok right now but a girl just came on here and said how in medieval times peasants had to eat nothing but bread and cheese and how awful that was, and she was like, 'that's my ideal meal'," Maher said, before panning to her plate of cheese, bread, and grapes. "This is my dinner. I call this 'girl dinner' or 'medieval peasant dinner'."
The trend has now amassed over 70 million views with thousands of others sharing their "girl dinner" on social media. Even The New York Times did a deep dive into the logistics of the smorgasbord supper. In typical British humour, the internet became alight with indignance, declaring it as something we've all been doing for years. BBC Radio 1 host Jordan North tweeted, "Hello America It's called a 'Picky Tea' And this is a pretty poor one 3/10" while linking to the news article. Chef Nigella Lawson added, "And we call them Picky Bits".
Yet it seems this unassuming British tradition has been cause for some debate since TikTok got its hands on the concept. Some have pointed out that the smaller, snack-size portions aren't sustainable for a proper evening meal, and could even perpetuate another diet fad, leading to disordered eating. Others have issues with the newly coined "girl dinner" name, suggesting misogynistic connotations that women aren't prepared to care enough for themselves to make a proper dinner without their partner or other people around.
Yet, I would argue that the whole point of a "picky tea" is to eat whatever you want. Any food "rules" go out the window. For too long, women in particular, have been fed multiple diets with an emphasis on food restriction. Kathrine Kofoed, a nutritionist and health coach, told the New York Times: "It's a pleasant departure from diet culture, and from all these rigid expectations of what food should be."
It's a dinner for all seasons, too. When it feels too hot in summer to have the oven on, throw leftover picnic bites on a plate. You're not doing the Christmas limbo week right if you haven't got a mish mash of canapés, cheese, and olives for your tea. Not only are we living through a cost of living crisis where every mouthful counts, but the "picky tea" belongs to a bygone era where no food goes to waste.
You might be thinking that this is essentially a take on the grazing boards trend that has seen a boom in the UK in recent years. Artfully decorated charcuterie displays have filled weddings and parties alike since the pandemic. A "girl dinner" might also be likened to Italian antipasti or Spanish tapas, but here lies the secret: it's much less refined. Sure, our European friends have nailed finger food, but a "picky tea" is way more chaotic. Essentially, it's an individual plate, not for sharing, that is a unique mix of food that needs very little preparation.
When life is busy, thinking about how to have a nutritionally-balanced meal sometimes falls by the wayside. A cheeky McDonalds slips in once in a while on a random Thursday night, beans on toast when you can't be bothered to venture to the supermarket or, the holy grail of them all, a "picky tea", albeit add some crudités and fruit and it's not as bad as a beige buffet. While we live amongst perfectly-curated Instagram grids and are met with flawless-looking celebrities, let us indulge in a "picky tea" (I will never call it a "girl dinner") without judgement to remind ourselves that sometimes, the best things in life are far from perfect.