Topical MannaSX Vella Serum Review
This Feminine Pleasure Enhancement Serum Has Brought My Orgasms to a Whole New Level
As POPSUGAR editors, we independently select and write about stuff we love and think you'll like too. If you buy a product we have recommended, we may receive affiliate commission, which in turn supports our work.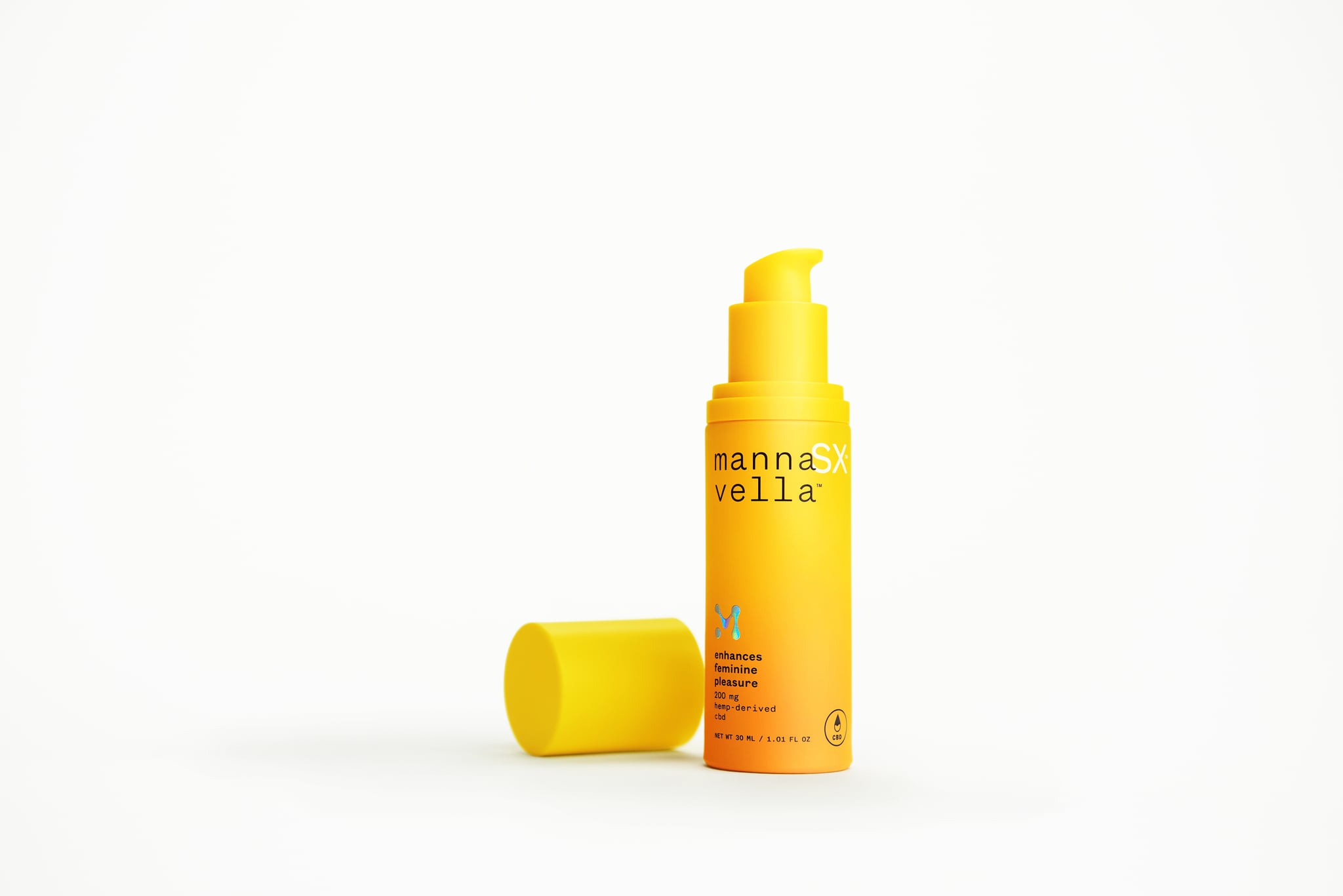 I've never had an issue reaching orgasm, but the size of my orgasm varies greatly depending on how aroused I get before having sex. This used to result in some nights with suboptimal orgasms until I discovered Topical MannaSX Vella ($52), a CBD serum designed to enhance feminine sexual pleasure.
I've tried quite a few CBD products for a variety of reasons — some promising to relieve sore muscles and others to reduce menstrual cramps — but none produced truly noticeable results. So, naturally, I didn't have high hopes for a CBD cream touting increased sexual pleasure. But to my surprise and delight, Vella delivered on its promises.
The more I've used the cream, the more intense my orgasms have gotten and the longer they've lasted.
The first thing I noticed after applying it was that I got aroused much quicker. This is especially beneficial to me because, as a responsive desire type, as opposed to spontaneous desire, sometimes it can take quite a bit of time and attention to turn me on. Most nights, this isn't an issue. But life can get busy and stressful, and sometimes I don't have the time or patience to wait for my mind to clear so I can drop into my body.
The ease of arousal quickly turned into increased stimulation throughout, enhancing the entire experience. Usually, I only feel pleasure with clitoral or direct G-spot stimulation, but when I used the serum, it's like my entire vaginal wall became filled with pleasure points.
It all culminated in an orgasm that put my typical orgasm to shame. And the more I've used the cream, the more intense my orgasms have gotten and the longer they've lasted. The other night, it was long enough for me to have time to actually think, "Wow, this is a long one!"
So, how does it work exactly? To use, you apply the serum to the outer vaginal area, including the inner labia and clitoris, 10 minutes before sexual activity. The hemp-derived CBD relaxes the smooth muscles of the vagina and clitoris, allowing for greater blood flow, which results in clitoral engorgement and vaginal lubrication. The result is amplified arousal all over!
Vella was developed by research-based cannabis company MANNA Molecular, who's Chief Medical Officer is Harin Padma-Nathan, M.D., a board-certified urologist who was involved in the development of Viagra. It is paraben-free and condom compatible.
I don't use it every time I have sex. I save it for the nights I just want to get to it or the nights I want to see just how big my "O" can go. If you've ever been curious about that or just want to try something new, I highly recommend this serum.