Hair Salon Deserts Still Impact Black Women
The Phenomenon Of Hair Salon "Deserts" — and How it Impacts Black Women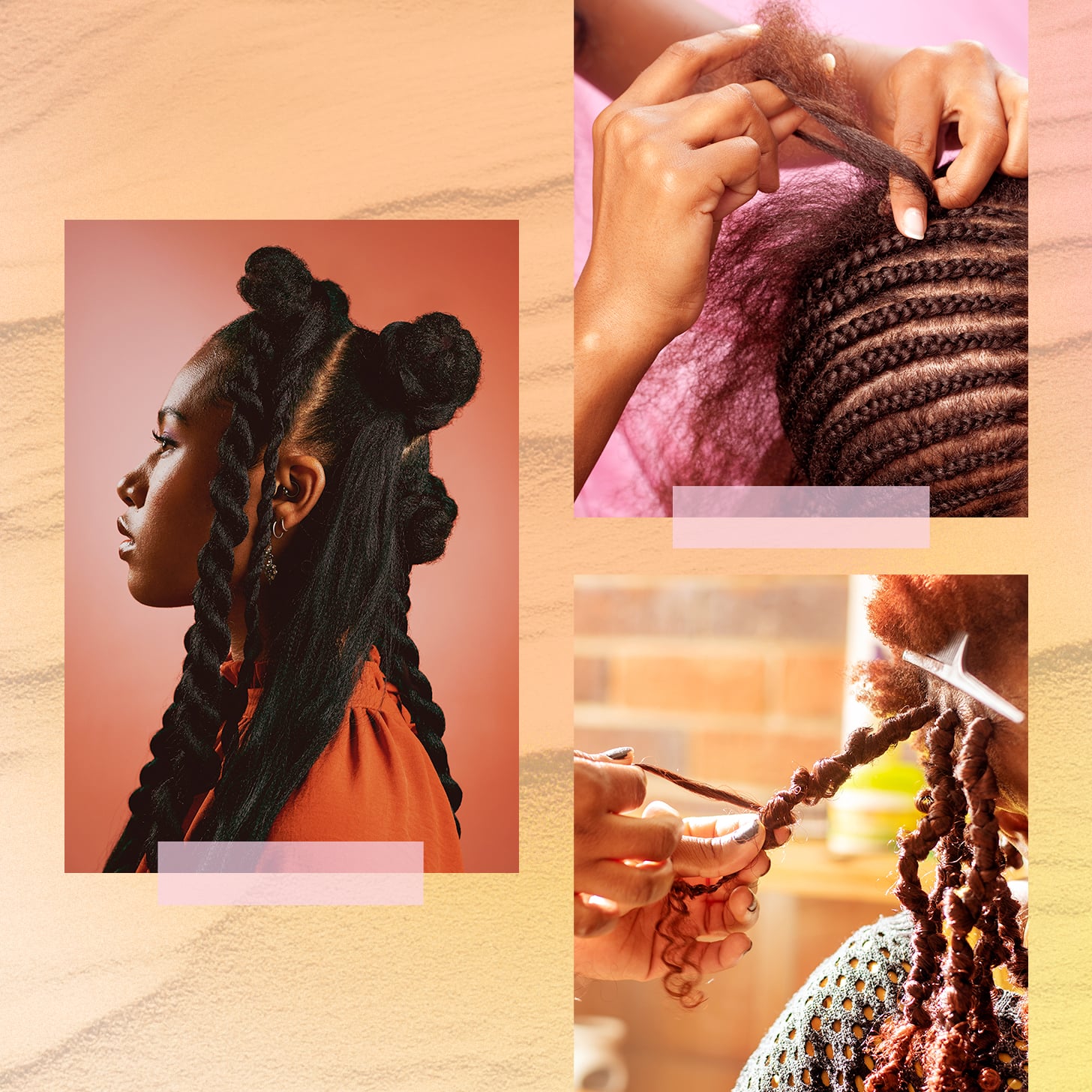 Unfortunately, due to the lack of education around natural textures, myself and several other Black women I know can't easily walk into an unknown hair salon and get serviced. This is also the case for Washington-based TikToker Mimi Taylor, who has openly shared her experience of not being able to find a stylist in her hometown willing to work with her 4C hair. After calling multiple salons in Olympia, Taylor decided to document the process of her attempt to secure a straight-back cornrow appointment that would allow her to wear a new wig.
"I was wondering if you guys worked with African American hair, specifically 4C type," she would start each call. Common replies included, "We do not, none of the girls do here," or "We don't really have much experience so I would say you're probably better off to look around." In the end, Taylor called a total of 26 salons in the area and was turned down by each one. Exasperated, she finally resorted to driving two hours away to her grandmother's house and having her cornrow it instead.
She's not alone in her experience. Taylor and so many other Black folks across the United States are forced to drive or fly to neighbouring towns for hair-care services for their textured hair. This is not by choice, but because the area in which they live in is what you would call a "hair salon desert." Here, we're breaking down exactly what that term means — and what really needs to happen to make it a thing of the past.
What Is a Hair Salon Desert?
Like the name eludes, a hair salon desert is simply one that's few and far between. It impacts Black people most significantly because there are countless areas in the U.S. with minimal (or, sometimes, zero) salons that can service every hair type and texture — regions where the majority, if not all, of hairstylists are not proficient in Afro-textured hair, and have a narrow focus on straight or smooth styles.
In some cases, a salon in a hair desert might take on type 4 hair and up-charge the client a "thick hair fee" because they know they are that person's only option. In other cases, they might require them to do half the labour and arrive with curls detangled or blown out, knowing they are the only ones for miles to come.
Why Do Hair Salon Deserts Exist?
Hair salon deserts are not a new phenomenon. They are linked to racial segregation and systemic racism – leaning into the belief that straight hair is superior and anything outside of this confined style should conform. Hair salon deserts don't leave room for curls or coils, which is why people in these locations often have to travel extended miles for service, find a trusted stylist like Taylor did, or become your own.
It becomes frustrating when you understand how abundantly trained Black hairdressers are. Every Black stylist I've encountered is capable of working with every hair texture, be it straight, wavy, curly, coiled, or a combination of all four. So why is the same respect and talent not enforced to white stylists? It's exhausting feeling othered when someone says they cannot do your hair.
How Salons Can Help Minimize Hair Salon Deserts
Stylists and salons must be held accountable to get the required training so that Black people can walk into any business, be it a dry bar or non-Black salon, and get a simple or elaborate service with ease. We should not be terrified or manipulated to side with certain hairstyles for convenience or time constraints. And with that, there should be no extra fees or texturism conversations when servicing 4A-C types.
"Its our business as salon owners to hire different nationalities of hairdressers so that everyone can learn from each other," says celebrity hairstylist Ted Gibson, whose clients include Zoe Saldana and Anne Hathaway. "Education is key and now is the time for all business to step up their game."
You can no longer say you do hair if 'hair' has an asterisk.
To further education, there are texture courses, petitions and initiatives, conferences, and workshops at the disposal of anyone in the hair-care industry. Think: the Texture Education Collective and Inclusive Texture Education, both aimed at requiring cosmetology schools and state boards to include curly, coily, braiding, locking, and natural hairstyles in curriculum and exams. And there is the Halo Code that, similar to the Crown Act, is focussed on altering the conversation around hair discrimination in schools. Additionally, stylists can also seek out natural hairstyling licences (300-hour approved courses) within their state, independent of cosmetology schools to further continue their education and credibility.
So the big question is: if these resources are at the ready, why do so few use them? Hairstylists should feel encouraged and, most importantly, interested in learning about textured hair and the many curl patterns that can be found on a single head. You can no longer say you do hair if 'hair' has an asterisk.
Still, learning how to work with natural hair is not an overnight victory to gaining Black customers. Non-texture experienced hairstylists should be invested in the long haul. After all, the history with our hair, specifically in white settings, is a tangled one — and it will take time to gain our trust.
Image Source: Getty / Maurusasdf / RuslanDashinsky / Delmaine Donson / NickyLloyd and Photo Illustration by Michelle Alfonso