Becca's One-on-One Date With Blake on The Bachelorette
Dear ABC: Please Stop Bringing Up Arie on The Bachelorette and Let Becca Move the F*ck On
Warning: spoilers from episode two of The Bachelorette ahead!
Becca Kufrin's journey to find the love she deserves has been just as dramatic as Chris Harrison predicts for every single season of The Bachelorette. On night one, she had to awkwardly send home one contestant before the rose ceremony even began because she was seriously questioning his intentions. During the second episode, she learned quite the truth bomb from one of the apparent front runners, Colton Underwood: he had briefly dated Tia, who previously starred on The Bachelor with Becca. And as we've seen in a few teasers for a forthcoming episode, one of the guys winds up in an ambulance after some sort of accident or fight — yikes!
The most cringe-worthy part of season 14, however, doesn't pertain to one of the men vying for Becca's heart — it has to do with Arie Luyendyk Jr. So far, both the premiere and second episode of the season have been haunted by his side-eye-inducing, four-letter name. One dude brought along a freakin' cardboard cutout of Arie in the limo, plenty of the contestants have mentioned him in their conversations with Becca, and, most ridiculous of all, her first one-on-one date completely revolved around him.
When Becca picked Blake Horstmann, aka the adorable "horse guy" from Denver, for her first one-on-one, we were stoked. The two seemed to have great chemistry when they met on "After the Final Rose," and we couldn't wait to see what sort of romantic shenanigans they'd get into. But alas, Blake and Becca's rendezvous ended up being focussed on her ex-fiancé, as they visited an abandoned warehouse to physically destroy items that pertained to Arie, including televisions that were playing his bogus finale proposal and the grey couch on which he heartlessly broke up with Becca in front of the cameras.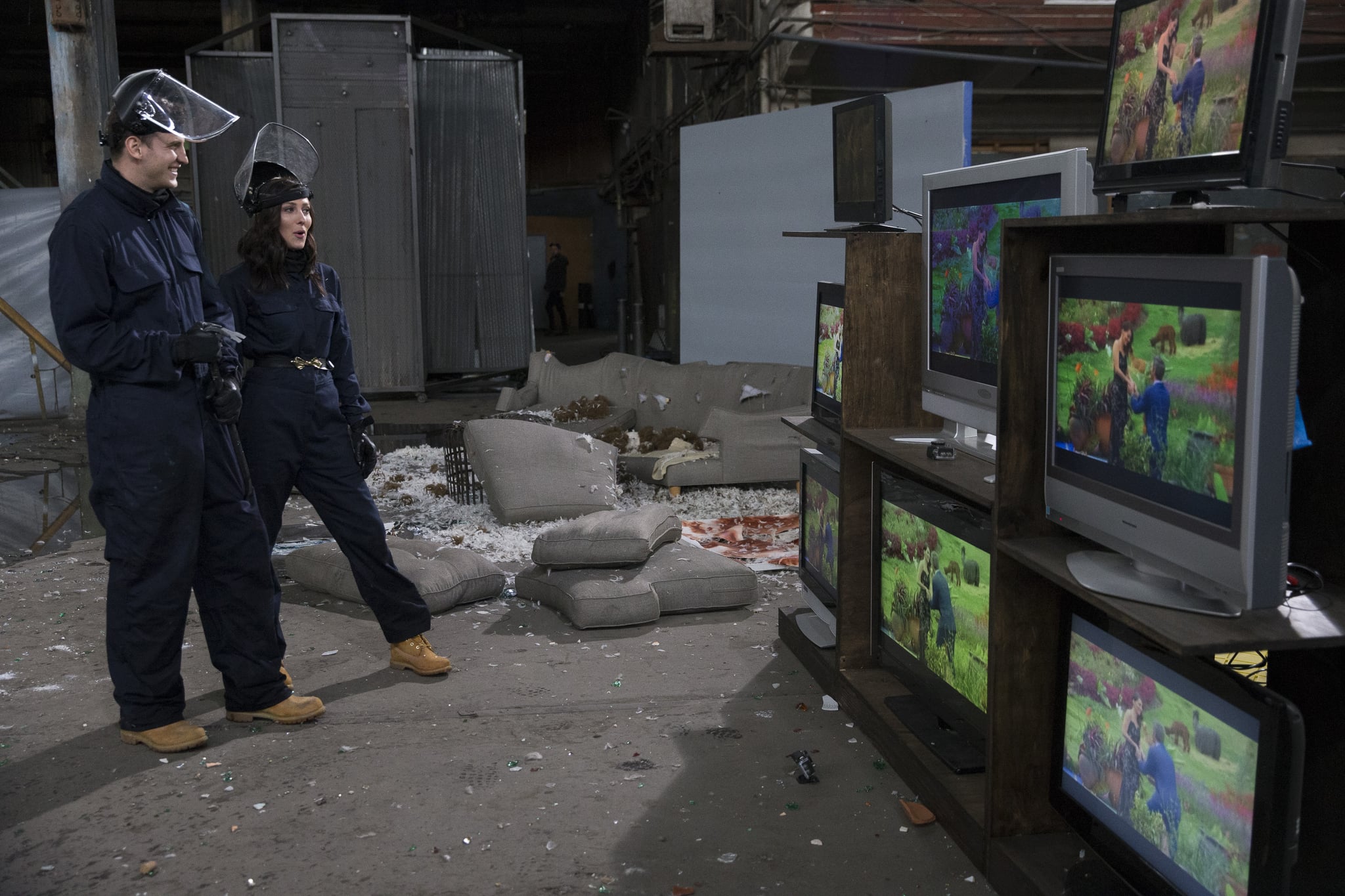 How do these producers expect Becca to move on from her past if they keep incorporating her soulless ex into every episode?
Yes, Becca and Blake did make the most of their odd Arie-themed date as they adorably smooched while Lil Jon (yep, he was there) rapped "Turn Down For What" in the background, but still — WTF, ABC? How do these producers expect Becca to move on from her past if they keep incorporating her soulless ex into every episode? Last time I checked, this season is supposed to be about Becca moving forward and finding a husband who will respect and love her, not looking back at the one who broke her heart on television.
On top of that, I feel pretty bad for Blake in this situation. I mean, put yourself in his shoes for a hot second. Imagine embarking on a first date with someone new, only to spend said date with constant reminders of that person's ex plastered everywhere. I don't know about you, but I feel awkward AF just thinking about being in that type of scenario.
As it turns out, I'm not the only one who's ready to say good riddance to Arie for good, as plenty of Bachelor Nation fans have angrily tweeted about his unceasing inclusion in this season of The Bachelorette. Read through some of the tweets ahead, and you'll certainly be left nodding in agreement. ABC, please do us all a favour: let Becca do the damn thing her way and leave Arie out of this.