Debra Messing Will and Grace Interview 2018
Debra Messing Tells the Story of How She First Got Cast on Will & Grace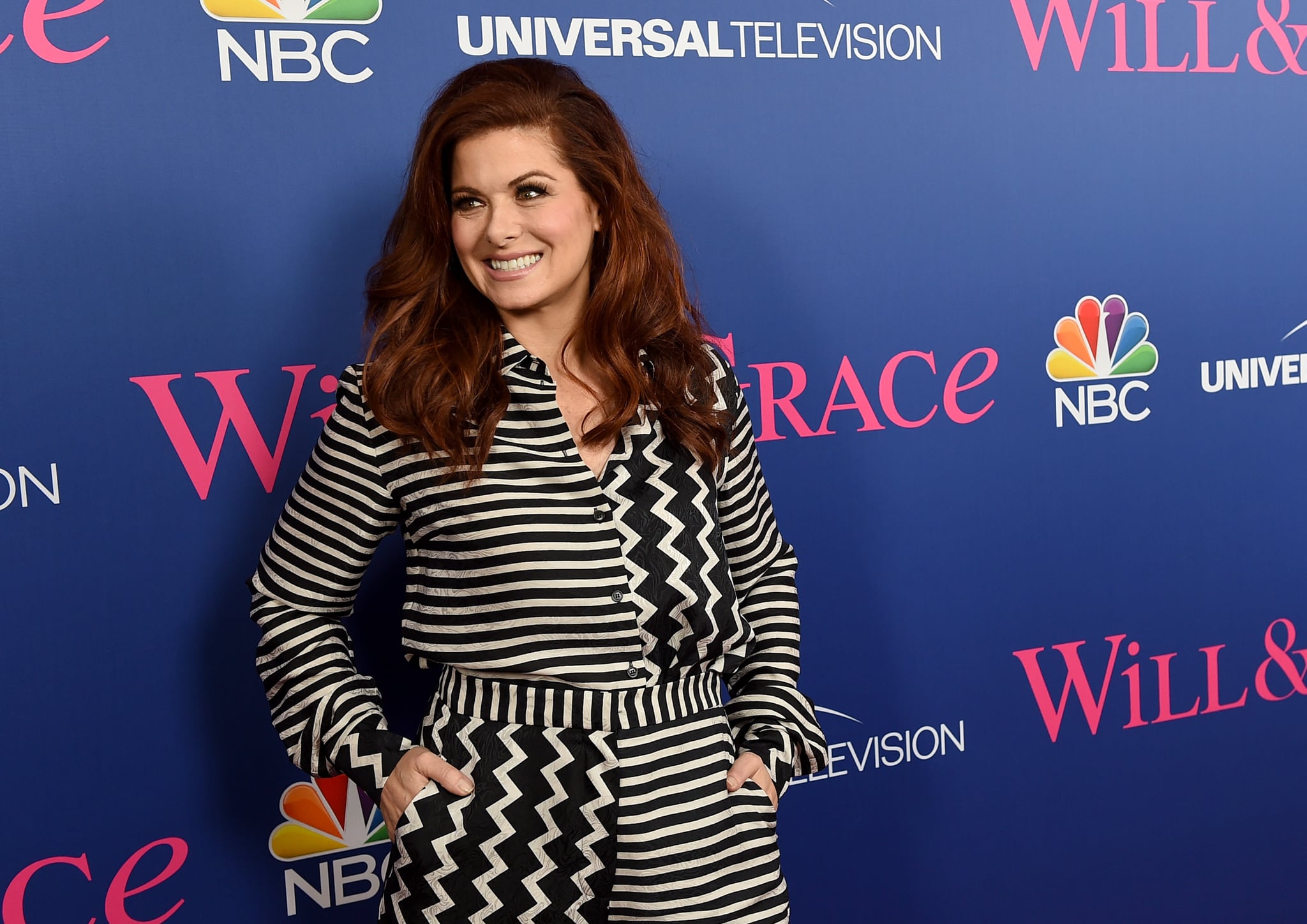 Image Source: Getty / Kevin Winter
Last year, Will & Grace returned with an exceptional new revival that delighted audiences and critics alike with its signature edge. Behind the scenes, though, not everything clicked back in. In fact, our resident Grace aka Debra Messing said it took a few episodes before she really found her stride again. "The whole first season, I kind of felt like I went through it in shock," Debra said during an interview on the show's iconic set. I had been lucky enough to visit last month, just ahead of the revival's second season.
"It took me about three episodes to feel like I got back into the bones of Grace," Messing continued. "I did have moments in the beginning where I saw that I was dressed like Grace, I saw that I was in Grace's apartment and in her office, but I didn't quite feel like her yet. And that was very kind of scary, uncomfortable feeling." Messing said it was the physical comedy that really brought her back to the character. Specifically, if you watched the return of the show, it was the scene with Karen (Megan Mullally), when the two get stuck in an airtight shower that slowly fills with water. (I promise it's funnier than it sounds.)
Perhaps it's not just the decade-long hiatus that made it a bit difficult to reacquaint with Grace. This time around, the special character is even more three-dimensional, more self-assured, and more feminist than ever before. And that's what makes her so endlessly entertaining and intriguing. Messing spilled all the fun details about season two, and just what made Grace so notable during the show's new run. And, as a special bonus, she tells the story about how she landed the role in the first place.
On Grace's "political" turn in season two: "Well, Grace is running for president of the New York Society of Interior Design, but she might as well be running for president of the United States, because she takes it that seriously. As we know, Grace is very competitive . . . I'm hoping that she gets a little dirty, because dirty would be funny."
On a moment that really demonstrates Grace's newfound feminism: ?One of my favourite episodes from last season was the episode at the baby shower, where Grace made it very clear that not having a baby was her choice, and that you can be happy and be motherless, be childless . . . It was very pro-woman because it wasn't defencive."
On Grace's newfound feminism in the revival: "In the run of the show, Grace was very ambitious — which was great — and very accomplished, and disciplined. But really, her focus was, 'OK, when am I going to find my man and the man who I'm going to have a baby with?' And that was the thread through the entire run of the show. I think now that we see that she's not married, and she doesn't have a baby, and she's not going to have a baby, it's a different Grace. And I like being able to see her happy with the choices that she's made, and really flourishing professionally, and really being fed emotionally by her deep relationships with her friends who are her chosen family."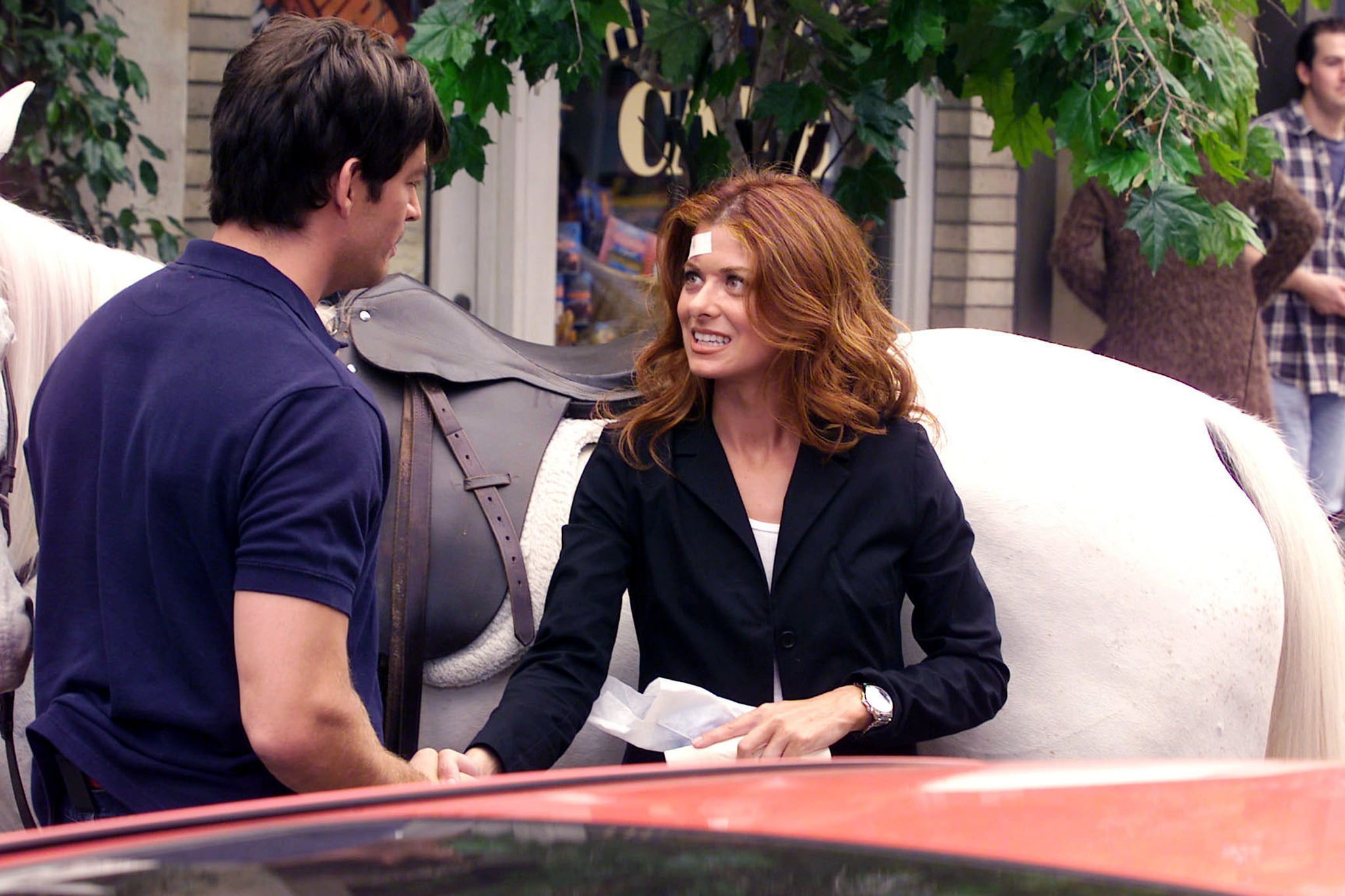 Image Source: Everett Collection
How she first got cast as Grace Adler: "I was doing a TV show on ABC called Prey, and I had finished, and I was exhausted. And I had told my agents, 'Don't call me for three months. I'm going to sleep for three months.' And the next day, they called and said, 'We have a script that you need to read.' And I said, 'Nope. I am going to sleep.' And they said, 'Stay in bed. We will messenger it to you.' And so I read it in bed, and I was like, 'Oh, boy. This is something.' And I recognised how unusual it is to see four distinctly-written characters in the pilot of a show. But I still was tired.
"And so I met Max and Dave, the showrunners, and they were like, 'We want you.' And then I went home. I'm like, 'I don't know.' And then they were like, 'What do we need to do?' And I said, 'I need to know how you envision this show in season three and season four," because you're too young to remember this, but at that time, there was a trend going on at NBC that had women as the centre of a show, but they were not the funny people. So there was Suddenly Susan. There was Caroline in the City. So there were these pretty, attractive women, and then they had the goofy people around them. And I said, 'I won't be happy doing that. I need to be one of the funny people also.'
"And so I said, 'I need to tell you my concerns.' And also, I came from New York and had a lot of gay friends, and I was like, 'How are you going to do this? Are you going to do it in a different way than has ever been done before?' And so they came over with a bottle of vodka [laugh], and spent three hours answering all my questions, and left. And they said, 'So?' And I said, 'I still don't know.'
"And then Eric flew down from Canada — he was filming Lonesome Dove at the time — and we went to Jim Burrows's house. And I went in, and all of the big-wigs from NBC were there. And they were like, 'Just read together.' And we read together, and it just was immediately easy and fun. And Jimmy walked me to the car, and he's like, 'You got to do the show.' And I was like, 'Jimmy, I don't know.' And he was like, 'You're never going to find a script like this again. You got to do the show.' And so I was like, 'When Jim Burrows tells you you got to do a show, you got to do a show.'"