RuPaul's Drag Race UK Songwriters on UK Hun Song
All the RuPaul's Drag Race Queens Hated UK Hun at First, But Now They Can't Get Enough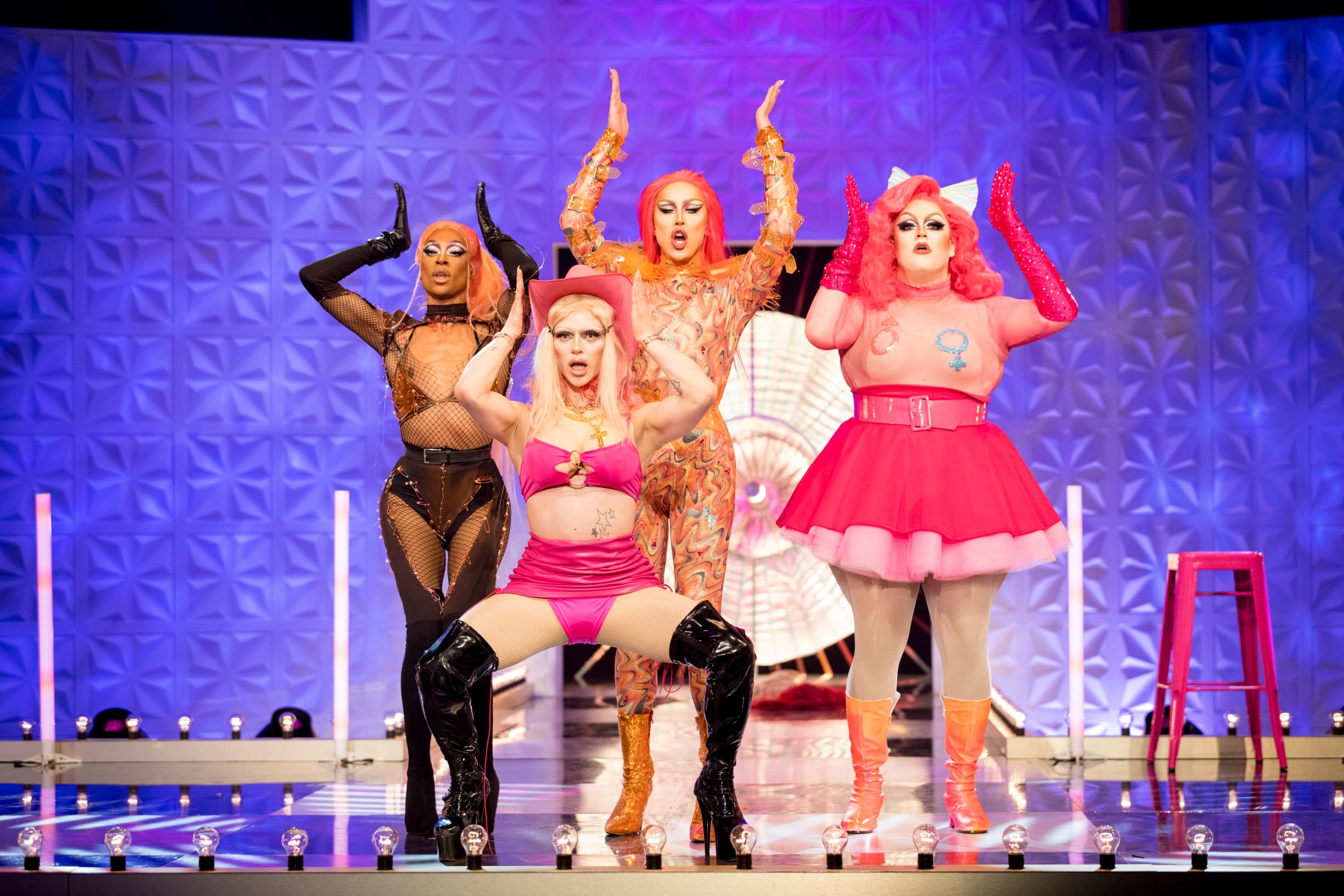 It's been a few short weeks since the United Kingdolls took to the stage on RuPaul's Drag Race UK to perform the now iconic single "UK Hun", and we still can't seem to get it out of our heads. The season two answer to the first Drag Race UK single "Break Up (Bye, Bye)" was shared with the world on 11 Feb., during the prestigious RuRuVision Song Contest — and yes, that is the RuPaul version of Eurovision, for those wondering.
In a recent interview with i-D magazine, Leland and Freddy Scott — the songwriters behind the track — shared a sneak peek into their creative process. "I did go back and watch many Eurovision performances. I also pulled from influences like Mary Poppins, Supercalifragilisticexpialidocious - nonsensical lyrics that feel right," Leland explained. Prior to the show airing, Leland and Freddy received the verses from the United Kingdolls, but only got to see the final track in its full glory once the episode aired in February. On the structure of the song itself, Leland (who's previously worked with Troye Sivan and BTS) claimed that "there's not that much difference in crafting a Drag Race song and a pop song for the charts. "Both of us still bring our pop sensibilities and our instincts for wanting to make something catchy, but the only thing that changes is the structure."
At first, a majority of the queens on Drag Race weren't as keen on the song as they are now. On first hearing the song, A'Whora told i-D that she thought "'What the f*ck is this sh*t?' At first I thought, well this ain't got nothing on 'Break up (Bye Bye)'. It sounded like a record I'd hear my two-year-old nephew play on YouTube, it was like 'Baby Shark' meets 'Crazy Frog' on a coach trip to Lazy Town. The more we listened and once we added our verses, it became one of those songs that lives inside of you and refuses to leave. Every time I'd be doing my makeup I'd find myself randomly saying the words 'Bing bang bong' without even thinking about it. The song is so contagious, it haunts me everywhere I go. You want to hate it, but inside you're screaming and feeling the fantasy."
Tayce had her say, too, recalling that "I remember hearing UK Hun for the first time and hating it. But it grew on me very quickly and now I'm obsessed with it as much as the rest of the world. My biggest inspiration in my verse was, honestly, myself. I wanted to get my name out there so what better to literally spell it out for you?"
A week after the song first debuted, it topped the iTunes chart and made it to number 27 in the UK charts, surpassing all expectations set by the tune of its predecessor, the Frock Destroyers. "To have people singing and dancing along and writing messages of pure bliss, in a time when we don't get a lot of that serotonin and good news, that has been one of the most rewarding things," said songwriter Freddy.
Here's United Kingdolls' debut Ruruvision performance.

Bing-bang-bong sing-sang-song ding-dang-dong 🎤🎶 #DragRaceUK pic.twitter.com/d87LOzKw6d

— RuPaul's Drag Race UK (@dragraceukbbc) February 13, 2021
Image Source: BBC