What Happened in Line of Duty Episode 3 of Series 6?
Line of Duty: Pieces of the OCG Puzzle Come Together in Episode 3
Watch out! This post contains spoilers.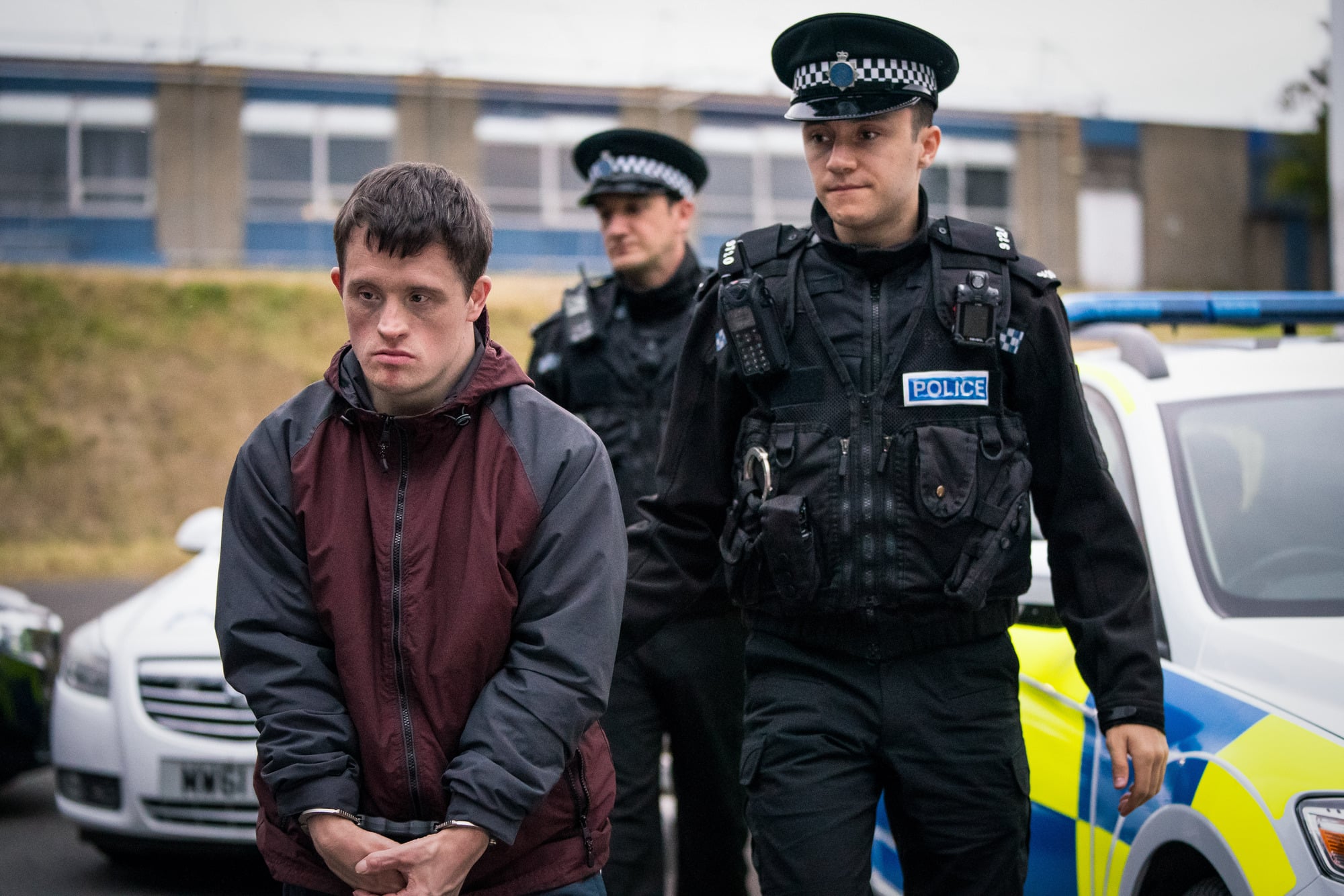 Episode three of Line of Duty is an absolute blinder that ratchets the pace up tenfold from last week's more sedate stroll through attempts to catch bent coppers.
At the beginning of the episode, we are straight back into talk of the CHIS (Covert Human Intelligence Source, but we are sure nobody needs this acronym reminder anymore, with the amount of media coverage it's been given). A new witness on the block, Deborah Devereaux (Kerri McLean), turns up at Hillside alleging to have witnessed the fight in the pub between the CHIS and Carl Banks, except whilst she correctly identifies the CHIS, she is unable to correctly identify Banks. Instead, she alludes to seeing someone "different", and DCI Joanne Davidson's (Kelly Macdonald) thoughts immediately turn to Terry Boyle, who is quickly hauled back in for questioning. Prior to his interview, Boyle is told to keep his mouth shut by Ryan Pilkington. Terry dutifully — in the nature of a man who has been coercively controlled by violent criminals for years — denies everything, until slipping up and agitatedly talking about "another man". He comes close to identifying this mystery man, until DCI Davidson calls a halt to the interview in the same way that she stalled the arrest of Banks back in episode one. The entire scene leaves us questioning if she really cares about the legitimacy of the interview, or was Terry about to mention a name she didn't want out in the open?
DI Kate Flemming Gets on Board
Pilkington is then tasked with escorting Terry home, driven by unsuspecting officer Lisa Patel (Tara Divina). Sitting in the back seat with Boyle, Pilkington announces that they are to take a different route, which can only mean trouble. He also needs some fresh air and gets Patel to open his window, and this series of suspicious events appears to point to Patel, Terry, or both on the edge of meeting their end. Suspicious after the interview with Boyle, DI Fleming follows them and notices the detour but is not quick enough to stop Pilkington, forcing Patel to drive into a reservoir and escape through his open window. Unlucky for him, Patel and Boyle both manage to free themselves from the sinking car, and Pilkington is forced to try to drown them both, only managing to cut down his witnesses by half when he succeeds with Patel. He's left having to feign helping Terry instead of murdering him, because Fleming has turned up and called DCI Davidson and DS Lomax (Perry Fitzpatrick) to the scene.
Now smelling enough rats to fill London's sewers, Fleming visits Hastings (who isn't initially pleased to see her) and DI Steve Arnott (Martin Compston) at AC-12 to tell them she has no doubt that there is corruption at Hillside (well, doh). With her on board, Hastings looks slightly mollified, and the trio are temporarily reunited. Still unable to place Pilkington, Fleming brings this up with Arnott, who wastes no time pulling up a picture of his smug mug and recognises him instantly, in the manner that you would never forget the person who once attempted to dispose of your fingers with bolt croppers. Now, this act of recognition does not get the fanfare that was anticipated — surely gasping Hollywood-style shocked faces are expected when this important piece of the puzzle falls into place — yet the response from Fleming and Arnott is distinctly lacklustre. Fleming soon leaves with a "night, mate" to Steve (it really is like old times!) but stops short of pure series one-five reminiscing by turning down a late-night takeaway.
DI Arnott's Secret Is Revealed
Hastings receives another phone call from Steph Corbett (Amy De Bhrún) and is overanxious that these calls do not take place on work telephones. The reasons for these phone calls are still under speculation, although during this particular one, she drops Steve in it for the stash of pills she found in his car in the previous, and he becomes sweatier than blue cheese left out too long when AC-9 turn up for some random drug testing. It transpires that Hastings organised this as a reflex from his conversation with Steph, ordering that Arnott be left off the list and for the incident to act as a warning to him. Hurt by this betrayal, Arnott hot foots it to Steph's to confront her about it.
Anyone who had "letter of the law" on their Line of Duty card, congratulations! Hastings utters it with ferocity, 26 minutes into the episode. He delivers it alongside the killer eyeballing of DCC Andrea Wise (Elizabeth Rider) and PCC Rohan Sindwhani (Ace Bhatti) while they deliver him the same unnecessary monologue from previous weeks about how lucky he is to have a job and to let old battles go, specifically in the form of searching for H. The final flourish to an otherwise unnecessary scene has Hastings utter the meme-worthy line to Wise, "The name's Hastings, ma'am. I'm the epitome of an old battle, ma'am." Yes, you absolutely are, Hastings.
Something Smells Fishy
Meanwhile, Fleming interviews Pilkington about the series of fishy incidents that led to Patel drowning, furtively watched through the blinds by DCI Davidson. The amount of raised eyebrows and sarcastic amounts of "really?" uttered strongly suggest that the only notes she must be jotting in her notebook consist of "liar, liar, liar". Disappointingly, she stops short of uttering the iconic line she will always be remembered for during series five: "stop making a t*t of yourself and p*ss off", which she unceremoniously offered to DI Brandyce (Laura Elphinstone). Because at this point, this is exactly the treatment Pilkington deserves.
In an attempt to heed the drug-testing warning delivered to him, Arnott is at home attempting to mask his pain with alcohol, which sadly ends up being futile — it's not long until he's raiding his pills stash again, which include Pitradine and Charzepam, both brand names made up for the show (according to the Easter egg-filled trailer, Pitradine is codeine-based, and Charzepam is benzodiazepine, a sedative used for sleeping issues and anxiety).
Arnott later visits Steph to apologise for getting angry about the drug testing (a scene where some fans believe they've seen a clue to who "H" is, see below), and the nation heaves a collective "oh no, not again" when it appears Arnott has slept with another key witness after they're shown in bed together. Although, hold your horses: Steph makes it clear she's friendzoned him with a no-sex clause and merely let him sleep at her house, owing to the enormous whisky she poured him. Arnott also admits that nerve damage to his back has caused him to be impotent, something he can't go to a doctor for without exposing his back is still not healed. The intimate moment is quickly forgotten about the next morning when Steph's on the school run and Steve decides to don some blue gloves and rifle through her stuff, banking the knowledge of the wads of cash he finds for later use.
Could be massively overthinking this, but.... Have we found H 👀🤔 #LineOfDuty pic.twitter.com/IHyBDZJ8Md

— Afton (@aftonlou) April 4, 2021
The OCG Puzzle Starts Coming Together
In other news, the freezer that held Jackie Laverty (Gina McKee) for seven years has turned up at a scrap yard. Forensics are all over it like a rash, and the report confirming her blood is present inside it has AC-12 spinning in a roller coaster of excitement and finally having conclusive evidence that Terry Boyle is definitely a victim of cuckooing (another term to add to your LOD lingo database, referring to the home of a vulnerable person being taken over by criminals to use as a base).
To wind up the episode, Pilkington gets a bravery commendation for "saving" Terry by DS Buckells (Nigel Boyle), followed by a photo op for the press. DCI Davidson and DI Fleming both look disgusted at the news and begin chatting amongst themselves. Davidson then tells Fleming Pilkington was bought to the team by Buckells, who is seen wielding a golf club at that very moment — an allusion to The Caddy (or are we reading too much into it?). It's at this point in the episode that we begin questioning everything we thought about DCI Davidson. Perhaps she's just been a red herring all along?
DCI Davidson Reveals Just How Dangerous She Really Is
Sitting in prison, Sergeant Farida Jatri (Anneika Rose) is about to face an AC-12 interview before her wrist is broken by the very same prison guard who was responsible for scalding the hands of DI Lindsay Denton (Keeley Hawes) way back in series three. Now silenced, she refuses further contact for interviews. DI Arnott then visits DCI Davidson to not only request that AC-12 interview Terry Boyle (a request Jo immediately squashes) but also let her know about Farida's injuries in prison. Davidson appears shaken up at the news. The next thing we see is DCI Davidson driving past Jatri's flat, becoming flustered to find it being searched again by AC-12.
The very end of the episode is full of twists and turns. AC-9 turn up at AC-12 for yet more drug testing, and this time Arnott is on the list. After doing some digging, Kate figures out that Deborah Deveraux, the new witness from the beginning of the episode, is known to Superintendent Buckells and shares this information with DCI Davidson. Davidson then opens up to Kate that she was waiting to find someone she could trust and blames Buckells for all that has occurred so far, including diverting the arrest of Carl Banks and withholding the name of the CHIS. The nail in Buckells's coffin is when the missing files relating to Gail Vella are found in the boot of his car. He then becomes the next member of Hillside to be unceremoniously removed from the building, but this time in handcuffs. After bolting herself into her flat, the episode ends with Davidson messaging an anonymous OCG leader on a laptop, before the closing credits roll.
Overall, the episode helps move the storyline and gives us just enough new information to keep us interested. DC Chloe Bishop (Shalom Brune-Franklin) still doesn't get a huge amount of screen time, apart from watching more of Gail Vella's footage that the reporter was saving for her true-crime podcast and concluding what we all knew: that it contained no further indication of a motive for her death. Dislike for Pilkington is gaining momentum, and webs of suspicion and conspiracy theories around Davidson are growing. At this halfway stage, the fantastic cast and crew are not disappointing us.
Image Source: BBC